New Zealand's Yanxi Liu is the youngest competitor at the VICTOR North Harbour International 2022. At only 12-years-old, she is competing in her first international tournament.
In a hall of Tokyo 2020 Olympians and players well beyond her years, this is new territory for her, but she insists the age and experience gap will not intimidate her. Well aware that this is more about gaining valuable experience, she has found extra confidence on court following her victory at this year's New Zealand Under-15 National Champions, where she won the women's singles title – and was a semifinalist in the under-17 equivalent.
On day one of competition at Badminton North Harbour, she was handed a tough draw as Oceania's seven-time reigning champion and two-time Olympian (Wendy Chen) awaited on court one.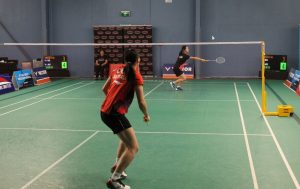 "It was a fun experience. We had some good rallies but she is really powerful and her shot quality is very good. I didn't feel nervous beforehand, I just tried my best to enjoy it and saw it as a learning experience", says Yanxi.
Despite a 21-9 21-5 loss, Yanxi's spirits were not dampened. Instead, she is motivated to keep carving out a career in badminton, idolizing the likes of Pitchamon Opatniputh from Thailand who only just turned 15 when she won her first International Series and International Challenge tournaments in Europe earlier this year.
"I don't see my young age as being a barrier here. I see other young players around the world doing well in these kinds of tournaments and I want to do the same"
This week, Yanxi has the chance to compete in her usual stomping grounds where she trains with some of Oceania's best players, including her coach Abhinav Manota (2019 Oceania men's singles Champion; 2020 men's doubles champion).
"I train about eight or nine hours per week at the moment, two of which are with Abhinav, which is really enjoyable and he has helped me improve a lot"
Moreover, when away the badminton court, Yanxi is a competent piano player. Therefore it comes as no surprise that she cites the intricate movements of the fingers when changing grips and executing shots is one of her favourite elements of the sport – also the traits of her other favourite players, Akane Yamaguchi and Tai Tzu-Ying.
Yanxi has plans to continue competing domestically, with high hopes of representing New Zealand in future major tournaments, all the way through to the Olympic Games. Watch this space.
Her successor in today's match, Wendy Chen, will go on to play Kuo Yen Chi (Chinese Taipei) in tomorrow's round of 16 match as the VICTOR North Harbour International 2022 continues to unfold all the way through to the finals on Sunday 23 October 2022.
Follow the draws on Tournament Software, watch all matches on courts one and two on the live stream, or join the conversation on Facebook using #NHInternational22