Fifteen players, aged between 12-15 years old are currently taking part in a two-month intense training programme in the Hunan Province, China – organised by the Ministry of Internal Affairs of Tonga as part of a project partnership with China International Sports Co.Ltd,
All fifteen players were originally identified at various BWF Shuttle Time sessions around the country, which was the first time they picked up a racket, and were recognised for their commitment and eagerness to improve.
Team Manager and coach Mary Jane Esei Sifa also joins the youngsters in Tonga, who is looking to develop her own coaching skills too.
"They are being coached by the top coaches in the region. This also provides a good opportunity for our nation's coaches to mirror their styles and develop our own coaching abilities"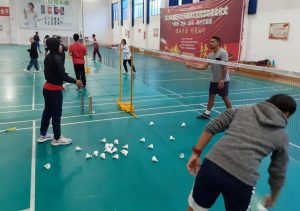 "Players are on court for three hours each morning and afternoon from Monday to Friday, and we are also joined by some of the younger Chinese players who provide great competition", says Mary Jane.
The opportunity aims to bring on the next wave of Tongan junior talent.
"The main focus is to develop these young players, giving them more experience and an opportunity to understand the training, skills, commitment and discipline that it takes to compete on the world stage"
"We would like to see the juniors competing in a future Oceania Championships, Pacific Games, Junior World Championships and even the Commonwealth Games", says Mary Jane
For more updates from the aspiring juniors training in China, follow the Tonga National Badminton Association Facebook Page.