WOMEN'S SINGLES
 Lee Yu-Hsuan (TPE) vs Angela Yu (AUS)[1]  19-21 21-14 21-15
The closely contested first game was anyone's for the taking as the two youngsters forced the shuttle into the four corners of the court with impressive precision and power.
With nothing to lose, Lee Yu-Hsuan's change of game plan worked wonders after dropping the first game, maintaining a strong attack and disorientating Yu with high lifts that found the back corners. Taking her momentum into the final game, Lee took off with an early 11-5 lead before closing in on the podium.
"In the second game I made sure to stay more focussed on getting the attack. In the third game I noticed Angela's stamina dropped so her attack wasn't as strong as before" – Lee Yu-Hsuan
MEN'S SINGLES
Rio Agustino (AUS)[1] vs Liao Po Kai (TPE) 16-21 21-19 21-17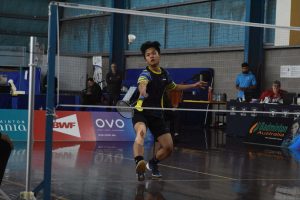 Spanning over one hour and twenty-one minutes, both players produced a highly entertaining three-game thriller in today's final. Refusing to let go of his first game lead in front of his home crowd, Rio Agustino pulled off one of the most impressive comebacks of the tournament.
At 12-3 down in the third game, it looked like Liao would be taking the Gold back to Chinese Taipei. However, a gradual run of points saw Agustino take the reins and surge through to bring it back level at 17-17. With the momentum in his favour, Rio's patience and precision earned him the Gold medal.
"I started pretty well and then he mixed things up and I started to struggle. I was already 3-11 down in the third so I felt like I had nothing to lose. I didn't want to lose a game to less than 10 so I guess that was my motivation" – Rio Agustino
MEN'S DOUBLES
Chen Zhi Ray/Cheng Kai Wen (TPE)[1] vs Chu Tzu Cheng/Lai Pin Da (TPE)  21-17 21-17
Without dropping a single game on route to the final, Chinese Taipei's Chen and Cheng continued to assert their dominance over fellow compatriots Chu and Lai in today's final. The youngsters used their impressive height to their advantage as their steep smashes allow for a relentless attack which ultimately paved the way for the Men's Doubles title.
"We have played together for a long time so we are able to maintain good performances in these tournaments and we constantly learn from these experiences" – Cheng Kai Wen
WOMEN'S DOUBLES
Lee Yu-Hsuan/Liao Tzu Yi (TPE) vs Victoria He/Jianqiao Li(AUS)  21-18 21-16
Chinese Taipei's Lee Yu-Hsuan doubled up on her Gold medal intake from this year's event after extending her impressive run with Liao Tzu Yi. The pair looked confident in their defeat of the first seeds in yesterday's Semi-Final, bringing the same confidence and tactical wit to the finals against the Australian duo.
MIXED DOUBLES
Ryan Venpin/Kaitlyn Ea (AUS)[3] vs Ricky Tang/Majan Almazan(AUS)[2] 15-21 21-9 23-21
Australia's third seeds overcame their second seeded compatriots in the Mixed Doubles final this afternoon. After dropping the first game, Kaitlyn
and Ryan evidently switched up their game plan with an influx of effective flick serves and keeping the attack away from Tang which served him so well in the opener.
The third and deciding game went the distance as Tang and Almazan returned with a vengeance, but Ryan and Kaitlyn maintained their concentration to walk away with the Gold.