Pictured: Oscar Guo, New Zealand. Photo credit: Ballarat Badminton
On the second day of the team event, Australia and New Zealand continue to win without loosing a single match in the Men's and Women's Team Championship 2020 in Ballarat.
Despite the fact that the Australia and New Zealand has not lost a single match, it is going to exciting to watch the final match between Australia and New Zealand, that will determine the team qualifying TOTAL BWF Thomas and Uber Cup 2020.
Men's team – round three
The men's doubles champions from Wednesday's final continued their winning streak in team event as they won comfortably against the Fijians – paving their team's way into tomorrow's big decider.
Oliver Leydon-Davis/ Abhinav Manota (NZL) vs Lian Fond Chang Ho Kim (FIJ) 21-13 21-9
Despite walking on to court 3-0 up, Rio 2016 Olympian Sawan Serasinghe partnered with Ying Xiang Lin to show no mercy over the Tahitians, Kai Teiefitu and Brice Vongue.
Sawan Serasinghe/ Ying Xiang Lin (AUS) vs Kai Teiefitu/ Brice Vongue (TAH) 21-11 21-10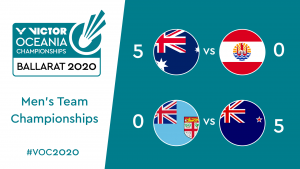 Women's team – round two
The recently crowned doubles duo, Setyana Mapasa and Gronya Somerville, reunited after a first-round experimental split against New Caledonia's Johanna Kou and Cecilia Moussy – winning comfortably in two games.
Setyana Mapasa/ Gronya Somerville (AUS) vs Johanna Kou/Cecilia Moussy 21-7 21-7
Furthermore, recent world junior representative from New Zealand, Catelyn Rozario played the third singles in the team event against Tahiti's Maeva Gaillard, with a decisive win over Maeva Gillard and cementing the teams tied top place in the women's round robin.
Catelyn Rozario (NZL) vs Maeva Gaillard (TAH) 21-9 21-16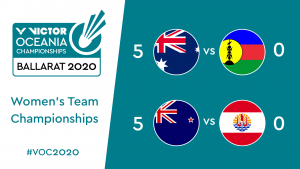 Men's team – round four
New Zealand's men did not mess about in their penultimate team round robin match. The men stormed through to a 3-0 lead after taking all the singles. However, Tahiti refused to go down without a fight as Louis Beaubois and Quentin Bernaix pushed Phillips and Soedjasa into extension, narrowly missing out on a third game to potentially claim a tie.
Maika Phillips/Dylan Soedjasa (NZL) vs Louis Beaubois/Quentin Bernaix (TAH) 21-16 22-20
Finally, the tension between Pacific rivals ended with a win for New Caledonia as they edged past Fiji. The overall scoreline tells a different story from the close matches involved, with two of the potentially pivotal singles games going the distance.
Ronan Ho-Yagues (NCL) vs Liam Fong (FIJ) 19-21 21-18 21-14
Bryan Nicole (NCL) vs Chang Ho Kim (FIJ) 21-13 19-21 21-17
New Caledonia's 4-1 victory secures their place in tomorrow's bronze medal playoff against their other Pacific rivals, Tahiti. The match will commence from 9am local time (GMT+11).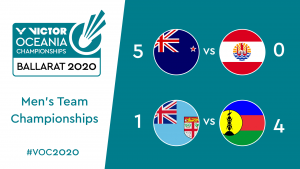 The men's team final (New Zealand vs Australia) will take place at 9am (local time GMT+11) tomorrow morning – available to watch here on the live stream.
The women's team final (New Zealand vs Australia) will take place at 1pm (local time GMT+11) tomorrow morning – available to watch here on the live stream.
Check out all of the results on Tournament Software.
The Para Badminton Championships knockout stages and finals will also be take place tomorrow, alongside the able-bodied players, starting from 10am.
#VOC2020
Text written by Rahul Tiwari