Pictured: VICTOR Oceania Mixed Team Championships 2023 Podium. Photo Credit: Paul Foxall
On the final day of the VICTOR Oceania Championships 2023, Australia and New Zealand were playing off for the gold medal once again.
They are the only nations from Oceania to have ever competed for gold and silver since the Open Mixed Team Championships were introduced in 1999. Australia are the defending champions from 2019 (the last time that the Open Mixed Team Championships were able to take place).
Opening with the mixed doubles, New Zealand fielded Edward Lau and Anona Pak who pushed the Continental Champions, Kenneth Choo and Gronya Somerville, to a third deciding game. Getting the gold medal match off to an exciting start, it was the Australian's who prevailed to take a 1-0 lead. With the men's and women's singles to follow, New Zealand were relying on their Continental Champions who stepped on top of the podium just three days prior at the Open Individual tournament, Abhinav Manota and Shaunna Li. However, their Australian opponents Jack Yu and Tiffany Ho (respectively) took them by surprise to essentially storm Australia to an early 3-0 victory.
Having already secured the title, Australia's strength and depth in the doubles field later ensured a 5-0 whitewash over the stunned New Zealand team to claim a sixth consecutive title, and eighth mixed team title overall. Since the tournament started in 1999, New Zealand have won three out of the eleven finals (2004, 06 and 08).
Australia's victory today earns them a Continental qualification spot for the TotalEnergies BWF Sudirman Cup Finals 2023, which will take place in Suzhou, China, from 14-21 May 2023.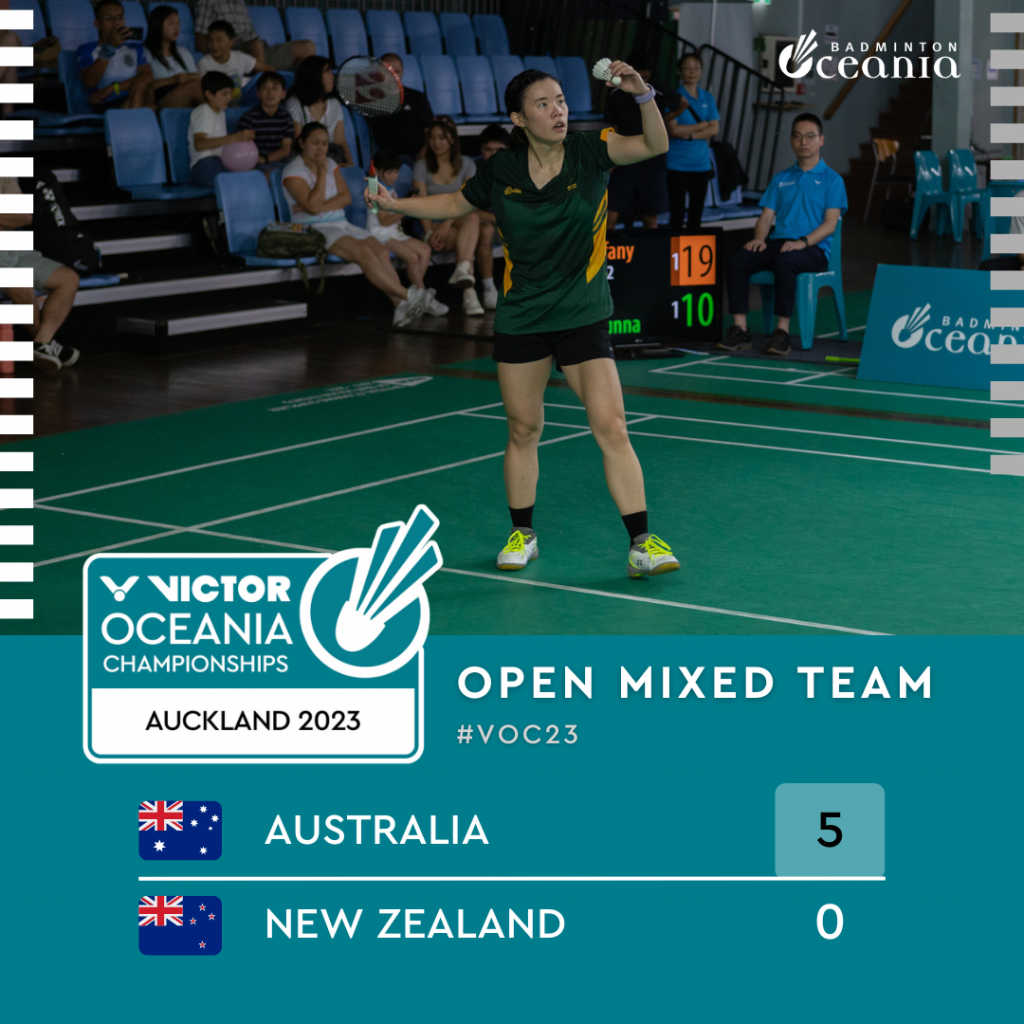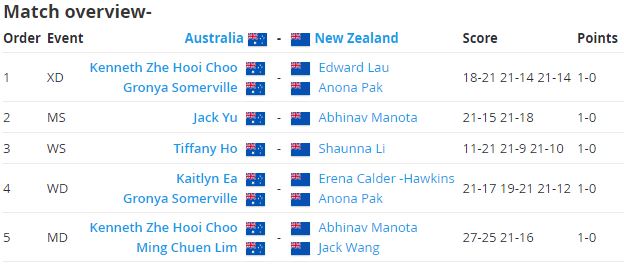 "In the individuals I was tense & nervous because I wanted to achieve & prove myself.  In the team I wasn't as nervous and I went through a plan with my coaches beforehand and was a lot more mentally prepared.  Mum & Dad gave me some advice from their experience the night before which really helped too", says Jack Yu (player)
"The last few days have been good, there's been a lot of ties in one day, but it's been nice to spend this time with the team after so long.  It's nce to see all the Pacific teams here and seeing them improve as well, that's been awesome. We're really happy with our team today to get a confident won over New Zealand, less stress towards the end which is nice.  Just looking forward to the rest of the year and all the Oceania tournaments to come", says Gronya Somerville (player)
"Really good team effort. They've had a really good block of training over the last 6-8 weeks and they really stepped up & took what they learnt from individuals and took it into the team event.  For me, it's my first tema event in my new role, so going in I was definitely nervous. I thought the players really supported each other well. As a team everyone helped each other for us to get over the line today.  Half the team it's their first senior event, so it's a new experience for them & they handled the pressure playing against a home crowd really well", says Leanne Choo (Australia Team Coach)
Meanwhile, Pacific rivals New Caledonia and Tahiti met in a potential bronze medal playoff once more. Most recently, Tahiti showed their prowess in a mixed team tournament at the Northern Marianas Pacific Mini Games 2022 where they defeated New Caledonia to claim gold. However, the New Caledonians turned the tables in Auckland today, winning the tie 3-2 to defend their bronze medal from the 2019 Continental Championships.
The Tahitian team ended up in a predicament where a highly convincing victory over New Caledonia could have taken them into third place. However, their loss saw them drop into fifth position overall following an earlier defeat to the Cook Islands team who are celebrating a fantastic campaign in their first Open Mixed Team tournament, stating their presence as future prospects to challenge the podium norms in Oceania.
Cook Islands were able to cement their fourth position following an emphatic 4-1 victory over Tonga in today's final round.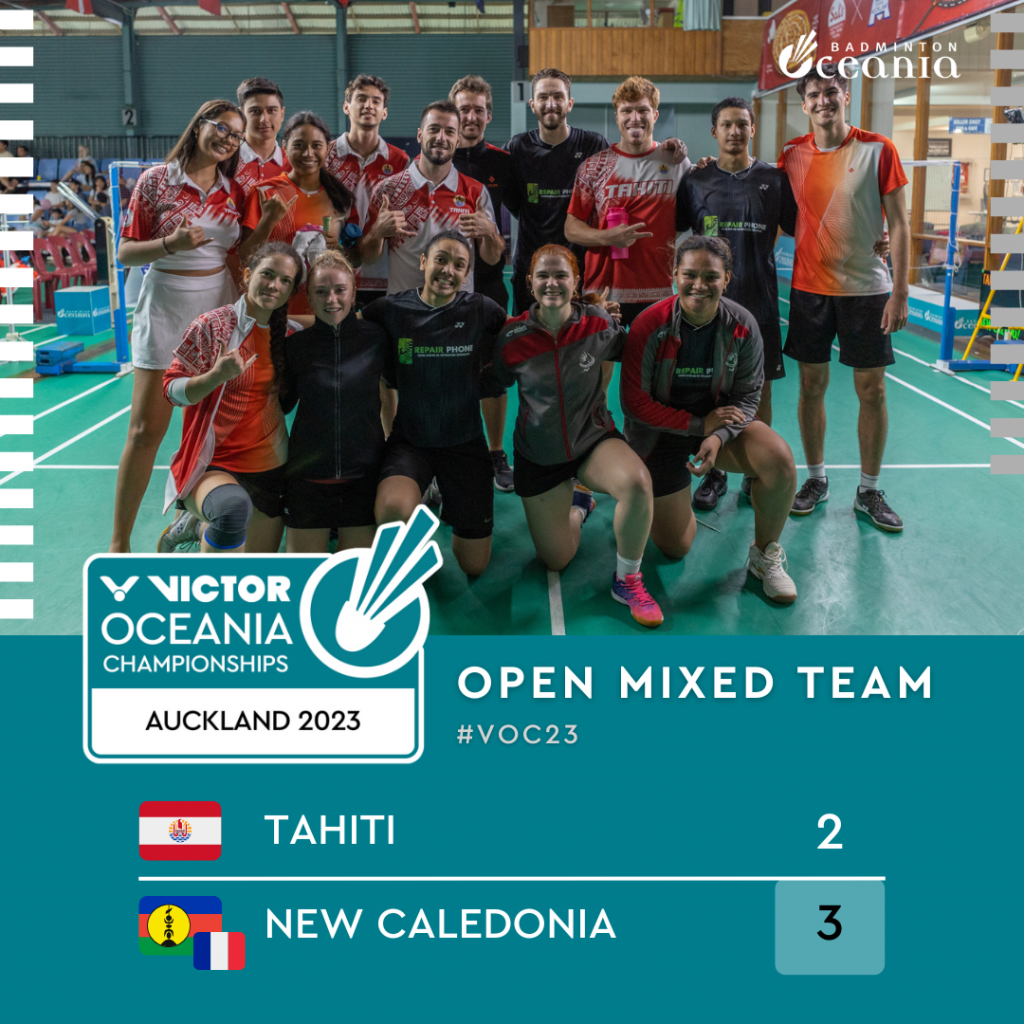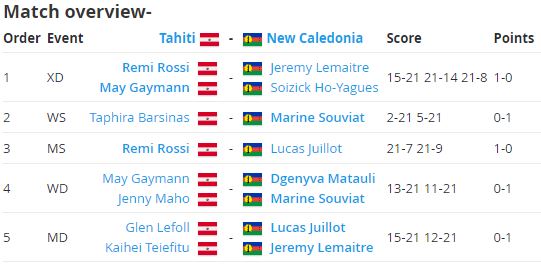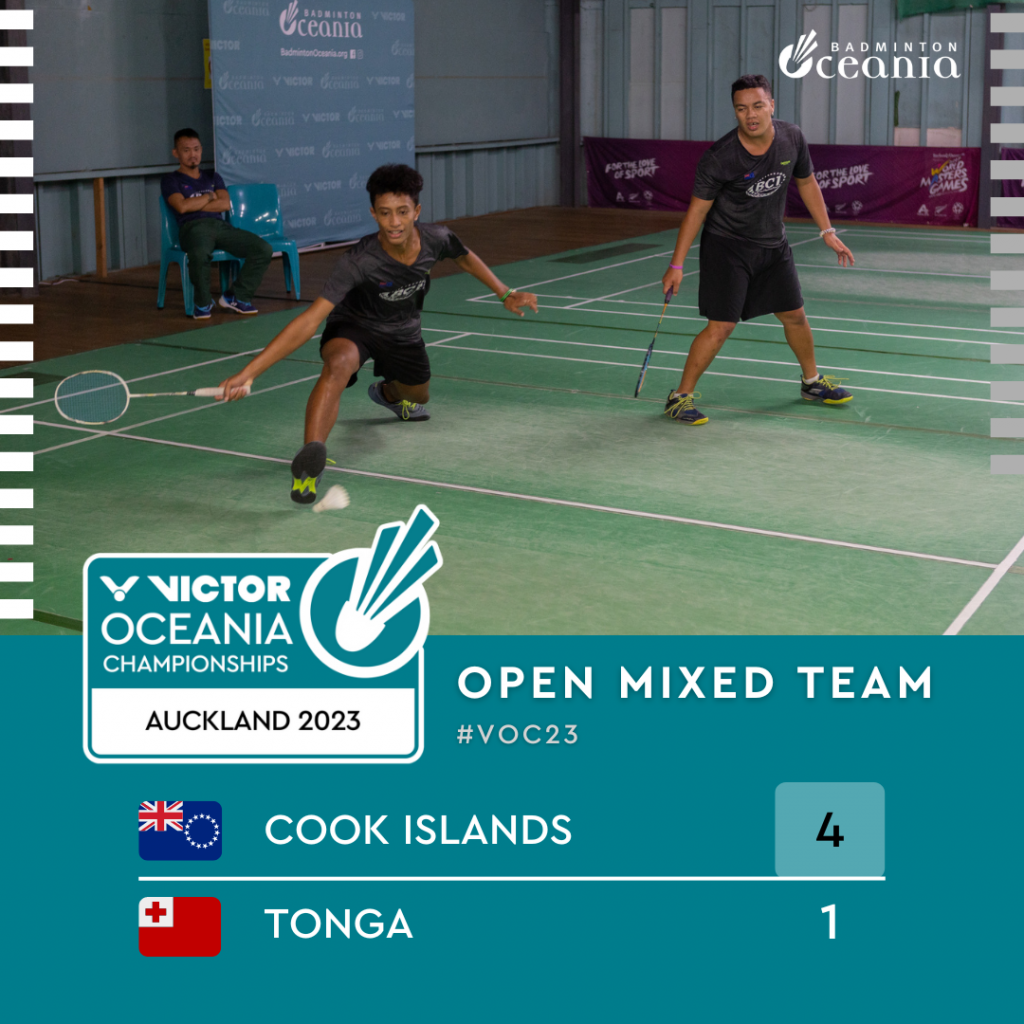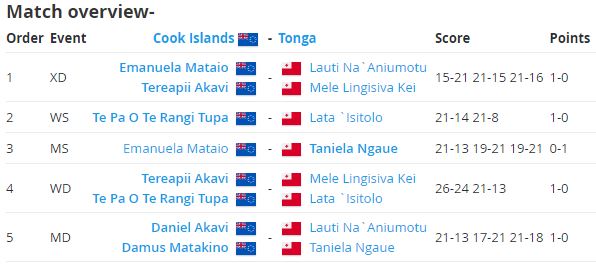 "I was really excited coming into today's final tie.  It's been 3 years since I last competed.  I wasn't stressed today because I had faith in us & what we could do", says Dgenyva Matauli (New Caledonia, player)
"We came into the tournament really down because we had one player who couldn't make it, we weren't sure if we would be able to pull through, but we gave everything we had & it worked so we are really proud of ourselves.  We were all really nervous going into todays tie, we were happy we could play well.  The pressure of the last few days came out at the end of that tie, screams of delight", says Soizick Ho-Yagues (New Caledonia, player)
"I was pretty stressed, this is my first time representing New Caledonia in the open team event.  Especially in the mixed doubles as we were playing against Remi & he is a really good player.  I was also stressed going into the men's doubles as it was the decider, as they are good players too, but as we got into the match and rhythm we relaxed.  We've done it now, so we are very happy", says Jeremy Lemaitre (New Caledonia, player)
"This whole week has been great.  Challenging tough teams, especially Australia and New Zealand, because we never get such high-level competition like that at home & it has been a long time since we played, our last competition was in Australia in 2020 so it has been a great experience.  We've been showing our culture with our haka & bringing mana – our power, our pride to the event", says Damus Matakino (Cook Islands, player)
"It's been a really long 2 weeks and we are really tired, but we've improved so much, we're more patient to keep a rally going longer.  We've had some really close games we've been looking for the weakness in our opponents so we can attack", says Tereapii Akavi (New Caledonia, player)
"We're feeling happy, also relived to know we've trained this hard all this time & it has paid off… it's a relief to know it has definitely all been worth it.  The future is looking so much brighter", says Thomas Mereana-Ngauru (Badminton Cook Islands President)
FINALS STANDINGS
Australia
New Zealand
New Caledonia
Cook Islands
Tahiti
Tonga
Northern Marianas
"It has been challenging, first a flood then a cyclone. Since the flood which knocked out the North Harbour venue, we've been working hard behind the scenes with difficulties in transport & water coming on the courts.  All the team managers and players have been very understanding & worked with us & we've managed to get the events completed", says Julie Carrel (Badminton Oceania CEO)
"Firstly it's fantastic given all the challenges, floods and everything, to not just run the Oceania Championships but to deliver such a high standard and quality event is great.  Matches were great, especially among the Pacific countries they were so competitive between each other, Cook Islands and Northern Marianas are here for the first time and winning – every country has had a win, that's amazing.  It's sad the Australia – New Zealand final tie is one-sided, although some fantastic close matches.  I'd like to thank all the staff and volunteers who have done amazingly to pull off this event in an emergency situation. See you next year", says President Loke Poh Wong (Badminton Oceania President)
Check out all results from the final day of competition at the VICTOR Oceania Open Mixed Team Championships 2023 on Tournament Software.
All matches on courts one and two across the Championships are available to watch on Badminton Oceania's YouTube Channel.