Pictured: Kelly Hoare, middle (Australia) 
Like many technical officials, the initial interest in becoming an umpire starts as a player. That was certainly the case for Kelly Hoare who is reflecting fondly on several years of badminton as she announced her retirement as a BWF Certificate Umpire this week.
The Australian learnt to play at a local badminton centre which happened to host an umpires course. Next thing you know, Kelly was volunteering as an umpire at local tournaments, before sitting the relevant exams and eventually being assessed.
From there, she became a state team umpire and travelled across Australia, sparking an interest in taking things even further, with particular thanks to the encouragement from her mentors, Jane Wheatley and Greg Vellacott. She hasn't looked back since.
Once she became a BWF Certificated Umpire, the incredible opportunities and invitations to umpire internationally started to fly in. Throughout the course of her technical official years', Kelly has umpired at numerous tournaments, including many top tier tournaments such as the Rio 2016 Olympic Games, the BWF Thomas, Uber and Sudirman Cup Finals and World Championships, alongside many international (Super Series or known classified under the HSBC BWF World Tour) tournaments and the Oceania Championships.
She even umpired one of the most memorable women's singles matches of all time – the epic final at the 2017 World Championships in Glasgow, where PV Sindhu (India) and Nozomi Okuhara (Japan) battled it out over 1 hour and 50 minutes.
Two years ago, Kelly was invited to umpire at the Tokyo 2020 Olympic Games, but ultimately decided to withdraw due to the significant time spent away from the Umpire chair due to the global COVID-19 pandemic.
Testament to her commitment and professionalism displayed as an umpire, Kelly was elevated to 'BWF Umpire Assessor' status in December 2020 – a position which she will continue fulfilling post-retirement as she aims to empower the next generation of technical officials.
Reflecting on her impressive career, we caught up with Kelly to find out more about her journey, the hardships and the favorite moments:
What have you learnt the most from becoming an umpire?
When I first started travelling it was either interstate or to Singapore and always with my team from Western Australia. I used to say I will never travel to Europe as I'm not going to travel on my own. Well that soon changed, I have learnt how to be a professional solo traveler and gift buyer. Saying that, the comradery between the umpires is fantastic so it was always exciting to catch up again with friends new and old.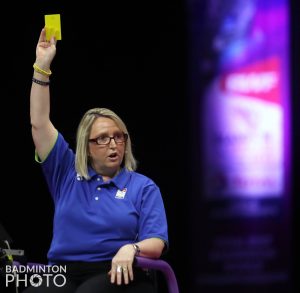 Can you talk about any particularly difficult/challenging situations you experienced as Umpire?
This is a difficult one, because all situations are different, and we as umpires put too much pressure on ourselves to get it right all the time, every time, and with cameras at every angle, when you get it wrong the whole world knows about it.
 I had such an experience at one of the last tournaments I umpired. I made a mistake, lost concentration for a few seconds. Called a fault when there wasn't one there. Before I got off court, I had messages from around the world asking if I was racist, telling me I was stupid etc, you get the point. I soon learnt that it happens to the best of us, but it did take me a few months to stop thinking about it. Not sure if I'm over it yet, but it has put me in good stead to be an assessor.
 Favourite moment as an umpire?
I have had many favourite moments, my first would be going to the Sydney 2000 Olympic Games as a line judge with the WA team, this was really my first experience as to what it would be like umpiring at this level. We had so fun and ended up doing the Gold medal match for the Men's Doubles.
 I would have to say that as an umpire one of the best matches I have umpired was the Women's Singles final at the World Champs in Scotland, it was such a fantastic match.  The Rio 2016 Olympic Games was also another great experience but for different reasons. The hotel wasn't quite finished, bullet holes in the window, transport never arriving. Having to catch public transport. A couple of umpires got mugged walking along Copacabana Beach. But we all survived.
What advice do you have for aspiring Technical Officials?
Learn the laws and understand them. Know which law you are referring to when speaking to a player. Don't be afraid to ask questions. In Oceania, we have extremely experienced umpires who are more than happy to chat to any upcoming umpires.
What does the future hold for you after your BWF umpire career?
I'm excited to become an assessor sitting on the other side of the fence so that I can share my experience and knowledge with other umpires. Of course, this can only happen when our borders open again.
Are there any other particularly memorable moments or stories you'd like to share about your umpiring career?
It has been fantastic travelling to many places around the world, I don't think I would have seen so many places had it not been for badminton. I would just like to say a big thank you to Badminton Australia, Badminton Oceania and BWF for giving me the opportunity to travel the world umpiring the sport that I love. 
Inspired to become a Technical Official? Find out more about Badminton Oceania's Technical Official Pathway here.
Get the latest news and developments from Badminton Oceania delivered straight to your inbox by subscribing to our eNewsletter: