Between the years of 2005 and 2011, Australia's Boris Ma collected a number of Men's Singles titles in the Under 15, 17 and 19 National Championships.
Additionally, Ma was a finalist at the 2007 Victorian International (International Series) and a Semi-Finalist at 2009 Victorian International Future Series, the latter including a defeat to the present day world number one (in Men's Doubles), Marcus Gideon from Indonesia.
Picking up a racket once again since his last recorded international in 2012, Boris competed at this year's VICTOR Oceania Individual Championships in Melbourne, before deciding to compete in Australia's tour of events throughout September.
Filling in the blanks, Ma still paraded with a racket in hand as he coached other aspiring players. However, he admits that passion for the sport drove him back to compete internationally this year.
"I love playing and just want to enjoy my time in the game", says Boris.
However, Ma is clearly hungry for more as he admits qualifying for a spot in Team Australia for next year's VICTOR Oceania Team Championships is certainly of interest, albeit a huge challenge in the current pool of player's lined up for the honour.
Badminton also runs in the family for Boris, with his younger sister (Louisa) currently on the quest to qualify for next year's Olympic Games. The pair used to compete together in the Mixed Doubles and still train together when they get the opportunity.
Ultimately, Boris is hopeful of Louisa's Road to Tokyo, speaking highly of her quest to become Australia's representative.
"I really hope she does well and makes it as she's worked really hard for it"
"It's great that she's having the experience of qualifying for the Tokyo 2020 Olympic Games and I'm really proud of her journey so far", says Boris.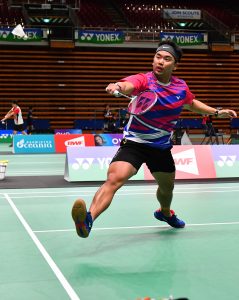 In today's session at the South Australia International, Boris proved that he hasn't lost his flare as he opened with a win against England's Hin Shun Wong (ranked 194 places higher in the world rankings).
Matches against previous and current world number one players could become a theme for the 27-year-old shuttler, as today's victory sets up a clash against Korean prodigy and ex-World number 1, Lee Hyun Il, in tomorrow's second round.
Follow the match results on Tournament Software.