This year, the Cook Islands Sports and National Olympic Committee (CISNOC) collectively decided to host a national Games for the first time, building on other formats like the 'Manea Games' which are a quadrennial Games for a group of five southern islands.
Invoking the Olympic values to bring people together, especially during the time of a global health pandemic, eleven islands came together for the three week event which takes place throughout October 2020.
The Cook Islands are one of 18 countries which are currently COVID-free, capitalising on the opportunity to unite their people through sport.
"The only country in the world that is able to put on an event of this magnitude at this very point in time", says CISNOC President, Hugh Graham.
Badminton Cook Islands were called upon to deliver badminton's inclusion in the Game's programme in the form of a mixed team event and part of the 24 sports in total.
It was a telling sign of badminton's fantastic progress in country as all eleven islands competed in the event – with each island registering a maximum of 4 men and 4 women and up to 3 reserves, meaning a total of 111 players in total.
Not only were Badminton Cook Islands and the Executive Board responsible for running the competition, the majority were competing too.
"We were responsible for the running of the competition: deciding what format would be used, what divisions would be competing, draws, how many days it would run & venue etc"
"Everyone including board members were eager to represent their islands and were also there to help with setup.  CISNOC provided support and funding to all National federations to assist with equipment, catering for volunteers and officials and uniforms", says President, Thomas Ngauru
Elsewhere, Shuttle Time participants and junior national players who are part of Badminton Oceania's Player Development programme were among the teams competing for the elusive title as Cook Island Game champions.
"All our Oceania Player Development Squad members competed for their various Islands, namely Danniel Daniel (Manihiki), Vaitoti Tupa (Atiu), Eleanor Wichman (Mauke), Tereapii Akavi (Mitiaro) and Tehani Matapo (Mauke). We also had the remaining under-19 and under-15 squad members competing as well as our AIMS Games 2021 team members" continues Thomas.
It was the team from Mitiaro Island who took the title. Unsurprisingly, the winning team consisted entirely of Rarotonga based players who are members of our U19 and U15 national squad players, including AIMS Games 2019 medallists (Tereapii Akavi and Tuaana Mitchell) and competitors (Daniel Akavi), alongside Damus Matakino who competed at the VICTOR Oceania Championships 2020.
Final Results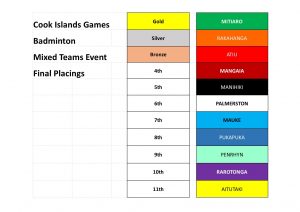 Photo Album
Get the latest news and developments from Badminton Oceania delivered straight to your inbox by subscribing to our eNewsletter: