Australian Olympic Committee Press Release. Photo credit: Badminton Australia
The Australian Olympic Committee has announced the Badminton team for Tokyo 2020, with Gronya Somerville, Wendy Chen, Setyana Mapasa and Simon Leung to represent Australia.
Somerville, Mapasa and Leung all make their Olympic debut, while Rio Olympian Chen returns for her second Games.
Boasting more than 30 Oceania championship gold medals between them, the team of four all qualified for Tokyo 2020 with their international ranking in singles (Chen); doubles (Mapasa and Somerville) and mixed doubles (Leung and Somerville).
Chef de Mission for the Australian Olympic Team for Tokyo Ian Chesterman congratulated the athletes on today's announcement.
"I'm delighted to announce Gronya, Setyana and Simon to their first Australian Olympic Team and to welcome Wendy back for her second Olympics," Mr Chesterman said.
"This has been a long and trying qualification process and these players have shown fantastic resilience and determination to secure their place in Tokyo.
"Thank you to Badminton Australia, and the coaches, families, friends and supporters who have helped these four athletes to realise their Tokyo Olympic dreams today."
Gronya Somerville, who will play in the Women's Doubles with Setyana Mapasa and Mixed Doubles with Simon Leung, was thrilled to make her Olympic debut.
"It feels unbelievable, very surreal still, but it's a dream come true," Somerville said. "The last few months have been a roller coaster, so to be secured in the team is such an honour but also a relief. I'm going to enjoy it as much as possible and celebrate getting here."
"When things have gotten tough during this time I just remind myself to be grateful that the Olympics is happening at all, that I will get to call myself an Olympian and represent my country at the greatest sporting event. I can only control what I can which is how hard I train right now.  We just can't wait to step out on court and perform on the worlds biggest stage!
"I hope when Aussie fans see us competing on TV they are inspired to get active, and that little kids witness some amazing athletic feats that spark a fire in them to want to become an Olympian like what most of us experienced when we were younger."
28-year-old Queenslander Chen was ecstatic to lock in her spot after a length qualification campaign.
"I feel so honoured to be able to represent my family, friends and community over in Tokyo," Chen said.
"Going into my first Games was a different experience, I'm going into Tokyo with a different mentality, knowing what to expect and ready for any challenge.
"We've all worked so hard over so many years to reach this point to represent Australia at the highest level, it's such a relief to know we'll be there in Tokyo."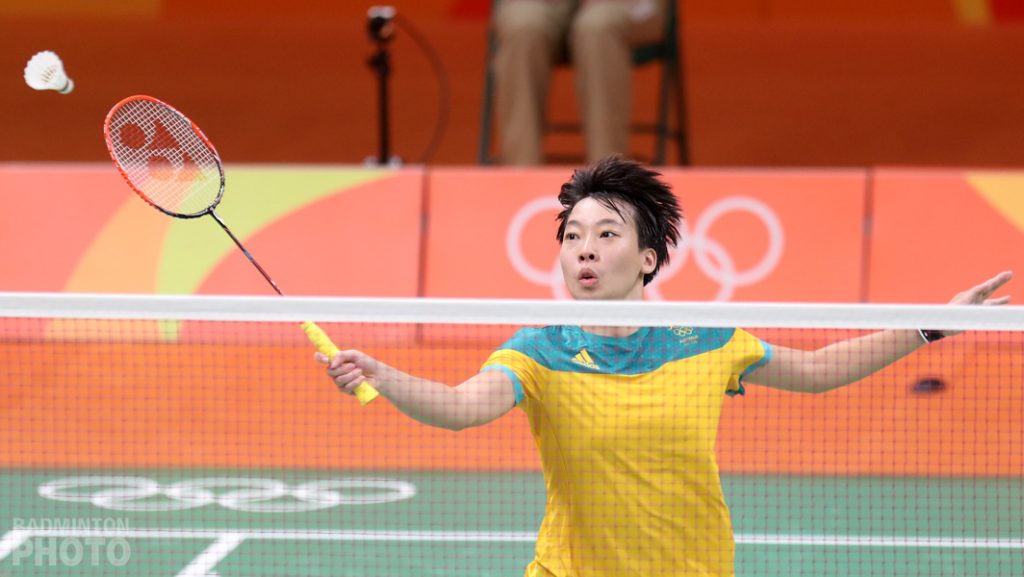 Wendy Chen competing at the Rio 2016 Olympic Games. Photo Credit: Badminton Photo
Team coach Stuart Brehaut said today's selection was a great reward for the effort and dedication shown by the four players throughout this Olympic cycle.
"I am delighted for the players who have been selected as it has been a challenging qualification period," Brehaut said.
"It is a wonderful achievement for each of them and I am looking forward to supporting their individual goals and producing the best possible results in Tokyo."
The Badminton competition will run from 24 July to 2 August at the Musashino Forest Sports Plaza. Find out more about Badminton at the Olympics in the infographic below.
Get the latest news and developments from Badminton Oceania delivered straight to your inbox by subscribing to our eNewsletter: