BWF MEDIA UPDATE
Australia will have to contend with defending champions India, Sri Lanka and Pakistan in Group 1 of the mixed team event of the XXII Commonwealth Games.
The badminton competition at the Commonwealth Games, consisting of the mixed team event followed by the individual event, will be held in Birmingham from 29 July to 8 August 2022. The final of the mixed team event will be on 2 August.
Australia are the only team from Oceania competing in both the individual and mixed team event at the XXII Commonwealth Games, while New Zealand will be represented by Oliver Leydon-Davis and Anona Pak in the mixed doubles discipline of the individual event. The Australian Falcons named their 10-strong team yesterday – find out who will be representing their nation here.
The draw was conducted in Birmingham in March. Nigeria subsequently withdrew in early May with Zambia now confirmed as their replacement.
Each tie in the team event consists of best-of-five matches which test the overall strength of the team.
Five-time champions Malaysia, who were beaten by India in the final of the last edition in Gold Coast, are in Group 4 with South Africa, Jamaica, and Zambia.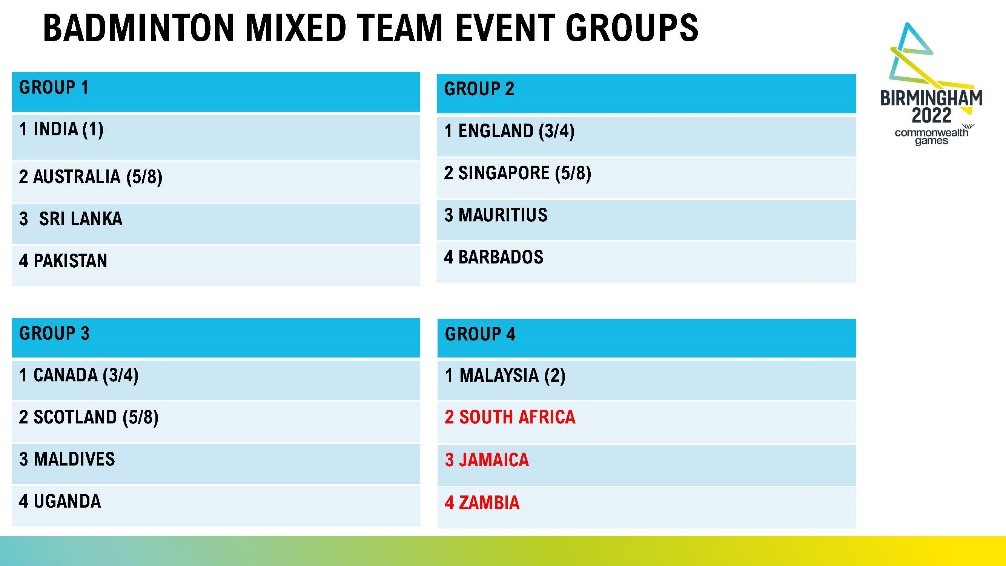 England, winners of the first eight editions of the team event starting from 1966, are in Group 2 with Singapore, Mauritius, and Barbados, while Group 3 features Pan Am powerhouses Canada, alongside Scotland, Maldives, and Uganda.
Looking forward to the event, BWF President Poul-Erik Høyer conveyed his best wishes to the participants and the organisers.
"The Commonwealth Games have a unique feel. While it features some of badminton's traditional powers, there are also teams with a more recent badminton tradition, and thus there is a wonderful diversity of styles and approaches to the competition," he said.
"I wish all the teams competing the best of luck."
Matt Kidson, Director of Sport, said: "With the draw now complete for the badminton mixed team event, we are now a step closer to the Birmingham 2022 Commonwealth Games. It is going to be a really exciting competition and we are looking forward to hosting 11 days of badminton."
Tickets for the badminton competition, which will be held at the NEC, are on sale now at www.birmingham2022.com.