Growing up and living in Papua New Guinea, Dorna Longbut discovered badminton a few months ago, ahead of her debut at the VICTOR Oceana Para Badminton Championships 2022.
"Back in the country, badminton is not a really popular sport apart from Rugby league," Dorna shares after her practice session yesterday.
Before her badminton journey, Dorna was a seasoned rugby athlete. After her injury, Dorna eventually found her way back to sport, winning Gold and Bronze at Para-athletics events this year. And her passion for para-sports goes beyond her individual experience.
"People with para sports, we have a lot of different stories about how we take part and how we get ready, you know there's a lot of barriers to that. But you know, that doesn't stop us from playing sport. We're seeing other countries and getting to know other stories of other para-athletes. It's really interesting… to be able to see them compete at an elite level where some have been training for years. It's really good seeing how they perform and how they can also play really well."
"I recently was doing the para badminton outreach and all those programs to go out to the communities and letting them know about the sport… It's really interesting! Knowing the sport, it's fun to play, I really enjoy it and I look forward to playing more of it."
The VICTOR Oceania Para Badminton Champions will mark a competition debut for Dorna, who landed in Melbourne this week to practice in the cooler temperatures of Melbourne.
"The first time I came to Australia was on a holiday with my family to Cairns. So my big sister is there. And then we travelled down to Brisbane – other family is there… This is my first time in Melbourne. It's pretty nice but it's cold! It's colder than back home. But I'm loving the experience."
"I've been practising and I've been playing against my own PNG para-athletes. But I haven't really got a real competition so this will be my first time and I'm really looking forward to it."
"Our preparation here was really good. The logistics, travel and all those… Travelling to the venue and back… We get public transport. But we've managed to go to training and learn a lot of things. Especially skills of badminton and getting to know it. Training has been challenging but also good. So we've learnt a lot. And also coach Ian Bridge went back to PNG and taught us a lot. And we learnt a lot from that. So we're really interested in seeing what our performance are from back home."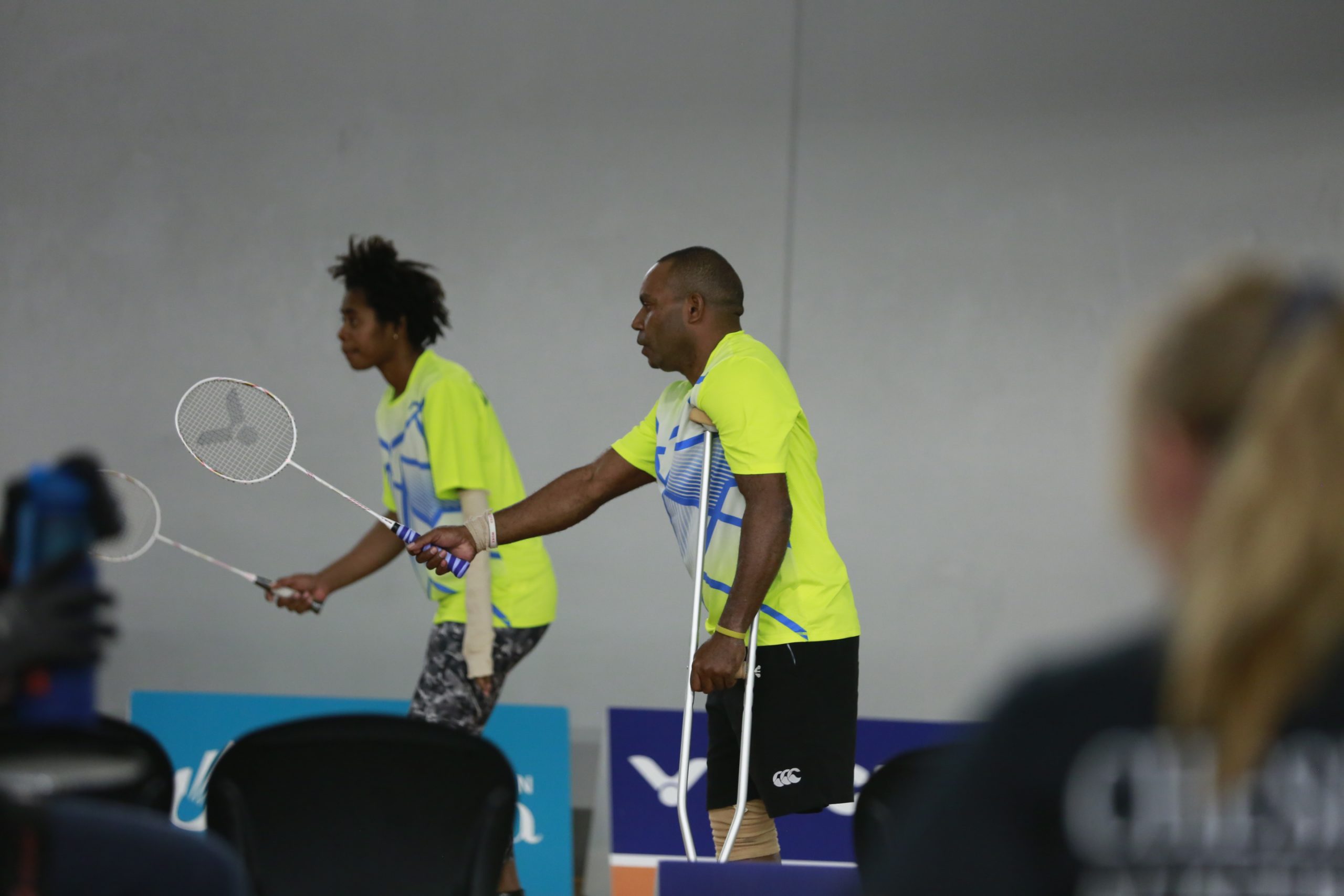 When asked what her goals were for the upcoming championships and beyond, Dorna remains humble and open to future success.
"My goals are simple. Just getting to know the sport and experiencing how we have to compete with international athletes from other countries. And just getting the experience and maybe get a medal. At least we get to learn a lot more and get a lot of competition so we experience and expose ourselves more to the game."
Dorna is also the recipient of a Badminton World Federation Female Participation Grant 2022 – valued at USD 900, supporting her new foray into international badminton.
All matches on courts one and two will be available to watch on the live stream, while news and results from the event will be available to view on our website and Facebook page. Join the conversation using #VOC22.
Badminton Oceania thanks the Australian High Commission for supporting the team and our mission to make badminton more accessible.
This funded initiative also compliments the ongoing efforts of the Inclusive GymBad. The programme which is exclusive to Papua New Guinea combines Shuttle Time and Gymnastics activities, delivering to communities while aiming to remove or reduce the barriers experienced by people with a disability, particularly women and girls, to participate equally. Similarly, this is funded by the Australian Government through the #PNGAusPartnership