Pictured: Li Shifeng (left). Jonatan Christie (right). Photo credit: Badminton Photo, Yohan Nonotte
UBER CUP
CHEN AND JIA INSPIRE MAGNIFICENT CHINESE TRIUMPH
China and Japan produced a sensational Uber Cup final, with China prevailing by force of their indomitable will to retake the trophy – their 15th title win in 19 finals.
The pivot of their victory was Chen Qing Chen/Jia Yi Fan's astounding two-hour ultramarathon against Yuki Fukushima/Mayu Matsumoto, during which the Chinese weathered stormy waters to sail the ship to safety.
The match elevated the final to rarefied heights, and will be remembered as one of the greatest women's doubles matches in Uber Cup history.
If there was one phase that distilled the essence of how unyielding Chen and Jia were, it was the late stages of the first game. Chen and Jia's iron will deflected everything that Matsumoto and Fukushima threw their way – seven game points came and went for the Japanese, with the Chinese simply refusing to give in.
Despite the loss of that game, Fukushima and Matsumoto showed plenty of heart to stay in the match, but they were perhaps too conservative in the exploration of angles or the inventiveness of their attack; what they rode on was their steadiness in the long exchanges. Chen and Jia were the more adventurous, they were unafraid to mix up the probing questions they asked of the Japanese; when it came to the crunch, it was this variety and attacking pressure that the Japanese found hard to contain.
Chen, having hurt herself on match point, willed herself on, and then collapsed in a flood of tears and primal screams once the match was won.
"It was a great match, we had two persistent pairs and we did our best and gave everything. It means so much to the team, there's a difference between 1-1 and 2-0. We just cheered each other on. It is the final, we didn't need to hold back anything," said Jia Yi Fan.
"It's a very important milestone. We have never played a match this long. Definitely in terms of our mental strength it's a milestone."
Akane Yamaguchi had earlier given Japan the lead, repeating her Sudirman Cup win over Chen Yu Fei. Once Chen and Jia had levelled the score, He Bing Jiao consolidated for China, beating Sayaka Takahashi.
The influence of Chen and Jia's win was apparent in the fourth match too, with scratch pair Huang Dong Ping and Li Wen Mei showing the same stubbornness against Misaki Matsutomo and Nami Matsuyama. The Japanese, inventive and opportunistic, had one game point in the first and no less than four in the second; each time the Chinese dug in, refusing to let the shuttle hit the floor.
China now have the Sudirman Cup and the Uber Cup. On Sunday they contest the Thomas Cup final – a clean sweep is now three wins away.
As for Huang Dong Ping, it has been nothing less than a dream year – Olympic gold, Sudirman Cup, and Uber Cup.
"I'm so happy with these wins, it was a lot of hard work and it just shows us the value of our training during the Covid months," said Huang.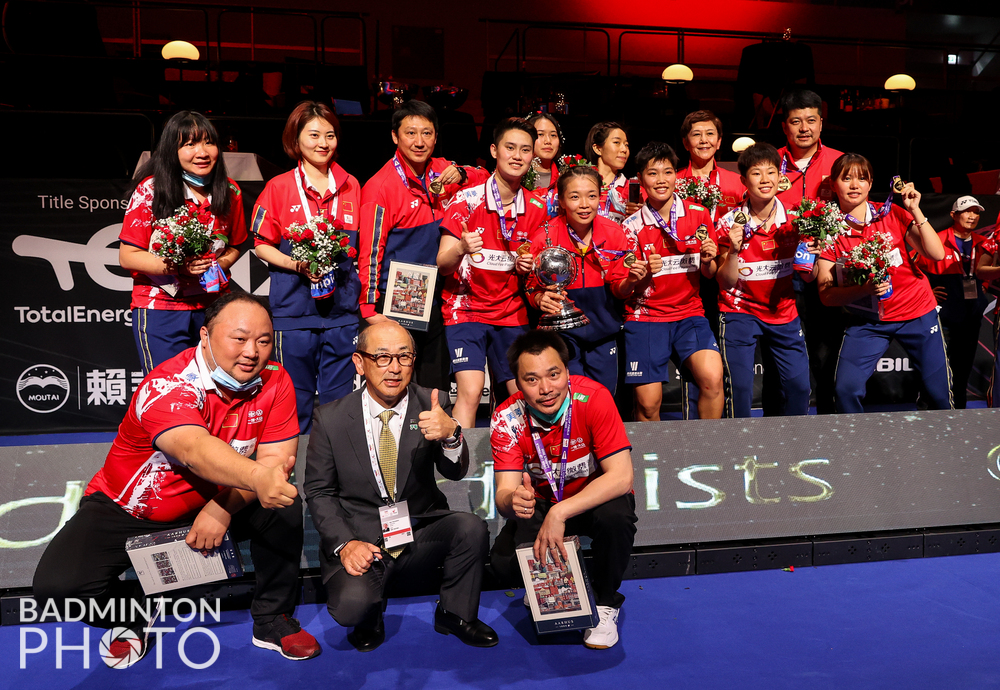 China are presented with the Uber Cup. Photo Credit: Badminton Photo, Yohan Nonotte.
THOMAS CUP
INDONESIA'S 19-YEAR WAIT FOR THOMAS CUP ENDS
A long wait of nearly two decades ended today for Indonesia with their reconquest of the Thomas Cup in Aarhus.
The Asian powerhouse had won 13 before this, but were stuck on that number since 2002. They had featured in two more finals, in 2010 and 2016, failing both times.
"I'm very happy because this is my first time, and we've won this after 19 years, and finally we could take it back home. I don't know what to say, I cannot express my feelings," said veteran campaigner Hendra Setiawan, who finally added the Thomas Cup to his list of achievements.
The Indonesians were near-perfect in their dismantling of a younger, relatively inexperienced Chinese team, who were seeking the Thomas Cup having already won the two other major team titles recently – the Sudirman Cup and the Uber Cup.
Anthony Sinisuka Ginting, Fajar Alfian/Muhammad Rian Ardianto and Jonatan Christie delivered the 3-0 result, all of them keeping their composure even when the going got difficult.
Indonesia went in with interesting choices in doubles. Alfian and Ardianto were promoted to first doubles, and the scratch pair of Daniel Marthin and Kevin Sanjaya Sukamuljo were slotted second.
Ginting provided the breakthrough, holding off Lu Guang Zu in 77 minutes. Alfian and Ardianto's tactical variations unsettled He Ji Ting and Zhou Hao Dong, and Indonesia were 2-0 with Jonatan Christie taking on Li Shi Feng.
Christie had played a 100-minute match against Anders Antonsen on Saturday, but he was ready for another long match. Li Shi Feng kept China's hopes alive until midway in the third, when Christie started to wear him down with precision and control, putting in the attacking bursts at just the right moments.
There were no nervous moments, no self-doubt. And as soon as the final point was won the rest of the team flooded the arena.
"The third game I said, let's go, let's play 100 minutes again," said Christie. "I just motivated myself. My last match gave me confidence. I was ready for 120 minutes again. This is my biggest achievement, bigger than my Asian Games gold."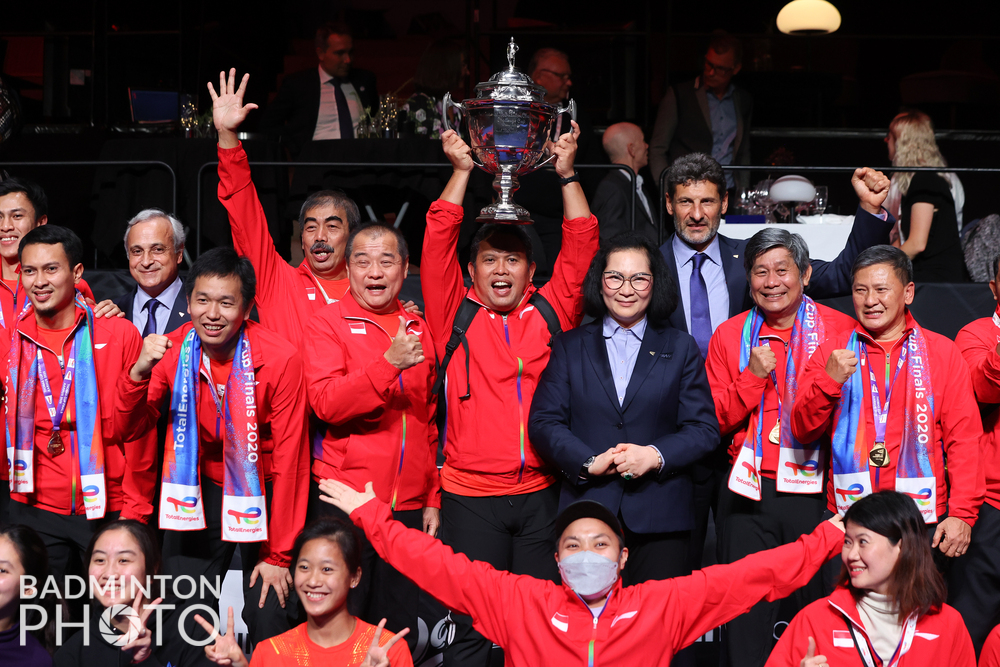 Indonesia are presented with the Thomas Cup. Photo Credit: Badminton Photo, Yves Lacroix.