In 2011, Tonga became the first country in the world to pilot the BWF Shuttle Time programme. Since it's inception nine years ago, the initiative has gone on to provide communities and schools with badminton equipment and platforms to learn in over 130 countries.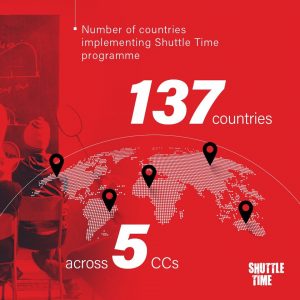 At the time, Badminton Oceania's Development Manager, Nadia Bleaken, was new to her role and Tonga National Badminton Association's (TNBA) Sione Vainikolo (Development Officer) had been working tirelessly to kick start interest in Tonga.
"In 2009, there were only a handful of players. A group of Filipinos who played socially to stay active originally formed TNBA, before more Tongans began to get involved", says Sione.
"When we trialled the Shuttle Time programme, we saw the potential as kids and teachers flocked to the courts in our trial sessions. Here we are nine years later and some of those (no-longer) children are competing in international tournaments", says Nadia.
On its ninth year, Sione shares TNBA's top ten triumphs on International Day of Sport for Development and Peace to demonstrate how Shuttle Time has the power to encourage change, development and peace:
In 2009, badminton was a rare sport to comeby in Tonga. Nowadays, children aren't only taking part in Shuttle Time sessions, you'll regularly see communities playing in the streets and gardens
The number of people involved in the administration at TNBA has grown
Tonga has three certified BWF Level 1 coaches
School teachers have become involved so they can lead Shuttle Time sessions in sports classes. In total, there are over 400 trained Shuttle Time teachers – one of which went on to become a BWF level 1 qualified coach
One individual progressed as a Technical Official to become a Pacific Accredited Umpire
Four U19 players are undertaking a Youth Leadership Programme and as part of their volunteering service, regularly carry out badminton activities in their communities
Over the last three years, an inclusion programme was set up to deliver teach Shuttle Time sessions for people with disabilities
Over 50 players have travelled overseas for training and tournaments. Many of those will have been the first-time players have left the country to attend training or competition in China, New Zealand, Australia, Fiji, New Caledonia and Tahiti
Players from Tonga have competed in the AIMS Games for the last four years
16 out of the 20 athletes in Tonga's national squad started playing badminton thanks to Shuttle Time
Many of Tonga's achievements were possible thanks to the funding and support from Australian Government Department of Foreign Affairs and Trade through the Pacific Sports Partnership, along with travel and training opportunities in China, supported by China Aid.
International Day of Sport for Development and Peace is celebrated annually by the United Nations and International Olympic Committee to symbolise the power of sport to drive social change.
Players, technical officials and staff from Oceania have been celebrating IDSDP by showing their #WhiteCard – you can get involved to by sharing your #WhiteCard picture on social media.