Team Samoa lead by example as their Coconut-leaf player bags went viral as they opened their Mixed Team campaign on Monday with a symbolic contribution to the 'Green Games'.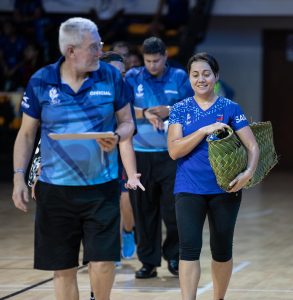 Part of Samoa's legacy from hosting the 2019 Pacific Games included a commitment to making the Games 'greener', including coastal clean ups and reduction in use of plastics.
The coconut-leaf weaved player bags hold the rackets, towels and drink bottles, as opposed to the bags which are usually made from polyester and plastic.
The thoughtful contribution was originally thought of by Samoa Badminton Federation President and Team Samoa Chef De Mission, Nynette Sass.
"The idea was to make a strong statement that Badminton supports the greening of the games. How better to show our support than to actually doing something tangible about it"
"The bags are biodegradable and this style of weaving is a fading artform in Samoa. We want to encourage and promote the revival of our old artforms by making it visible and eye-catching… Nature has given us plenty to work with", says Nynette.
As a result of this, the idea has inspired the field of play and more coconut-leaf items were created to wrap around the boxes to replace the plastic branding wrap which would usually surround the player boxes at international badminton tournaments.
Not only does this eliminate the use of plastic design, the new wraps add a Samoan flavour in-keeping with the Games values. The Technical Delegate of the Badminton and experienced international tournament referee, Julie Carrel, acknowledges the addition with compliments.
"It is difficult to make a field of play look different from one another. From the pictures and live streaming that we see, we could technically be anywhere in the world. It is great to see Samoa adding a distinct and traditional addition to the field of play", says Julie.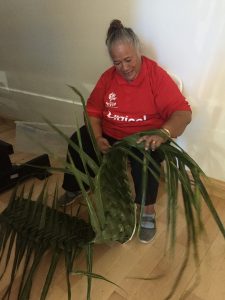 Nynette Sass worked with local volunteers to create the green-gear pre-Games time.  Meanwhile, youth pastor, Televine Masefau, lead the creation of coconut-leaf box wraps for the field of play.
Masefau has already earned a name for herself at these Games after it came to light she was changing her local community with BWF Shuttle Time and encouraged local youth to get involved with the Games through volunteering.
All courts will be using the box wraps throughout the Samoa 2019 Pacific Games and Samoa Badminton Federation are confident that they will inspire other sports through the production and reuse of the sleeves as opposed to the usual plastic branding.
However, the concept does not stop there. Sass has future plans to use stronger Pandanus leaves and create even more sustainable Flax woven boxes to be used in future competitions.