Photo Credit: Alphapix
Brent Miller took his enthusiasm and experience from his time as an international badminton player to the community in New Zealand, working with players from grassroots to high performance. In February 2019, he joined Badminton New Zealand as Community Manager – a role which includes taking the lead on the national delivery of Shuttle Time.
This week, he is featured in the Humans of Shuttle Time campaign – an initiative which looks into the involvement of key leaders in countries and their motivations for helping to grow the sport.
Read what Brent had to say about his journey into badminton and Shuttle Time: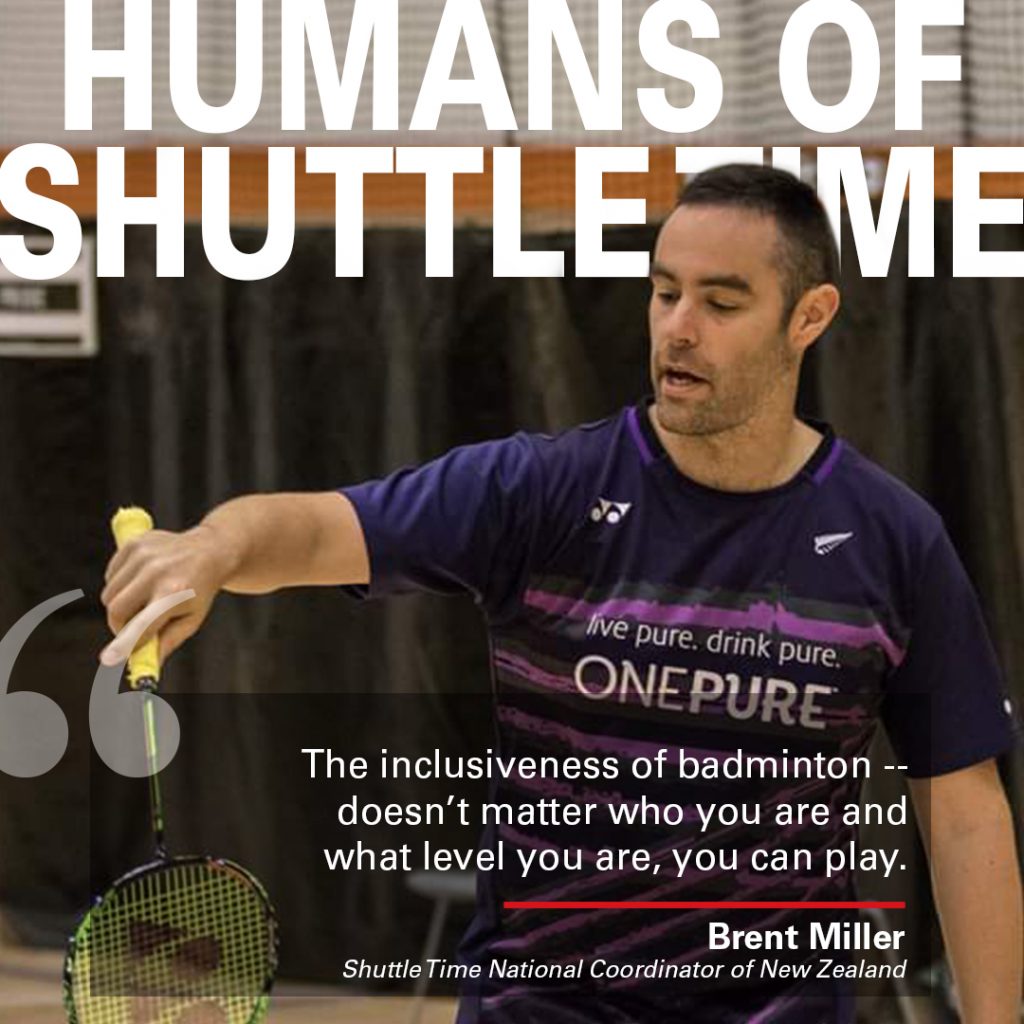 I grew up in the small town of Ohope Beach. As the name suggests we were a stone's throw from the beach, native bush and open spaces. I lived with my parents and a younger sister and spent a lot of time playing sport, fishing, biking and in general enjoying the outdoors.
I first played badminton on my driveway. My parents had two old wooden rackets and told me it would be fun. The old strings had split and my father used some fishing line to repair the split ends. From that point on we had a casual hit every now and then.
My Badminton Journey
In those days there was no televised coverage and I was oblivious to anything more than my backyard play. I really found badminton after I joined a club and quickly found greater success in badminton than my chosen sport of cricket. I started making teams and winning events, and that fueled my desire to play more and more.
I played competitively all through my junior years and this journey brought my family to Auckland to help me in my pursuit as a player. I took a job in the Pro Shop at Auckland Badminton after completing high school to allow me to focus on badminton and train. As the years went by I found coaching, and that led me to where I am now.
Memorable Moments
As a player the wins, the trophies and time spent with teammates are the most memorable. Often the best/most memorable trips are when you travel as a team. As a coach it was working with teams and seeing people improve and the excitement that growth and success brings the participants. I also loved seeing the players who had never experienced badminton participate and enjoy Shuttle Time. Everyone has success, everyone has fun and everyone wants more. The smiles it brings to the participants is a very rewarding feeling to the coach.
A Sport for Everyone
The inclusiveness of the sport — doesn't matter who you are and what level you are, you can play. From hitting balloons to yourself to jump smashes at the Olympics there is an opportunity for everyone. I went through the competitive pathway so it wasn't until I stepped out of that and saw the joy badminton brings on the other end of the spectrum that made me appreciate how special our sport is. You could play badminton with your mother or grandmother — there are not many sports that help you do that.
Shuttle Time and the Community
Shuttle Time is a fantastic resource and provides a great framework for development. All our community development is based around the Shuttle Time framework. Badminton is now one of the fastest growing sports in secondary schools and participation is massive.
As a player I was always motivated by playing and winning, but Shuttle Time has showed me that success in throwing, catching and growth is a key motivator. Small wins are just as fun. As long as we have rackets and shuttles everyone can be challenged and can have fun.
Get the latest news and developments from Badminton Oceania delivered straight to your inbox by subscribing to our eNewsletter: