Pictured: Brian Karo, Papua New Guinea. Photo Credit: Vele Karo
The Badminton World Federation's Humans of Shuttle Time series presents the perspectives of those who work on badminton development at the grassroots level. Brian Karo, Shuttle Time National Coordinator of Papua New Guiena, recounts his badminton journey, since discovering it in the second grade:
I was born and raised in Papua New Guinea. I had a very strict upbringing as both my parents were teachers so I had the privilege of attending international schools and I made plenty of friends.
I first came across badminton when I was in grade 2. I went for a sleepover at my best friend's house, he was Malaysian Chinese and he introduced me to the sport.
Over the years I lost touch but in 2015 my father and I went to the netball indoor complex to try out for badminton. Ever since I've grown as both player and coach.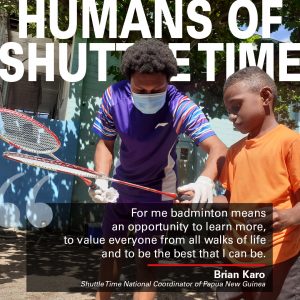 My First Impression
It had to be the shuttle. I couldn't work out how a small-feathered ball could be hit up and returned back without it being destroyed by the racket. I was also amazed by the way the shuttlecock flies. It made me really curious to understand how the game works.
Over these past years I've grown to enjoy the sport and appreciate it for its uniqueness. It's really given me opportunities not only in improving my health but in education and a more open view towards all players. Thanks to badminton, I have competed in tournaments in PNG, which has helped my reputation as a Shuttle Time teacher.
Memorable Moments
My most memorable event would be the VICTOR Oceania Championships 2020 in Ballarat. At the Continental Championships, I accompanied four pioneering Para athletes, all of us born and raised in Papua New Guinea and being new to the sport, to participate in our first ever international tournament as athletes and coach and coming home with four medals!
What Badminton Means
For me badminton means an opportunity to learn more, to value everyone from all walks of life and to be the best that I can be.
Badminton is a sport for all. In Port Moresby, Para badminton training sessions bring in people with disabilities who have always had a keen interest to play and are always present for all its training sessions.
Experiences With Shuttle Time
Shuttle Time has brought more athletes — both able-bodied and para athletes — and it has helped teachers learn and develop new skills to teach in schools and communities.
BPNG works with PNG Gymnastics to deliver 'GymBad' – an integration of Shuttle Time and GymAbility – that is funded by the Australian Government through the PNGAusPartnership which allows us to purchase more equipment, share resources and reach more people.  We have a focus on 'inclusion' and do lots of outreach to disability groups and communities.
The biggest lesson I've learnt is to be patient, to be enthusiastic and work hard and well with everyone.
Get the latest news and developments from Badminton Oceania delivered straight to your inbox by subscribing to our eNewsletter: