This is the 30th story in the BWF's Humans of Shuttle Time series, presenting the perspectives of those who work on badminton development at the grassroots level. Caroline Brial, Shuttle Time National Coordinator with Badminton League of Wallis and Futuna, talks about how badminton has made a difference to her life.
Childhood Years
I was born in Wallis and had a happy childhood. My father taught me how to fish and my mother how to cook. I was doing horse riding and I really loved it, more than playing the piano. Then all these activities stopped because many people left the island. I had never done sport before discovering badminton.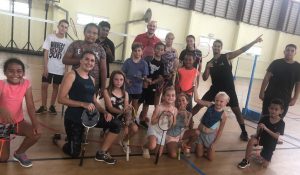 First Experience
As the equestrian club and piano club stopped, I started an enamels class. During one lesson I heard about badminton for the first time. I asked my parents to help me give it a try. I went to the venue on the island and saw it for the first time. It was so appealing, I tried it and it was a revelation! I fell in love with it since that day when I was 12 years old. I remember an old lady saying "everyone can play at their own rhythm".
Relationship with Badminton
I started to learn and play in Wallis in an open gymnasium; it was challenging to play on windy days. When I played in a proper gym, it was different and enjoyable.
When I returned to my native island five years ago I started va'a (Polynesian outrigger canoe) but I still play badminton and love it. This is and will be my only racket sport. I really like competitions, the adrenaline of matches, team play, and meeting new people.
Memorable Events
I met my first love thanks to badminton!
When I left my small island for France for graduate studies, I missed my family but always found comfort in practice and found myself a new family. I learnt so much thanks to all the people I met through badminton. I made precious friends.
What Badminton Means
A passion that I want to share with youth from Wallis and Futuna. It's so much fun and exciting whatever your level is. I still love to play and really enjoy being part of this sport community.
What Makes it Different
Intensity, accessibility, coordination, playing with others. Badminton combines a lot of the basics that you see in other sports. Most importantly, badminton is a game for everyone and can be played anywhere.
Developing Badminton in the Community
The local club was started by non-residents or expats. When I returned, I wanted to share the love for badminton with people of my community and show them what badminton can bring them.
Lessons From Shuttle Time
Shuttle Time material is simple and accessible for newcomers, and it is available in so many languages.
You can play badminton anywhere with everyone. This game is for everyone, of any age, gender, or skill level. This is the message I would like to pass on to my community.