The Badminton World Federation's Humans of Shuttle Time series presents the perspectives of those who work on badminton development at the grassroots level.
Christy Villaflor, Shuttle Time National Coordinator for Northern Marianas Badminton Association, talks about her journey with badminton which started in the Philippines. After starting to play in a gym, she took her new passion with her as she migrated to Northern Marianas.
I was born and raised in the Philippines as the youngest of seven children. My mother was a teacher and my father was a farmer. Our parents taught us the value of kindness, integrity and patience. 
Tryst With Badminton
I first came across badminton when I worked in the Philippines. My former colleagues introduced badminton to me and we played recreational games once a week in a gym near our office.
We had fun playing the game. Badminton's a sport that develops reflexes and serves as exercise and relieves office stress. Thus it is beneficial for one's overall fitness.
When I migrated to Northern Mariana Islands (Saipan), I encountered badminton again in our company sports fest.  After the event my colleague who started the badminton association in Saipan invited me to play. I regularly played and participated in competition.  I eventually became a volunteer and organiser with the association. I usually officiate as umpire in most of the tournaments we organise.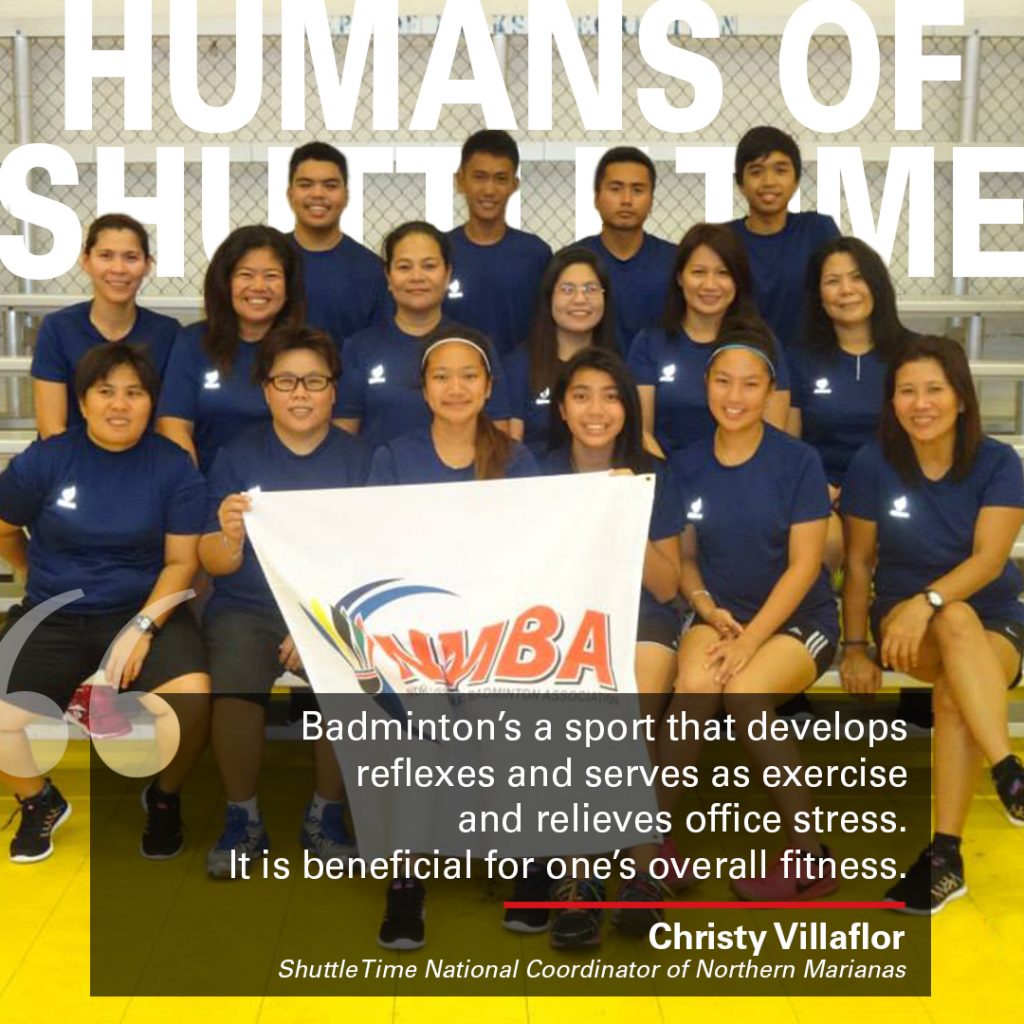 Memorable Moment
My most memorable event was our first international tournament in Guam. All of the players were excited to play the off-island competition with Guam. We were able to challenge players of a higher level. We had so much fun.
I'm now involved in developing young players to represent our Northern Marianas Island.
Impact of Shuttle Time
With the introduction of Shuttle Time, school kids are beginning to get aware of the sport. We have a group of students that plays every Wednesday. The Athletic Director of the Public School System informed the association that they will be incorporating badminton as part of the school sports programme.
Lessons From Shuttle Time
The biggest lesson learnt while working with Shuttle Time is proper coordination and communication with schools to increase participation of students and teachers to stimulate interest. With the introduction of AirBadminton, we now have the option to conduct Shuttle Time in outdoor spaces.
Get the latest news and developments from Badminton Oceania delivered straight to your inbox by subscribing to our eNewsletter: