The Badminton World Federation's Humans of Shuttle Time series presents the perspectives of those who work on badminton development at the grassroots level.
This month, they caught up with Elizabeth Temo (Shuttle Time teacher- Fiji) to discuss her experiences with coaching and helping the community through badminton.
I grew up with my aunt's family in the capital city of Suva. My uncle was a police officer. Growing up in a police barracks was the most beautiful experience. We had a lot of fun as kids, all we could think of were different games and sports.
I had difficulties as well. Life without your own parents or your own home is a big challenge and love was not really in the picture. My mother was young and single and that is why I was raised by my aunt and uncle. Even though I went through a lot, it didn't stop me from completing my secondary level and obtaining other certificates from university. The struggles were my stepping stones to a better future.
First Experience of Badminton
I grew up in a multi-racial society. We used to live next to a part-Chinese family and they always played badminton in their front yard, which is where I first saw badminton.
I used to play with them without any knowledge at all of the sport. All I knew was just to hit the shuttle. It was always windy and we had run around chasing the shuttle!
Memorable Moments
The most memorable was my trip to the island of Yasawa with development officers from other federations. The children's expressions were incredible. As soon as they saw me taking the equipment out of the bag, they grabbed the rackets and ran off to play. When we have less equipment they fight or cry. The love and interest they have is just so adorable. For them it is like Santa Claus visiting because all their life they've only ever known four sports: volleyball, rugby, netball and football. When they are introduced to a new sport it's a big deal for them.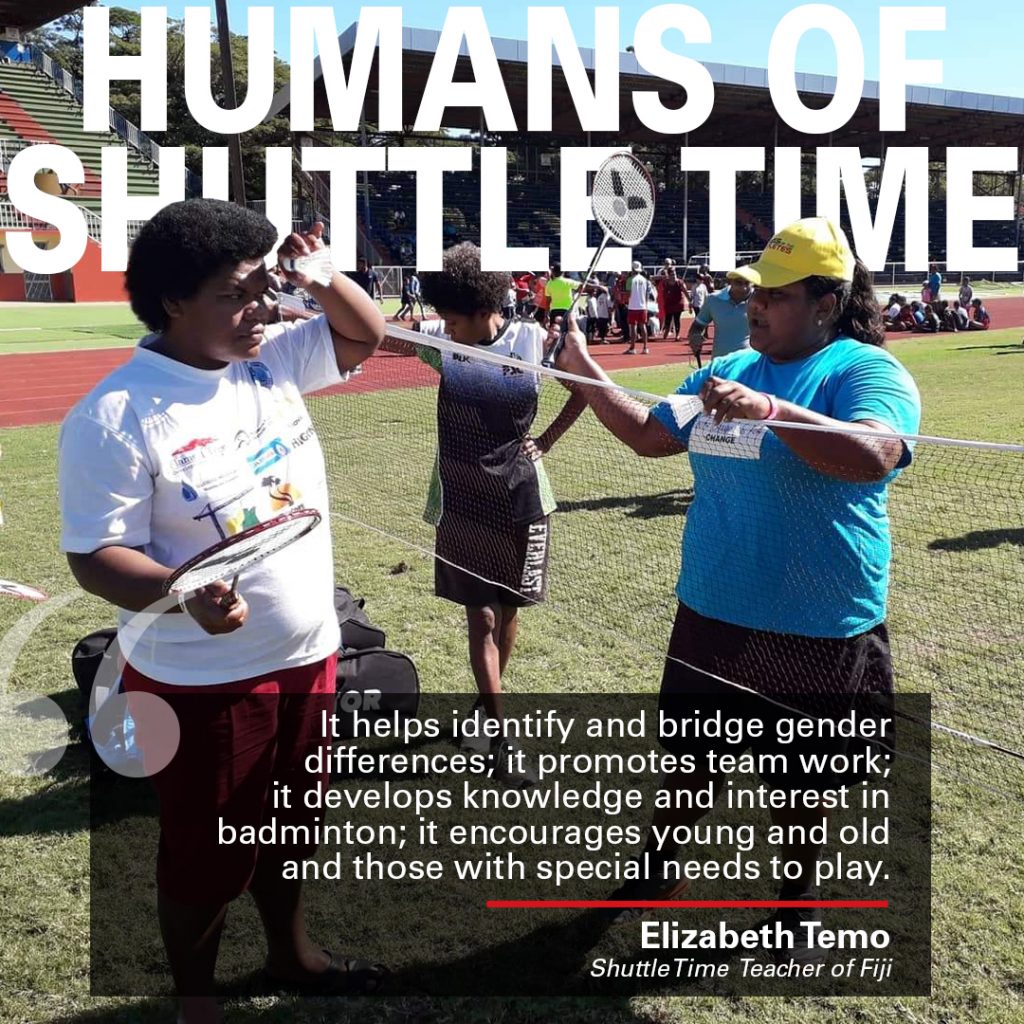 What Badminton Means
Badminton matters because it combines sport and play with other non-sport outcomes to achieve development goals in health, education, economic development and peace.
Badminton is a non-contact sport making it a lot safer than contact sports.
Developing Badminton in Communities
My first time delivering activity was not according to expectations because there wasn't much interest in badminton. The kids tended to stick to sports they already know and the feeling that you are just standing there with no kids or group to teach was discouraging. But I understood their position and we couldn't force kids to play a sport they didn't know but that can change if the right person is out there to deliver and modify games to make it interesting.
Putting some flavour to the soup makes it delicious. That's how it worked with my Shuttle Time implementation in communities where I modify and add music to the programme.
In some communities that are familiar with badminton they just can't wait for us to be there.
Impact of Shuttle Time
It helps identify and bridge gender differences; it promotes team work; it develops knowledge and interest in badminton; it encourages young and old and those with special needs to play.