Pictured: Erin Walklate (far left) leading a Shuttle Time programme in Melbourne Sport and Aquatics Centre
Beijing 2008 Olympian, Erin Walklate from Australia, features in this month's Humans of Shuttle Time series, presenting the perspectives of those who work on badminton development at the grassroots level. Erin Walklate, Shuttle Time Tutor from Australia and former international player, talks about growing up with the sport, representing her country at the Olympics, and giving back to the community through coaching.
Childhood Days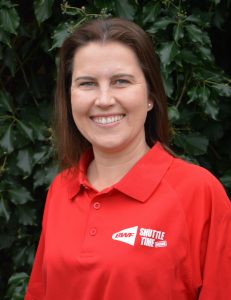 I am one of three girls, and we grew up on a family farm in Haddon (about 15km from Ballarat) in Victoria, Australia. My Nan and Pa (grandparents) owned the farm, and when their three children grew up and got married, they gave each of their children 25 acres of land to sell. My mum and her siblings all kept their land and built homes for their families. The farm was about 400 acres in size. My aunty and her family lived on one corner, my uncle and his family lived on another corner, we lived on the hill. We were surrounded by family as kids. We were always outside as kids. My parents were both teachers, but everyone helped out on the farm when we could. We were so lucky to have the life we did growing up.
Experiencing Badminton
I first saw badminton at the local primary school which we went to. The Haddon Badminton Club would host a roster every Monday night, and my parents, aunty and uncle all used to play. My sisters and cousins would go with our parents on Monday night to watch, and play amongst themselves outside, on the adjacent oval, or wherever they could find space. We loved Monday night, it was always a late night. I used to love competing with my older cousin. A coach from Ballarat ran a clinic for the juniors at Haddon, maybe when I was in Grade 5. That was the first time I remember thinking, wow, I could get better at this.
Early Impressions
I had so much fun at badminton ever since I used to go to the local roster as a primary school kid with my parents, sisters and cousins. Once I moved to a local club, and made my first state team, and went to my first National Carnival, I really fell in love with badminton. I loved getting to meet kids my age from all over the country. I loved that I had a Victoria uniform. I loved that my surname was on the back of my shirt. I remember feeling so proud when I first got that Victoria shirt.
Memorable Moments
One of my most memorable events was the June Bevan Carnival in Perth 2001. I made lifelong friends at this carnival (and all of the state tournaments) – I even met my future husband, Ben. I have badminton to thank for him.
The Commonwealth Games in 2006 was definitely a highlight for me. I was very young when I was picked in the team. This was my first introduction to a multi-sport environment too, and being in a broader Australian team, with athletes from different sports was amazing.
The 2008 Beijing Olympic Games was an amazing event to be a part of. To play badminton in China, where badminton is a national sport, is something I will never forget. My mum, my dad and my sister Sharni were in China with me, and I knew that one of them was going to miss my match as we were a ticket short.
When I was called onto the arena, I remember feeling so excited, and so proud. And when I heard all three of them scream my name, I felt so emotional. Sharni had asked a stranger to write her a sign that read 'my sister is in the Olympics, I need a ticket please'. She stood outside the stadium, and someone had given her one!
What Badminton Means
I had a break from badminton when I stopped playing competitively. I was sick of it for a while. All the training, all the effort, the money spent, the competitiveness, sometimes disappointment, highs, lows. I have heard many athletes tell me they felt the same at times. But now I have my own family, we love playing with them in the backyard. My husband coaches every week, and our kids love to go to the stadium to have a hit. I am a teacher, and I love sharing badminton with the students at school.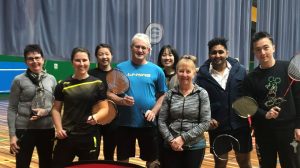 What Makes Badminton Different
I love all of the different aspects of the game. You need speed, agility and flexibility. You also need to be strong. And then I love the tactical aspect. As a kid, I loved that I could compete against the boys. It was one of the only sports that I could do, where I could compete against the boys!
Developing Badminton in the Community
I love to share badminton with young people. I think this is one of the reasons I became a teacher. Badminton is in our school curriculum. I love being part of the Shuttle Time programme, and sharing ideas with other Shuttle Time coaches too.
Shuttle Time has helped improve the standard of coaching in our region. I love that there is a consistent way that we can teach young people to play, and that it is internationally recognised. I love the idea that you don't have to be great at badminton to teach great badminton skills. As a former athlete, when I first started coaching badminton, I would always overcomplicate the teaching of any skill.
Get the latest news and developments from Badminton Oceania delivered straight to your inbox by subscribing to our eNewsletter: