The Badminton World Federation's Humans of Shuttle Time series presents the perspectives of those who work on badminton development at the grassroots level.
This month, they caught up with Hebrew Tom (Shuttle Time National Coordinator of Cook Islands) to discuss how badminton helped him to find new a new meaning in life, alongside his experiences with coaching, helping the community through badminton and its impact.
I'm from a tiny island called Palmerston Island in the Cook Islands. It is the smallest of the islands in the Cooks at 2.6 sq.km and a population between 27 and 58. Many families have moved on to other parts of the world to make a better life for themselves.
I was born and raised on Palmerston Island and moved to New Zealand in 1987 and did my schooling there, as Palmerston Island only has schools up to sixth grade. Most of my childhood I never had any kind of schooling as teachers were hard to find and replace. After leaving home and over the years Rarotonga and New Zealand became my home as I lived in both countries.
From Tennis to Badminton
I first played badminton during my senior college years. I was 16 and my initiation into badminton was by accident. I was a tennis player. One of my friends happened to be a badminton player and she introduced me to the game and asked me to attend their training session, so it happened that both me and my brother attended the training session and we loved it. After the first session we got hooked and continue to train and play in little tournaments at our local gym and while challenging other schools in our region.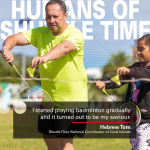 First Impressions
What struck me at first was how interesting the sport looked and how challenging it was. I remember the hardest part of the sport was trying to hit the shuttlecock. The sport was totally different from tennis and the training was a lot more tense and interesting. The co-ordination is different and somehow I had to try and fit another sport into my busy schedule as I was also playing table tennis for the school. So badminton became the third sport I played for the school.
Deeper Association
After leaving school in 1990 I didn't get involved in the sport until 2015. I was living in New Zealand and came out to Rarotonga for a holiday and found out that the organisation had started and a good friend was the president of the association. Also, my brother was on the committee. After returning to NZ I was asked in 2016 if I would be able to accompany our first team to the Aims Games. That was a big eye opener for me, to be involved in the sport and see our kids grow and how much they have achieved.
Memorable Events
It was our very first Aims Games. I met so many people and children through this tournament and we became good friends and I adopted the children as our own and that is the team from Tolaga Bay Area School. What made it special was when the team came over to Rarotonga for a holiday and had a little tournament with our players.
What Badminton Means
I've been told many times that I need a life outside of badminton. Badminton is life and I breathe and sleep badminton. I have to say badminton is my saviour. It's a sport that is good for fitness and for health. In 2012 I was diagnosed with a lung disorder and was told I have the lungs of a 70-year-old man and only 41 per cent was working. It took a whole year before I got diagnosed and was told that I wouldn't be able to do any physical activity and I would have to be on a disability benefit for the rest of my life. In 2015 when I came out to Rarotonga for a holiday and I got involved in badminton and gave it a try I felt fine, only with lots of huffing and puffing but nothing to send me to the hospital. On returning to NZ my specialist was shocked when I told her what I'd done. She ran a test and gave me the all-clear to carry on. I had to take one step at a time and have regular check-up every three-six months. So this is what badminton has done for me. It is my saviour.
Impact of Shuttle Time
Shuttle Time made a big impact in our region and in the community. By having Shuttle Time we managed to get a lot of people involved and the demand for the sport has grown to an extent where it was hard for the association to keep up.
The biggest lesson I've learnt after becoming a Shuttle Time tutor is that by going out and delivering Shuttle Time to schools and the community, you are not only improving the childrens' and adults' skills but also improving yourself and building yourself up.