Pictured: Iakopo Molotii – second from left
The Badminton World Federation's Humans of Shuttle Time series presents the perspectives of those who work on badminton development at the grassroots level. Iakopo Molotii, Shuttle Time National Coordinator for Tuvalu Badminton Association, recounts how badminton has impacted his life on and off the court.
I spent my childhood and teenage years in a small island which had few sports opportunities except football and volleyball as leisure. Games were inconsistent as we hardly had any footballs.
Our lives were spent on survival skills like fishing, farming and playing traditional games using local materials.
On a village of less than a thousand people at the time, without electricity, children like me played high jump, long jump and sprints. I was 100m sprint champion all my junior years.
Association With Sport
I was president of Tuvalu Football Association for four years, having played as striker during my younger years. When I accompanied my wife to Australia for her studies in the early 1990s, I learned tennis and later represented Tuvalu at several overseas tournaments including the Pacific Games.
I became coach for Tuvalu tennis for many years and was requested by Tuvalu Association of Sports and National Olympic Committee (TASNOC) to help revive badminton as president.
Compared to my childhood years, kids in Tuvalu today are very lucky to have opportunities to pursue sport.
That's what keeps me going in coaching, as I believe in their abilities, provided they are given the right environment with the right tools and guidance.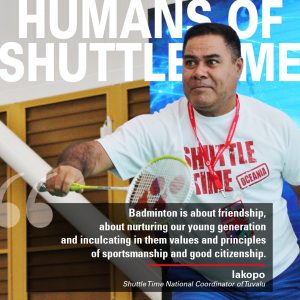 Badminton and I
I first saw badminton in Australia. What struck me was its speed, the lightweight rackets and like other sports the opportunity to socialise and build friendships.
Upon returning to Tuvalu, my mind was on tennis but I supported those who wanted to develop badminton. I joined them at times, but never seriously involved myself in competition as I was busy with tennis coaching.
Memorable Events
Playing sports is always fun and about building and enhancing relationships.
I was finally selected to represent Tuvalu as a badminton player in 2007, and it was a surprise as I hadn't trained seriously, but I had won the national championships the previous year.
What Badminton Means
A lot! Badminton is about friendship, about nurturing our young generation and inculcating in them values and principles of sportsmanship and good citizenship, besides making sure that the sport is inclusive, safe and promotes peace and justice. Children come from varied backgrounds, but with badminton, we teach everyone to respect one another.
Developing Badminton in Tuvalu
In Tuvalu's context, it's easier to play AirBadminton which can be played anywhere and does not require an indoor arena.
Regular badminton is difficult in Tuvalu, as there are no courts or stores selling shuttlecocks and other equipment. People treat sports as leisure.
Impact of Shuttle Time
Shuttle Time has changed the mindset of people. They see their kids learn how to socialise and respect each other. Badminton helps in nurturing children and we make sure our approach is inclusive. We talk about being good citizens through sports and making friends and that sports does not discriminate.
Get the latest news and developments from Badminton Oceania delivered straight to your inbox by subscribing to our eNewsletter: