Pictured: Joanne Christie (center), Shuttle Time Tutor – Badminton New Zealand.
The Badminton World Federation's Humans of Shuttle Time series presents the perspectives of those who work on badminton development at the grassroots level. Joanne Christie, a Shuttle Time Tutor in New Zealand, talks about his journey into badminton and experiences of enhancing badminton opportunities for communities across the country:
I grew up on a family farm near Lincoln, Canterbury with my parents, younger brother and younger sister. We were lucky to grow up with grandparents and cousins as neighbours.
I enjoyed playing all sorts of sports (mainly badminton, tennis, netball and touch) and spending time on the farm.
First Impressions
Both my parents played badminton with mum competing for Canterbury and dad being my coach from when I first started at Lincoln Badminton Club. It was a sport we enjoyed as a family (brother and sister also played) and I loved the opportunities it provided with travelling around the South Island competing in tournaments. As a coach now, I understand that it is a high participation sport which appeals to kids.
Relationship with Badminton
It's in my blood! I have represented Canterbury Juniors since I was 11 and started playing senior badminton when I was 15. I have been involved in badminton as a volunteer and as a paid staff member for Badminton Canterbury on and off for around 20 years. I love giving back and seeing kids enjoy the sport like I did and still do.
Memorable Events
Being runner-up at the Oceania girls doubles in under-16 was pretty special – this was in Adelaide. Also a number of senior Canterbury titles.
The most memorable thing though is the friendships I have made throughout the country. Now playing Masters, it's great to catch up with everyone still playing.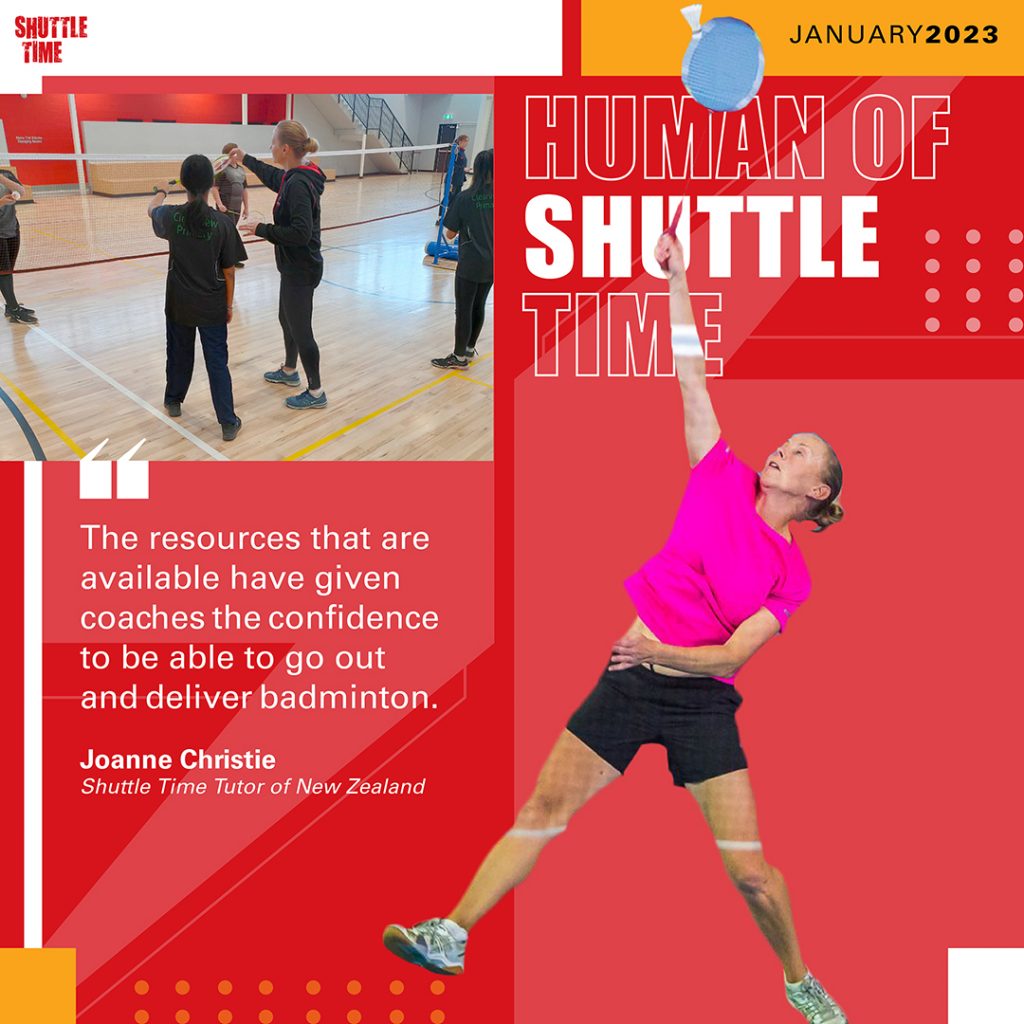 What Makes it Different
You don't have to chase a ball or wait your turn. You get lots of opportunities to hit the shuttle. I also love that it's both a team and an individual sport. It's fast, can be highly skillful or just enjoyed at a social level. I also love that you only need one other person to go and have a hit – you can play at any time that suits you. The fundamental movement and coordination skills that it develops in children is also hugely beneficial.
Developing Badminton in the Community
I work as a volunteer coach at the Lincoln Badminton Club where we have over 70 kids registered. I also work as the Coach and Development Manager for Badminton Canterbury. Part of that role is coordinating coaches to go out and deliver in schools and community settings as well as upskilling coaches to be able to do this. In Canterbury we have a variety of clubs that offer Shuttle Time coaching as well as Badminton Canterbury-led afterschool programmes.
Impact of Shuttle Time
The resources that are available have given coaches the confidence to be able to go out and deliver badminton. By focusing on Shuttle Time we have increased the sessions available for children to give badminton a go. It has also given us a specific programme to be able to go out and target schools who might be interested in us delivering badminton.
Lessons from Shuttle Time
Understanding how to use the resources properly has been great and being able to pass this on so other coaches can build their confidence. You don't have to know everything – but you have to know where to find the information.