Pictured: Joseph Devenecia (far right), Shuttle Time National Coordinator of Guam.
The Badminton World Federation's Humans of Shuttle Time series presents the perspectives of those who work on badminton development at the grassroots level. Joseph Devenecia, Shuttle Time National Coordinator of Guam, talks about his experiences with coaching and helping his community through badminton.
Childhood Days
I was raised by a single mom and an extended family. I am the youngest of four boys. Being raised by a single mom meant we didn't have everything, but the extended family meant we weren't deprived either.
My brothers and I were pretty close, and we had a close relationship with our multitude of cousins. We all had someone we were close to, which made growing up special, and we still have those same relationships now. We all got in trouble to one degree or another, and we knew that we'd get double the consequences because raising us was the responsibility of all our aunties and uncles.
When I was 11 my family moved to California. My mom and brothers still live on the mainland. I returned to Guam 30 years later in 2007. I began teaching in the public school system, and earned a Master's degree from the University of Guam in Special Education. I've been teaching for 11 years.
Tryst With Badminton
I can't recall when I was first exposed to badminton. I just know that when I was little it was something I played. I'm sure I probably received a badminton set when I was in elementary school in Guam.
It was decades later when I got reintroduced to badminton after speaking to Sandra Low about becoming the coordinator. I started the online modules and watched the videos. I was amazed at the speed of play of elite athletes. Badminton is truly an exciting game to watch. The speed and agility of the athletes makes watching nail biting at times.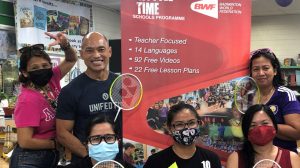 Experiences With Shuttle Time
As the coordinator I've been trying to get more teachers to sign up with Shuttle Time and go through the online course. The teachers I have worked with are excited to start using their rackets as part of their lessons. We have a WhatsApp chat group and we try to meet often to play and improve our game. At the school I teach, I've approached our principal to allow us to use the gym to bring badminton to the community.
We always had so much fun when we got together to review the online course material.
What Badminton Means
Badminton is fun and exciting. It is another way to get in my fitness workout. I love being able to use the equipment in my classroom to let students experience how much fun it can be.
Speed, agility, and good hand-eye coordination are all aspects badminton shares with other sports. However, I like it that the racket is so light, and that the shuttle doesn't go very far no matter how hard you hit it. It is a sport that more people can enjoy. You don't have to be the strongest, the tallest, or the fastest person to play. It's also a sport families can play together. It's a sport you can safely play as you get older.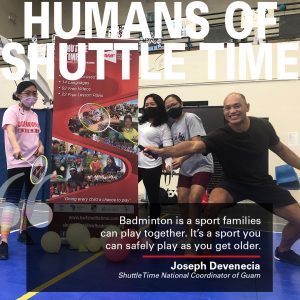 Importance of Shuttle Time
What I find helpful with Shuttle Time are the lesson plans, and particularly the videos. It's one thing to theorise how to build a foundation to be a better badminton player, it's another to see the theory in action.
Community Badminton
My experience in developing badminton in the community has been a fun experience. I've been dealing primarily with elementary school teachers, and their energy level is so high. They always have fun during our meetings. Many of them express how excited they are about incorporating badminton for themselves because of the physical aspects and health benefits they can get from playing.
I've had my students play in my classroom on a few occasions. Many would ask if they can use the equipment in class when lessons have been delivered and assignments completed. So I feel that just that little bit of exposure can help in making badminton a widely played and popular sport.
Get the latest news and developments from Badminton Oceania delivered straight to your inbox by subscribing to our eNewsletter: