The Badminton World Federation's Humans of Shuttle Time series presents the perspectives of those who work on badminton development at the grassroots level.
Laurel Vagi, Shuttle Time National Coordinator for Papua New Guinea (PNG), was drawn to the sport through her enthusiasm for sports such as rugby and tennis. She took a liking to badminton after becoming fascinated by the speed of the shuttlecock. Nowadays, she implements Shuttle Time through her role as Badminton Oceania's administration assistant in PNG, which plays an instrumental role in the Inclusive GymBad sessions – a sport for development project specific to PNG, which is supported by the Australian Government.
I grew up in a family that loved rugby league. Being the only female child, I was exposed more to rugby league than any other sport. I would be the sister on the field cheering for my brother's team.
As I went to high school I was into netball and played for a few years.
First Experience With Badminton
I watched badminton on sports news channels but was never attentive to the sport as I thought it was tennis. It was only when I was called for an interview with the Badminton Oceania team, that I did some research and learnt more about badminton. I feel it is a privilege for me to work closely with talented badminton coaches, volunteers and my supportive superiors.
The first thing that struck me about badminton was the shuttle! It is amazing how the shuttle is made and how fast it is.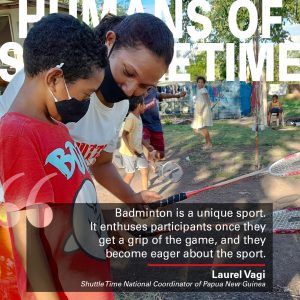 Memorable Moments
Badminton has given me the exposure and the opportunity through various responsibilities and challenges.
My most memorable experiences were having to attend the Team Up workshop through the GymBad Programme, meeting other people virtually in other Pacific Regions and from my own country with different sporting backgrounds.
What Badminton Means
Badminton is a unique sport. It enthuses participants once they get a grip of the game, and they become eager about the sport.
Shuttle Time has brought a lot of interest and enthusiasm within the region. Unfortunately, the Covid-19 pandemic has affected our plans on delivering in some areas. But we have not given up, and through the support of our coaches and volunteers we have been delivering to communities following required Covid-19 protocols.
 Lessons From Shuttle Time
This is a big challenge as it is a new role for me, but I have learnt so much working alongside coaches and the participants who are involved.