Pictured: Leo Cucuel (front row, middle), Tahiti Badminton Federation
The Badminton World Federation's Humans of Shuttle Time series presents the perspectives of those who work on badminton development at the grassroots level.
Leo Cucuel, Shuttle Time National Coordinator for Tahiti Badminton Federation, talks about his journey with badminton. He's represented his country at previous Thomas Cup Finals, International Challenge tournaments and numerous Oceania Championships. Nowadays, he's focusing most of his efforts on giving back to the sport through the Shuttle Time programme in Tahiti.
My parents were primary school teachers and they loved to travel so we moved a bit. I lived in Africa until I was six, then in France until 13, then Mayotte for four years, Guadeloupe for two years before arriving in Tahiti in 2006.
First Brush With Badminton
I think it was in primary school in France, we had a sports teacher who made us try it once or twice. I remember being intrigued by the size of the racket and impressed by the speed of the shuttle.
Relationship With Badminton
I played in school competitions in France when I was 10 to 12, and then occasionally in Mayotte, where the first club in the island was created. I've always played lots of sports like tennis, soccer, table tennis, volleyball, and it's only when I arrived in Tahiti that I started playing badminton on a regular basis at the Badminton University Club of French Polynesia where I was studying. I then started to play competitively and being involved with development and coaching with Tahiti Badminton that was starting to grow.
Then I started to work more closely with Badminton Oceania who did an amazing job in helping us promote the sport through Shuttle Time and improving the competitiveness of our players on the international scene. In 2016 Tahiti Badminton had government funding for a full time role, and I've been working full time in badminton since then.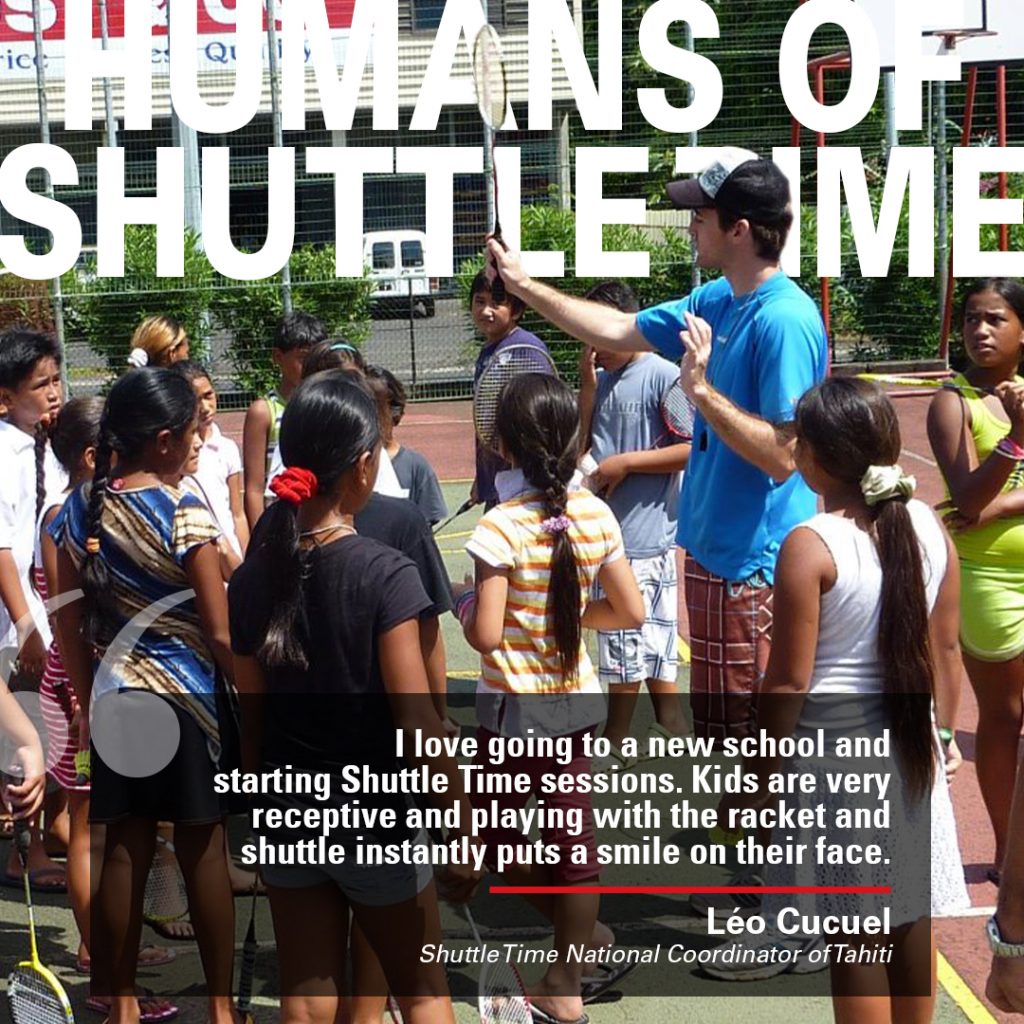 Getting Inspired
Since 2010 I have had the chance to travel a lot and meet amazing and inspiring people through badminton. There are two people I'm really grateful that I have met, Tony Mordaunt who used to be Development Officer for Badminton Oceania, and (Kim) Ji Hyun Marr from Korea. To see their passion for badminton, their professionalism, their enthusiasm and energy to pass the knowledge and motivate others was very inspiring for me as a player and even more as a coach.
On court, my best moment as a player and coach was winning the first medal ever for Tahiti in the mixed team event at Oceania championships in North Harbour in 2016. We had a young team and we had never beaten our opponents (New Caledonia) before so we were very happy to win bronze.
What Badminton Means
Badminton is very important to me. I still love to play and it has given me so many opportunities in the last 10 years. It's an amazing sport with an amazing community in the Oceania region and in the world, and I feel really lucky to have a job where I'm involved with the sport and trying to help it grow.
What Makes Badminton Different
I think the big difference with badminton is how accessible it is. No matter your age or physical condition, you can immediately have fun. And I also believe that the variety of shots you can hit from anywhere in the court is amazing. You always have so many options, and that make it really fun.
Developing Badminton in the Community
I love going to a new school and starting Shuttle Time sessions. Kids are very receptive and playing with the racket and shuttle instantly puts a smile on their face.
In Tahiti we don't have many halls, plus they all are multisport halls and all of them are open so the wind is a problem. Most of the sessions in primary school are delivered outside so it's a bit challenging sometimes. I've delivered sessions on soccer fields, by the beach, in a parking lot, on the street, and even in a classroom… but it was all fun. Badminton is still growing and developing step by step in French Polynesia so we are happy.
How Shuttle Time Is Making a Difference
Shuttle Time helped us to have exposure outside of the clubs and made badminton accessible. Badminton is now very popular with primary schools, it's in the curriculum in middle school, high school, university… there are regular school competitions, and the number of registered players is growing.
If I go back 10 years ago, we had no equipment to share with the schools, no primary school teachers delivering sessions, and very few U13 and U11 players in clubs. They are now a big part of our registered player group, which is very promising.
Takeaways from Shuttle Time
I have learned that you can play badminton anywhere with anyone. Also, I think being involved simultaneously with the national squad and Shuttle Time in Tahiti opens one's mind and it becomes useful to see the big picture and helps build an efficient pathway from grassroots to high performance.
Get the latest news and developments from Badminton Oceania delivered straight to your inbox by subscribing to our eNewsletter: