Pictured: Matt Simpson, Badminton Australia
The Badminton World Federation's Humans of Shuttle Time series presents the perspectives of those who work on badminton development at the grassroots level.
Matt Simpson, Shuttle Time National Coordinator for Badminton Australia, talks about his journey in sport including 13 years as a competitive diver. Nowadays, he shares his passion for sport through the Shuttle Time programme.
Childhood Days
As a child I was extremely lucky to have been given the opportunity to play several sports. Whether or not this impacted the family's finances, my parents never hesitated from allowing us to play sport. My parents had the attitude of 'try as much as you like until you find your thing', so along with sports like indoor soccer, trampolining, AFL football, beach volleyball, rugby, tennis and heaps more, I chose diving (the springboard kind) and so my sport journey was locked in as a competitive diver for 13 years, and then as coach for over 15 years now. I grew up in a safe and active community. We had lots of park space, the roads were fairly quiet and there were ample sport centres, fields and pools that were accessible to everyone.
First Brush With Badminton
Like many schoolkids in Australia I experienced badminton as part of a Physical Education program for a few weeks at primary school but it was never really a sport that I engaged with heavily. Badminton was a sport that I had played during my schooling and my exposure was brief but enjoyable.
I thought that it was fun at the time, especially the speed at which you can hit the shuttle even as a child. And then it's fairly easy to hit the shuttle again, more so than tennis.
My main relationship with badminton has been in my work role as an adult, I'm the Participation Coordinator at Badminton Australia and so my job is to give as many kids as possible the opportunity to engage with the sport.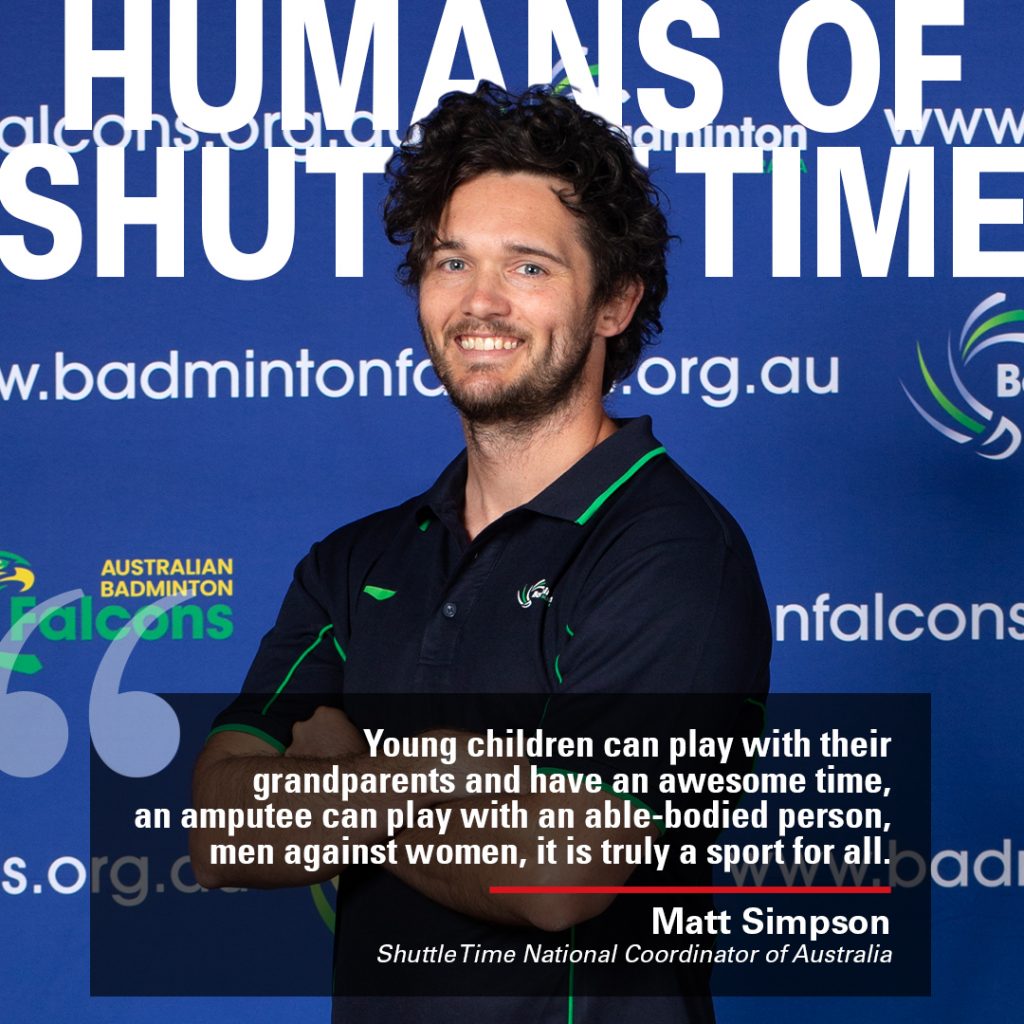 Memorable Events
In the first six months of my starting work with Badminton Australia I was invited to watch the Australian Open in Sydney in 2019. To go behind the scenes and assist helped my understanding of the sport at the highest level, and also to see the reach that the sport has outside Australia. To experience the ambience, with the chants from Indonesian supporters and recent immigrants to Australia – their obsession with the sport was amazing. I want more Australians to understand and experience that passion from the fans and that atmosphere.
I have met countless great people in the badminton community in Australia. Peter Roberts, a fantastic badminton person and highly experienced sport administrator, is someone who taught me so much about the game, the people, the history of badminton in Australia and the technical aspects of how to play the sport well.
What Badminton Means
Badminton is a way for me to help people engage in physical activity when they thought they may not have been able to and to introduce young Australians to a smaller sport that may interest them more than the traditional mainstream sports here in Australia.
It is a game that teaches patience along with speed, technique with power, and the subtle art of tactical play. Young children can play with their grandparents and have an awesome time, an amputee can play with an able-bodied person, men against women, it is truly a sport for all.
Developing Badminton in the Community
In Australia we have a government-funded system that provides schools with money to pay for equipment and coaches to undertake sport programmes as part of their physical development. I was able to increase the number of children playing badminton from 6000-8000 across a year up to around 25,000 through improving processes at BA and engaging with our partners to better serve those wanting to run badminton. It's been so great to know that so many more children have now been exposed to badminton.
Impact of Shuttle Time
We use Shuttle Time as our Sporting Schools Programme and so 25,000 kids have taken part in Shuttle Time over the past 12 months, learning the fun element of badminton and some of the basic badminton skills that are embedded within. It's also given the opportunity for hundreds of teachers to complete the training and add badminton to their own toolkits for the rest of their teaching careers.
By distilling a sport down to its most simple movements and skills, it creates a great programme that can be accessed by anyone and modified for everyone. Its simplicity is its greatest asset!!
Get the latest news and developments from Badminton Oceania delivered straight to your inbox by subscribing to our eNewsletter: