Pictured: Saintly Alesi Molotii
The Badminton World Federation's Humans of Shuttle Time series presents the perspectives of those who work on badminton development at the grassroots level.
This month, they caught up with Saintly Alesi Molotii (Shuttle Time National Coordinator of Tuvalu) to discuss her experiences with coaching, helping the community through badminton and its impact.
I played many sports during my childhood in Australia. While I concentrated mostly on tennis, I was captain in some of the school teams in netball and cricket.
When I returned to Tuvalu at the age of 12, I concentrated on tennis. I represented Tuvalu a couple of times at the Pacific Games in tennis and often volunteered to help young kids in tennis.
I feel that sport is one of the ways in which you get to know someone without discrimination. It's a tool by which we meet people with different abilities and where we can socialise and build a family.
Getting to Know Badminton
I first saw badminton in Tuvalu when I was young but I never really thought I could play it. This was played in the little space between homes.
Much later I got to play it socially. My dad allowed us to play with other teenagers and anyone could join once the kids finished their sessions.
Seeing badminton is different from playing it. I first saw it and seriously considered trying it when my dad was coaching other children. It looked interesting and I thought it was a suitable sport for little kids and perhaps older active people.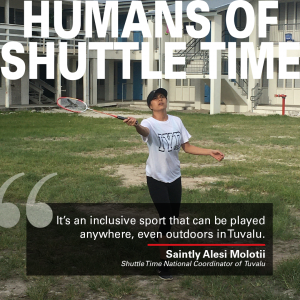 Badminton Anywhere
I have come to love badminton. I've learned that it's a sport for everyone. It can be played anywhere.
It is fun to see little ones as old as two years old joining the coaching sessions outside my home early in the mornings. It's an inclusive sport that can be played anywhere, even outdoors in Tuvalu.
It can be easily be set up and played anywhere in Tuvalu. It can be modified to suit participants as it can be played in small spaces.
I believe concentrating on developing children's tournaments would make a huge difference in the future. It's important to engage outer islands, involve stakeholders and also continue its integration into community functions for public engagement.
Impact of Shuttle Time
I believe Shuttle Time has made great advancement in the Pacific. A lot of women and girls are involved at all levels. In Tuvalu, badminton is also promoting gender equality in all aspects of the sport. In communities where badminton was introduced, you can see children enjoying it with adults.
Shuttle Time has helped make badminton inclusive, available, accessible and fun for everyone.