Pictured: Sam Paterson, Community Manager and National Shuttle Time Co Ordinator – Badminton New Zealand.
The Badminton World Federation's Humans of Shuttle Time series presents the perspectives of those who work on badminton development at the grassroots level. Sam Paterson, Badminton New Zealand's Community Manager, talks about his journey into badminton and experiences of enhancing badminton opportunities for communities across the country:
Growing up in Hamilton in the heart of Aotearoa New Zealand, with my mum, dad and sister, I was shy, unadventurous and a little odd. My days were often spent sitting next to the road analysing which colour car was most prevalent, mapping my neighbourhood, building Lego cities, and memorising the flags of the world.
Bereft of co-ordination and physical talent, sport didn't appeal to me until my dad introduced me to the wonderful sports team, the Auckland Warriors. The love was immediate and unwavering and from that day an all-encompassing obsession with sport grew.
First Experience
When I was 10, a group of friends invited me to join them and try this weird new sport. With a mixture of scepticism and nervousness, I decided to give it a go. To mum and dad watching I'm sure that leap was barely distinguishable from an awkward trip, as I barely connected racket to shuttle in my first session. Yet, against the odds I returned, emboldened by future dreams of success over more naturally gifted friends.
What Struck Me About Badminton
Our group was a rabble of uncoordinated players, but together we persevered. Over the next 21 years I was fortunate to have an incredible range of badminton experiences. While at university I developed a chronic back injury causing me to step back form the sport. I continued to dream of badminton, pictured myself making great shots and yearned to return. Unable to participate I decided to volunteer as a line judge at the New Zealand Open, and at that moment reignited my passion for the sport. Searching for more, I began a Masters Degree in Sport Science, studying agility in badminton athletes, and began coaching at a local school. Returning to the court after two years away was instant gratification that I'd found my home.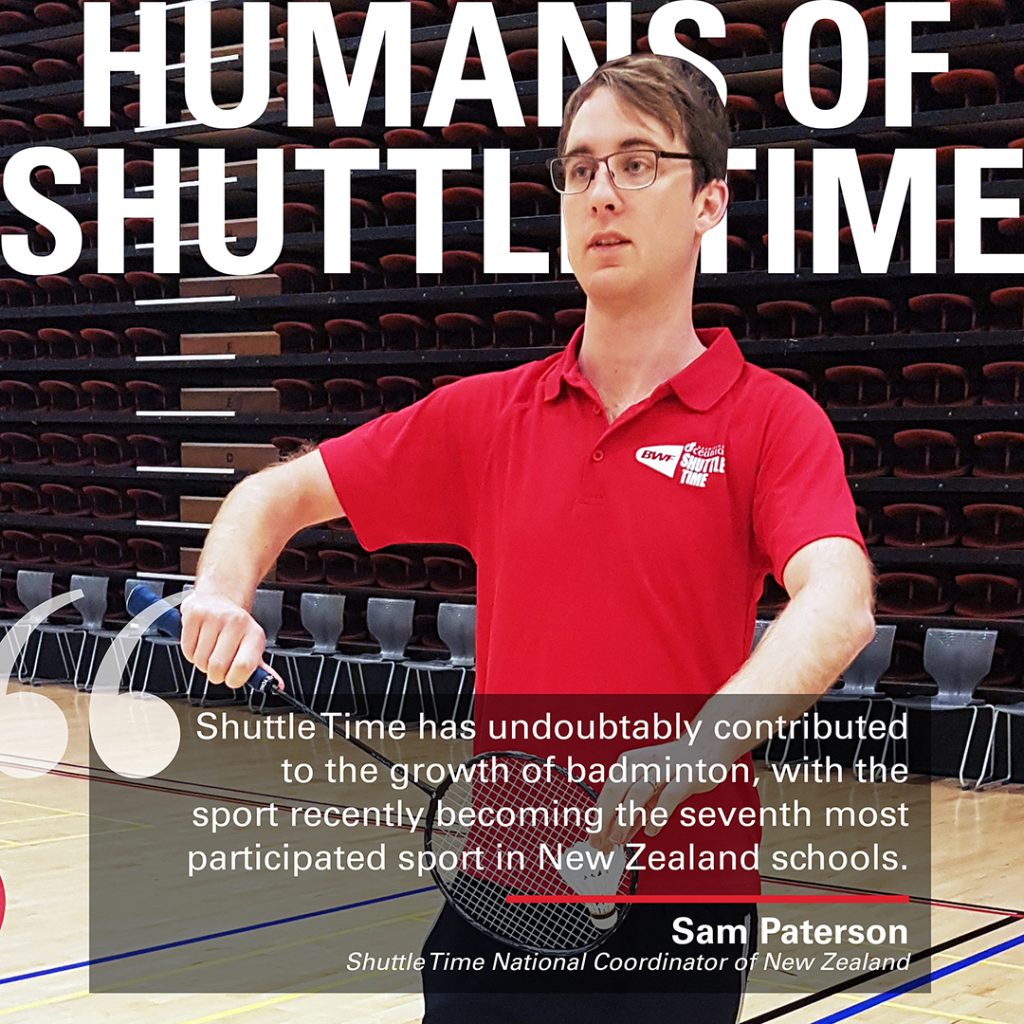 The Journey Continues
During my second year volunteering at the New Zealand Open my life took a most positive turn, and I unexpectedly found myself working under the tutelage of Julie Carrel and Joe Hitchcock, the then Events Manager and Chief Executive of Badminton New Zealand.
Over the years I gained tremendous learning from the entire badminton community, until I was given the privilege of leading the New Zealand Open in 2019. Being able to deliver a tournament for Lin Dan, Akane Yamaguchi and Ahsan/Setiawan, alongside 100 fantastic people, will forever be a career highlight.
With the impact of COVID-19, events ground to a sudden and unexpected halt, and I've been fortunate to transition to the role of Community Manager and with it the National Shuttle Time Coordinator role.
What Makes Badminton Different
While we often consider badminton to be 'different' to other sports, in my eyes we are fairly similar, in that at the most basic level we are a group of passionate people striving to grow the sport we love.
Where badminton perhaps stands above is the inclusivity seen across our community. Often sport separates individuals, through age, gender or a variety of other factors. However badminton allows families and friends, grandparents and grandchildren to all participate together as equals. This is where our sport leads the pack and showcases the inclusivity that we all strive for.
Developing Badminton in the Community
Working alongside our 25 associations is incredibly rewarding, as they have the knowledge and vision to make strides in the delivery of badminton locally. They however lack the resources to follow through. This is where I see Badminton New Zealand stepping forward by offering individualised support to each association.
An incredibly exciting project this year has been supporting one of our associations to launch weekly secondary school competitions in three major centres. There is great potential for growth through these events and similar projects across Aotearoa.
Impact of Shuttle Time
Shuttle Time has been incredibly successful as it provides a consistent offering to the tens of thousands of Kiwi kids who gain the opportunity to play our sport each year. This has undoubtably contributed to the growth of badminton, with the sport recently becoming the seventh most participated sport in New Zealand schools.
Biggest Lesson From Shuttle Time
While I am early in my journey with Shuttle Time, I have enjoyed connecting with our associations at the grassroot level. In March this involved the launch of the 'Shuttle Time Gift Your Gear' initiative, a nationwide gear redistribution drive which resulted in thousands of badminton items (racquets, shoes, grips, clothing) being redistributed to young people throughout the nation. During this process I could connect with many of our associations and hear their vision for growing badminton locally and I look forward to supporting them in the years to come.
What Badminton Means
Badminton has been an incredible journey, from the early days of basic skill development with friends, to the lifelong friendships I've made during my time with Badminton New Zealand. As a local Māori whakataukī goes:
He aha te mea nui o te ao?
He tangata, he tangata, he tangata.
What is the most important thing in the world?
It is the people, it is the people, it is the people.