The Badminton World Federation's Humans of Shuttle Time series presents the perspectives of those who work on badminton development at the grassroots level.
This month, they caught up with Shavneel Prasad (Shuttle Time Tutor in Fiji) to discuss how badminton helped him to develop personal and professional skills, an opportunity which he is delighted to share his local communities.
I'm the eldest of three brothers and a sister, born and raised on the beautiful islands of Fiji. I grew up on the second largest island named Vanua Levu, commonly known as the Friendly North. During primary and secondary school I played football, which became my pathway to become a football referee at national level for nine years. I love travelling, fishing, watching sports and learning new things. Currently I work as Assistant Sports Development Officer North under Fiji National Sports Commission.
First Experience of Badminton
I first saw badminton at the Beijing Olympics in 2008. I watched it on TV but had no idea what it was about. It struck me as inclusive and fun. We here in Fiji see badminton as a "minor" sport but it can teach us basic life skills as it's an individual sport.
Relationship With Badminton
Badminton became one of my favourite sports and in 2018 I got the opportunity to take the Shuttle Time Teachers course. I started delivering Shuttle Time programmes in schools, clubs and communities. Since 2018, 17,771 kids have been introduced to Shuttle Time and AirBadminton. In 2020 I was identified to take the Shuttle Time Tutors course and since then I've been facilitating the Shuttle Time Teachers and Youth Leadership courses in the northern division. Various programmes in Fiji allow us to reach the unreachable and facilitate Shuttle Time and AirBadminton courses. 
Memorable Events
My most memorable event was organising inclusive competition for all the special schools around Northern division in 2019. Badminton was played for the very first time at a competition level. We also accredited Shuttle Time teachers through school clusters and Shuttle Time Youth leaders through clubs and communities so they can deliver programmes in schools, clubs and communities.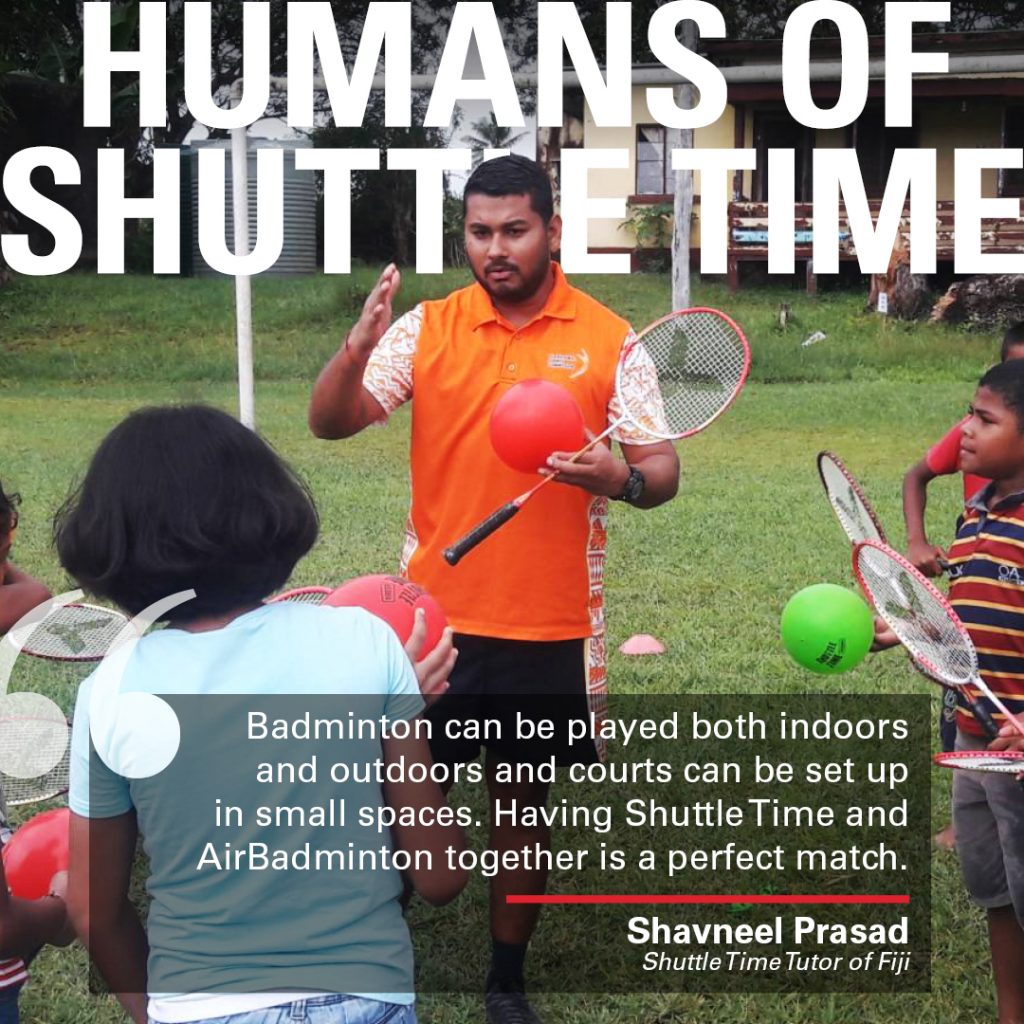 What Badminton Means to Me
As a sport it helps build character that can teach values of life and how strong you can stand independently. Badminton teaches and builds individual athletes with a wide range of sporting skills.
What Makes Badminton Different
It has pathways that allow athletes to compete at elite level. Athletes can start at club level and progress to playing national competitions. As an individual sport you are not dependent on others. Badminton can be played both indoors and outdoors and courts can be set up in small spaces.
Developing Badminton in the Community
Clubs and communities love to play a new sport such as badminton. Members of Indo Fijian clubs and communities have participated in big numbers as they love playing non-contact sports. Awareness of badminton through trained Shuttle Time teachers and youth leaders has improved. As the northern division doesn't have indoor badminton courts, the introduction of AirBadminton has made a big difference.
How Shuttle Time Has Made a Difference
For northern division mass participation including Indo Fijian communities and clubs. Newly established Labasa District Youth Council AirBadminton Association consists of 10 youth clubs are actively involved in weekly AirBadminton games. Schools with donated badminton equipment are also engaging kids and teachers during PE (physical education) classes and weekly wellness programs.