Pictured: Thomas Mereana-Ngauru (left) distributing Shuttle Time equipment across the Cook Islands
The Badminton World Federation's Humans of Shuttle Time series presents the perspectives of those who work on badminton development at the grassroots level.
Thomas Mereana-Ngauru, President and Shuttle Time National Coordinator for Badminton Cook Islands, first found badminton in New Zealand at his school during the 70s. Despite not owning a racket at the time, Thomas became besotted with the sport. Upon returning to the Cook Islands in the 90s, Thomas eventually took on the position as President and National Shuttle Time Coordinator and ensures that rackets fall into the hands of numerous eager children. Read his full story:
Childhood Days
I first saw badminton at home, our family was sporty so we had a badminton set which we pulled out every time we went to the beach.  But my best memories of the sport was when it was school holidays and we would attend the school holiday programme at the Mt Albert Sports Centre where they had trampolines, gymnastics, table tennis, etc. but I would always look forward to playing badminton and nothing else, and I was always sad when the holidays came to an end. 
The defining moment for me was during my last year in New Zealand a man came to our school looking for badminton talent. He invited me and another player to compete in a school tournament but we had to take our own rackets.  I didn't have one and I was gutted because I knew I could have done well. Before I left I was contemplating asking my parents to leave me in New Zealand so I could play badminton.  Well, there was no way my parents would allow that to happen.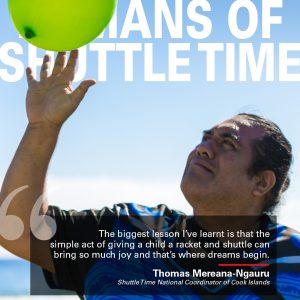 First Love
I think the first thing that struck me was how happy it made me feel and how challenging it was and how surprisingly good I was if I say so myself.
However, it would be over 20 years before I took up badminton again – and that was thanks to Shuttle Time.  I had been playing volleyball competitively for several years and had injured my knee and while in recovery my sister who was a teacher asked me if I could help make up their badminton team. Shuttle Time had just been introduced to their school and the teachers had joined the local business competition but were short of men.  So, I decided I would join in.
Memorable Moment
It was my first Oceania Championships in 2015 as it was the first time I had seen a live badminton match at an international level.  It was awesome and scary at the same time.  It was an eye-opener in so many ways to think that one day we could have players just as good as these.
Why Badminton is Special
Badminton opens doors for our young players; it also helps develop good social skills. I think badminton is underestimated and a misjudged sport here in the Cook Islands as many grew up playing it outside and considered it just a novelty sport. But it takes skill to play; people who step on court for the first time are taken aback by how technical it is. 
The biggest lesson I've learnt is that the simple act of giving a child a racket and shuttle can bring so much joy and that's where dreams begin.