Tongoboo Beero plays a key role in the delivery of Shuttle Time with Kiribati Badminton Federation.
This week, he is featured in the Humans of Shuttle Time campaign – an initiative which looks into the involvement of key leaders in countries and their motivations for helping to grow the sport.
Read what Tongoboo had to say about his journey into badminton and Shuttle Time:
Early Days in Badminton
I was born in Tarawa and raised on Aranuka, which is one of the outer islands of Kiribati. My first sport was tennis when I was in primary school and I switched to table tennis in high school.
I first saw badminton when Nadia Bleaken came to Kiribati to conduct Shuttle Time at the Kiribati Institute of Technology in 2012. I took part in Shuttle Time but did not complete my training to become a Shuttle Time teacher.
I however made it a point to attend the next Shuttle Time course which was conducted by Kumon On Tarawa. Since then I've been playing three-hour sessions thrice a week at Betio Sport Complex, which is the only venue for badminton here in Kiribati.
Challenges in Pursuing Badminton
Sometimes it's hard to play a new sport if you don't know the players and if all courts are used by good players. As a beginner, I always stayed back and played with other beginners so no one could see us.
Badminton has become my favourite sport. I have affiliated my workplace badminton club with the Kiribati Badminton Federation and I've also been playing badminton with my two grown-up kids. Playing the sport with them makes it fun for all of us and builds a great connection between us.
My most memorable moments are watching couples play with each other, or with their children.
What Badminton Means to Me
I've been playing badminton now for about three years. As I don't play any other sport, I cannot express how much I enjoy and love this game. I have met so many people and many of my colleagues through badminton.
Badminton is a gender-balanced sport, it allows women to play against men, adults against kids, and so on.
Impact of Shuttle Time
My best experiences are always while working with children. Sometimes at the end of the session I realise that I have worked with 30 or more kids, and it feels great when they say they picked up the lesson.
Another memorable experience was leading Shuttle Time training with support from other Kiribati Shuttle Time teachers.
Shuttle Time has helped us increase the number of badminton players and even the number of clubs registered with the Kiribati Badminton Federation. It makes a big difference in seeing a large number of players at every tournament we organise.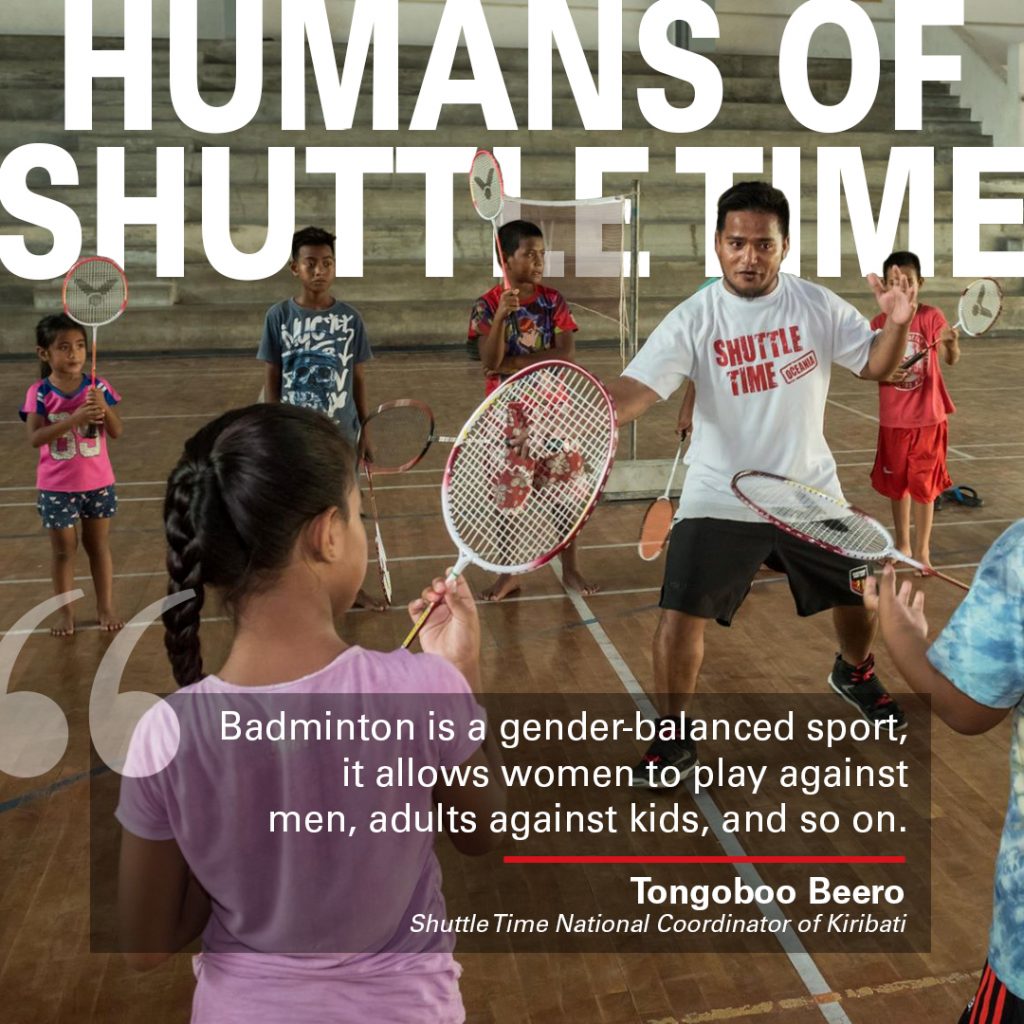 Get the latest news and developments from Badminton Oceania delivered straight to your inbox by subscribing to our eNewsletter: