Badminton Oceania's regional development officer, Kumon Tarawa, recently delivered Shuttle Time teacher training with 18 i-Kiribati students who are currently studying at The University of the South Pacific (USP), in Fiji, who were looking for ways to engage with both their student and local Kiribati communities in Fiji, before preparing to take their new skills home to deliver with Kiribati Badminton Federation.
The 18 students, who are part of the Kiribati Islands Students Association, were looking for an extracurricular activity during their break before their semester began. Collectively, they were looking for a sporting programme which would create more engagement from those i-kiribati students at USP, be more involved in local i-Kiribati communities.
After accessing the Shuttle Time online component to assess their current badminton knowledge, they started to practice the practical sessions using the BWF Shuttle Time App. Badminton Oceania's regional development officer, Kumon Tarawa, was part of the team leading the delivery, assisting the students to prepare session plans and practicing delivery to kids at the Vodafone Arena in Suva, which is a regular after school programme delivered in collaboration with Fiji Badminton.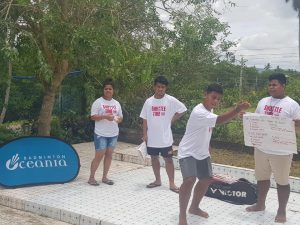 Delighted by the benefits of the programme, Mr Bate Tiaeki Tioti (a second year student at USP) said he looks forward to helping all walks of life benefit from the physical and mental health effects of Shuttle Time:
"The benefits of Shuttle times activities to my community are improving health fitness and developing the talents of the young generation of my community in sports especially Badminton. Participating and teaching shuttle time activities to people in my community will eventually boost their health status as they will engage in more physical activites and will not spend time most of their time doing nothing"
"Not just that but it will help them with mental health too as involving in these kinds of activities helps relieve stress and depression especially during this global pandemic. People at younger ages will also have a chance to develop and enhance their talents in sports which will not only benefits their community but their families and their country as a whole", says Tioti
Following their completing of the training, the participants went on to receive their certificate of completion from the BWF, along with VICTOR Shuttle Time kits supplied to USP to support the Students continued delivery.
Get the latest news and developments from Badminton Oceania delivered straight to your inbox by subscribing to our eNewsletter: