Morning Session
Australia started the morning with two convincing victories in the mixed doubles. After a comfortable opening game, Jack Yu and Kaitlyn Ea seemed to take their foot off the pedal as they allowed their opponents to take the second game. However, the pair learned from their mistakes and powered through the decider to secure a spot in tomorrow's round of 16.
Jack Yu/Kaitlyn Ea (AUS) vs Sam Ricketts/Tahlia Richardson (JAM) 21-13 16-21 21-8
"It's been a while since we've been on these courts so we're slowly getting our feeling back. We made a lot of mistakes in the second game, but got our confidence back and communicated more in the third. It still feels great [to play on the match courts] but the audience isn't as big, I am missing playing on the show court", says Jack
"I think we're improving as we continue playing, our communication is getting better, encouraging each other is key", says Kaitlyn
Fellow compatriots Tran Pham and Angela Yu will join the tomorrow as they celebrated a resounding two-game victory against their Ugandan opponents.
Tran Phan/Angela Yu (AUS) vs Kenneth Mwambu/Justine Naluwooza (UGA) 21-6 21-7
 "I think we're getting better as a pair. The first two matches have been important as they allowed us to get on the court, get a feel for each other and improve our confidence. I'm happy with how it's gone so far", says Tran
"We played much better, we're getting used to the courts and now I am looking forward to the game against New Zealand tomorrow providing they win their match tonight", says Angela
Nathan Tang made his second consecutive appearance on the show court today in a clash against England's sixth seed, Toby Penty. Seemingly undeterred by the vocal home crowd, Nathan endured some long rallies against the world number 54 – their longest spanning over 48 strokes. As Nathan pointed out in the post-match interview, Toby was able to maintain a consistent high speed, with an accurate and patient game to outwit the Australian.
 Toby Penty (ENG)[6] vs Nathan Tang (AUS) 21-11 21-7
"That is the biggest crowd I've ever played in front of, I wish I played a better match but overall I'm quite happy. There were some fantastic rallies but Toby is just another class above, I tried to keep with him as long as I can. He must be sore from his bronze medal match, so that was a tactic I was trying to play on, but again, he's just on another level. He is able to maintain a base speed, yet doesn't need to do anything over spectacular and is therefore able to put a lot of pressure on me. I don't find the home crowd intimidating, I'm just soaking it all in, I wouldn't have it any other way ", says Nathan
The three remaining games for Australian players (in the morning session) were a resounding success, as more players progressed through to tomorrow's round of 16 in their respective disciplines:
Lin Ying Xiang/Gronya Somerville (AUS) vs Brian Kasirye/Rafi Mohamed (UGA) 21-10 21-6
Tran Phan/Jack Yu (AUS) Douglas Clark/Duane March (FLK) 21-5 21-7
Wendy Chen (AUS) vs Lorna Bodha (MRI) 21-3 21-6
Wendy will be the first back on court tomorrow, where she will face Jamaica's Tahlia Richardson. A win will set her up for a spot in Saturday's quarterfinals to better her 2018 campaign, where she bowed out to P.V.Sindu in the round of 16. A likely opponent waiting for her in the quarterfinals this year is Singapore's fourth seed, Yeo Jian Min.
Evening Session
Closer contests in the evening session saw the competition schedule fall behind schedule. However, the anticipation did not stop Australia's Lin Ying Xiang from ousting another higher ranked opponent. Narayan is ranked at 285 in the world, compared to Lin's position of 319. A dominant performance saw Lin through to the round of 16, becoming the last man standing from Australia in the men's singles draw.
Lin Ying Xiang (AUS) vs Narayan Ramdhani (GUY) 21-12 21-8
Despite receiving a bye into the round of 32, Tiffany Ho received a tough draw as the third seed and world number 17 from Scotland, Kirsty Gilmour, awaited her on show court. Tiffany opened with a determined spirit in both games to carry her through the first few rallies, but the more experienced Scot demonstrated a greater consistency and tactical shrewdness to oust Tiffany from the women's singles draw.
Kirsty Gilmour (SCO) vs Tiffany Ho (AUS) 21-6 21-14
"It was always going to be a tough first match. I was ready to give it everything as I didn't get much opportunity to play in the teams. The second game was on the slower side so I could give it everything and it felt better. I think the biggest takeaway is learning how to control the shot and play in such a big environment. This tournament is my first experience playing on such a big court with so many people watching, so I think it's been good to learn how to control the nerves, because we can't just get rid of them", says Tiffany.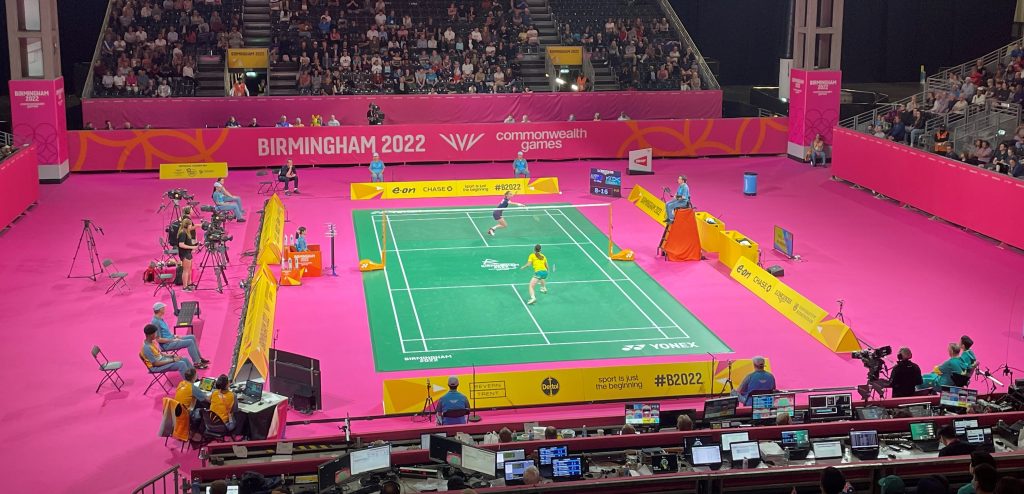 Finally, New Zealand's Oliver Leydon-Davis and Anona Pak celebrated their first appearance of the 2022 Games in style, on the show court. The seventh seeds have been training in the venue for the last week and today they were able to experience the playing conditions of the tournament's biggest stage, getting a taste of victory in front of a large audience. Making her debut appearance, today's win will be sure to help Anona ease into tomorrow's round of 16 alongside Oliver, who is making his fifth Commonwealth Games appearance.
Oliver Leydon-Davis/Anona Pak (NZL)[8] vs Alexandre Bongout/Jemimah Leung (MRI) 21-7 21-10
"It took a little bit of getting used to, but we started to get a better feeling for it by the end. The atmosphere was unreal, and we're feeling good about the performance, it was better in the last half of both games but we're just trying our best to get used to the training conditions", says Oliver
"That was amazing – I loved the cheering, and I knew there were friends and family watching from New Zealand, they woke up very early. My friend was in the crowd too with a poster which was so big, she even had to cut it in half", says Anona
Next Round: Round of 16 – Friday 5 August 2022
Australia and New Zealand will meet in the mixed doubles round of 16 tomorrow. Tran Pham and Angela Yu will take on Oliver Leydon-Davis and Anona Pak, with the winner securing a place in Saturday's quarterfinals.
A handful of other Australian players will also be in contention for a quarterfinal spot if they can win their matches tomorrow. Check out the schedule and follow all results from the Birmingham 2022 Commonwealth Games here.