Seven Para badminton players extended their isolation bubble via Zoom conference call this week, connecting wheelchair athletes from New South Wales, Victoria and Western Australia to maintain the community spirit which thrives on Oceania's Para badminton scene.
Adapting to the COVID-19 era, Papua New Guinea's coach (Brian Karo) joined Badminton Oceania's Coaching and Development Officer (Ian Bridge) to lead an upper body and movement session to kick start their weekly engagements.
The scenario challenged the already experienced Para badminton coaches, who have to adapt every session for a variety of impairments, to consider the additional barriers created by video calls.
"It was helpful to use a platform which gave a good view of all seven players at once. However, placement of the camera was key which was a problem for those who had to participate indoors, meaning we had to adapt each exercise accordingly"
"As if it isn't important enough already, communication was paramount. Our advice for other coaches is to be explicit, yet concise, to ensure they fully understood the tasks we set and get the most from the time allocated to the session", says Bridge.
However, for some players it was much more than a physical workout.
"It was wonderful to see all the other players, it has been a while since we've seen each other"
"We live far away from each other in different states, so it makes such a difference to connect in these ways. I definitely feel more motivated to keep training from home", says Ali Qambar.
Another participant, Fiona Sing (who only started playing one year ago) had already voiced her gratitude for rare opportunities to connect with like-minded players and make lifelong friends from Para badminton, after living her daily routine in the remote town of Tamworth, New South Wales.
Moreover, Australia's Celine Vinot, previously stated that she was 'glad to find' badminton because it helped her find and relate with a community of players in ways she hadn't before.
These players are not alone. All types of badminton communities are taking to the internet to keep their fire burning. Tahiti's Louis Beaubois continues to use YouTube videos to extend his tactical knowledge, while players from New Zealand and Australia recently rallied together to take on the 1000 rep challenge using the same Zoom platform.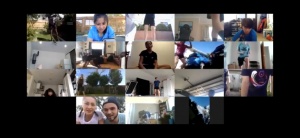 Although physical training continues to be a priority for the majority of players who are eager to get back on court, there has never been a more important time for players to be kind, considerate and encouraging for one another.