Photo credit: Badminton Photo
New Zealand's aspiring Olympian, Oliver Leydon-Davis was aiming for qualification at the Tokyo 2020 Games in the men's doubles with Abhinav Manota and mixed doubles with Anona Pak.
The year started out strong after winning the men's doubles with Manota at the VICTOR Oceania Championships 2020 and climbing to his highest World Ranking with current partners: 67 in the men's doubles and 70 in the mixed.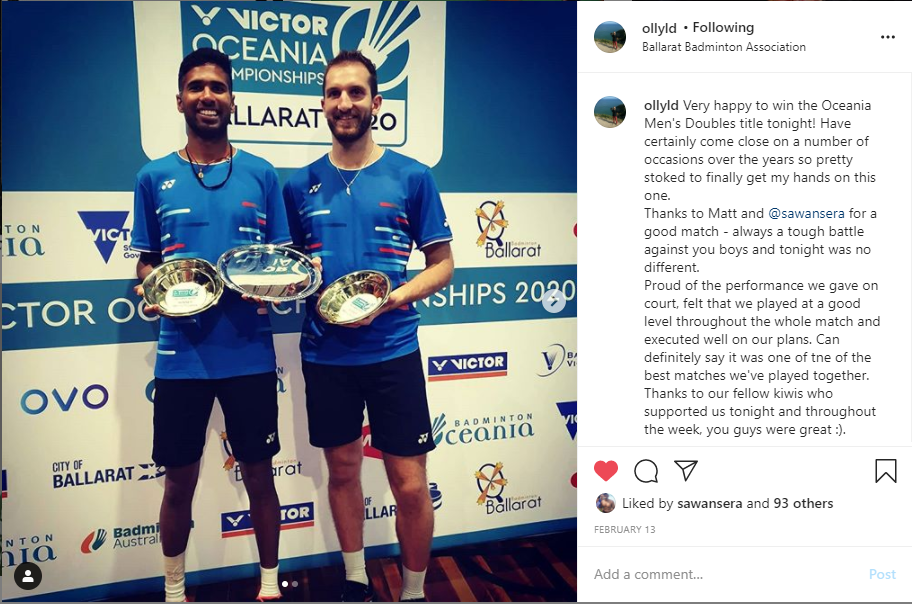 The triad travelled to Europe immediately after the Continental Championships to chase vital ranking points. However, their journey was brought to an abrupt end as the year ahead took a dramatic twist following the mounting global health pandemic.
No tournaments. Quarantine in New Zealand. Closed training facilities. Postponed Olympic Games. Lacking motivation. 2020 was becoming a real issue for the Olympic hopefuls.
However, Leydon-Davis didn't see it all as 'gloom and doom', instead seizing the opportunity to reflect and grow as a player.
"It was a unique opportunity to sit down and reassess. The year become a push, pause, push, pause process, but with everything essentially pushed back 12 months, it has given us an extra window to grow and develop partnerships", says Oliver.
Over 10 weeks were spent in quarantine or isolation (as per the New Zealand government requirements), so Leydon-Davis was one of many that had to shake up their usual training routine.
"Our coach, Rikke, had set us up with a training diary and it was the acceptance and good communication between our team which helped us to make the most of the eight weeks of [the first] lockdown"
Like many others, mental health was at risk as player's faced greater independence and isolation away from their usual environments of training. For Leydon-Davis, this was an eye-opener for the importance of self-reflection and methods for coping with negative thoughts.
"I have become more aware of my thoughts and it was a raw exposure of how you talk to yourself. It was revealing where I can get better in my life"
"I can be a harsh critic and set high standards for myself. There were some tough days where I had to deal with negative self-talk. So, I turned to books to look for mental health models. You notice patterns in your behaviour and learn how to cope with these", says Leydon-Davis.
"The athlete mindset of control was so important here, as we have to acknowledge that there are some things that we can't control, but we must maintain a level of self-awareness and self-control to stay focussed and, particularly as a doubles player, hold each other accountable. Thankfully, we are motivated and we fed off each other, documenting our activities throughout lockdown"
The trio from New Zealand are now back on court together following New Zealand's successful battle with the COVID-19 pandemic and the (currently) relaxed lockdown laws. Now, they eagerly await for the easing of tight border controls and the resurgence of international badminton to storm ahead with their Olympic qualification campaign.
Get the latest news and developments from Badminton Oceania delivered straight to your inbox by subscribing to our eNewsletter: