New Zealand and Australia showed no mercy on the opening day of the VICTOR Oceania Men's and Women's Team Championships 2020 in Ballarat.
The stakes are high as the winning men's and women's team will travel to Denmark in May to compete in the TOTAL BWF Thomas and Uber Cup 2020.
With five teams competing in the Men's Team Championships (Australia, Fiji, New Caledonia, New Zealand and Tahiti) and four team in the Women's (save as above, minus Fiji), both disciplines will be competing in a round robin format; the table topper securing their spot in Denmark
Men's team – round one
The 2019 men's singles champion from New Zealand, Oscar Guo, was welcomed back to the VICTOR Oceania Championships 2020 in the men's team event. After taking a year off to concentrate on his studies, Guo travelled to Ballarat to compete in his first international tournament since February 2019.
Guo got the team off a confident start as he progressed through one of the toughest games in the tie, as New Caledonia's Ho-Yagues made him work for the win.
Oscar Guo (NZL) vs Ronan Ho-Yagues (NC) 21-14 21-13
Meanwhile, Fijian youngsters Liam Fong and Chang Ho Kim did not appear too intimidated by the experienced duo returning their serves, as they enjoyed a decent run of points in the opening game. Yet once the teams changed ends, Chau and Leung stepped up the pace to pave the way for Australia.
Matthew Chau/Simon Wing Hang Leung (AUS) vs Liam Fong/Chang Ho Kim (FIJ) 21-19 21-12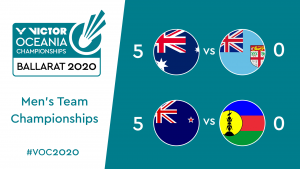 Women's team – round one
Australia and New Zealand's women's team opened their tournament campaign in the same spectacular fashion, as the depth and experience in both team was demonstrated in the results.
The gold medallist from the Samoa 2019 Pacific Games made a valiant effort against New Zealand's reigning national champion, Sally Fu.
Sally Fu (NZL) vs Dgenyva Matauli (NCL) 21-9 21-12
However, Fu's polished performance was sustained throughout the entire match as the kiwis marched to a 5-0 victory.
Australia's world number 26 duo and recently crowned continental champions (for the fourth time) split up to pair with the young future prospects, Angela Yu and Kaitlyn Ea. Despite walking on to court with a 3-0 lead, both pairs maintained their focus and stormed through to a 5-0 win.
Gronya Somerville/Angela Yu (AUS) vs Méiissa Mi You/Nina Smits (TAH) 21-6 21-1
Kaitlyn Ea/Setyana Mapasa (AUS) vs Maeva Gaillard/Hinahere Mara (TAH) 21-3 21-3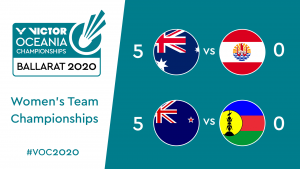 Men's team – round two
The Tahitians were seeking revenge for their nations frustrating end to the Samoa 2019 Pacific Games Mixed Team event – where Fiji took gold, despite narrowly losing to Tahiti in the round robins the day before the decider.
Louis Beaubois, who was Tahiti's first representative at the BWF World Junior Championships last year, got Tahiti off to a winning start, followed by two more singles victories which guaranteed an early 3-0 victory, which soon converted into a 5-0 whitewash for the Tahitians.
Australia put another point on the board as they celebrated another 5-0 victory over New Caledonia.
19-year-old Ronan Ho-Yagues put up the strongest fight of the match as he took on the more experienced Anthony Joe, walking off court with a highly respectable 21-12 21-15 defeat.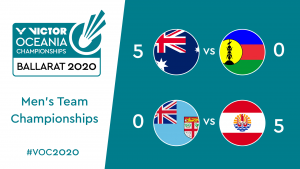 Check out all of the results on Tournament Software.
The men's and women's team continues tomorrow morning, from 9am local time (GMT+11). For the first time in Oceania's history, the Para Badminton Championships will also be taking part alongside the able-bodied players, starting tomorrow at 10am.
#VOC2020