The VICTOR Oceania Para Badminton Championships are being played in the beachside City of Mandurah, an hour drive south of the city of Perth, Western Australia commencing Friday 29th September
A total of four countries: Australia, Fiji, New Zealand and Papua New Guinea have entered.  Particularly pleasing is the entry from Papua New Guinea who have received support from the Australian Government through PacificAus Sports.
Many of the players competing will be out to defend their titles won in 2022 whilst for others this will be their first international para badminton competition.
Always crowd favourites are Jerome Bunge and Danny Ten who are playing in their third Oceania Championships in the SL3 classification where most players have a sports prosthetic limb when playing which they are unable to afford and so play supported by a crutch always generating a lot of admiration and awe from the crowd.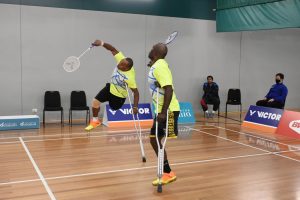 In conjunction with the Oceania Championships the BWF will be running an International Classifiers level 1 course; a valuable course for anyone involved in Para badminton at a club or national level to gain a greater understanding of the requirements for each classification as well as the international classification process.  This course is also the start of the pathway for people wanting to qualify as an international para badminton classifier.
Following on from the VICTOR Oceania Para Badminton Championships is the Western Australia Para Badminton International, commencing 2 October in the same venue.  This is the second international para badminton tournament to be held in our region, the first was in Geelong, Victoria, Australia in 2018.
252 players from 37 countries have entered this tournament with most of the players playing in the Oceania Championships also competing.
Both tournaments are qualification tournaments towards the Paris Paralympic Games 2024 giving the results even more importance for those players who are trying to qualify.
Two courts (1 standing and 1 wheelchair)  will be live streamed at each tournament.
For full information on each tournament click the links below:
Victor Oceania Para Badminton Championships 2023
Friday 29 September – Sunday 1 October
Western Australia Para Badminton International 2023
Monday 2 October – Friday 6 October