Pictured: Gronya Somerville (Australia). Photo credit: Erika Sawauchi, Badminton Photo
Last month, Gronya decided to put her badminton career first and leave 'the most locked down city in the world' – her hometown, Melbourne.
Europe was calling, with opportunities to live, travel, train and compete in cities and countries which are currently celebrating more freedoms.
"COVID-19 was a big factor in my decision to leave Australia. Obviously, there is the prospect of competing in tournaments, but training was getting very monotonous back in Melbourne. I am really enjoying having different environments to train in and people to spar with in Europe"
"It was hard to leave Australia given the situation. I had to go through a lot of paperwork to sort travel exemptions and get negative COVID tests. However, it seems that everything in Europe is pretty much back to normal providing that you're fully vaccinated", says Gronya
The stint abroad comes after her Olympic debut, when many athletes often take a hiatus to recover from the grueling process of Olympic qualification. The change of scenery came with greater prospects, starting by commentating at the TotalEnergies BWF Sudirman, Thomas and Uber Cup Finals at the beginning of this month.
Meanwhile she is training with multiple clubs across Denmark, had tentative plans to compete in the Swedish League and is looking forward to receiving coaching alongside German and French national teams. Her adventure turned into a star studded trip early on as she enjoyed sparring with childhood hero and badminton legend, Peter Gade.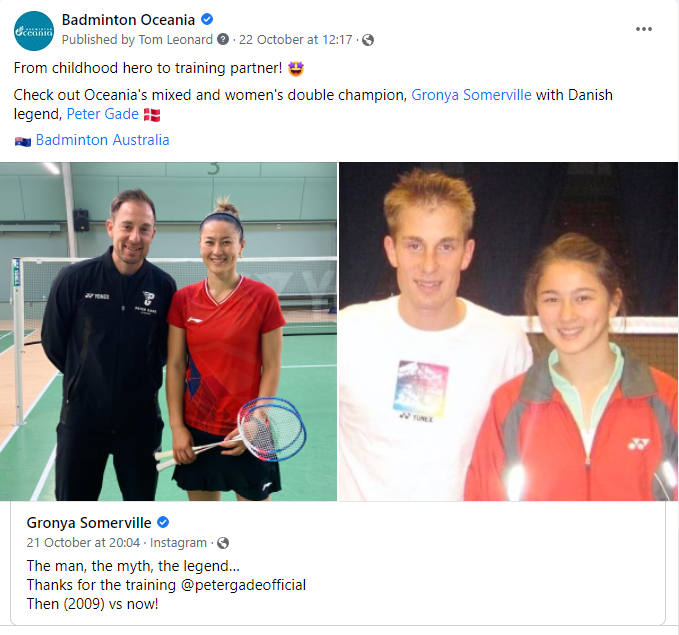 "Ultimately, I am trying to figure out how best to prepare for the Commonwealth Games next year. I am competing in many tournaments and will also take a holiday after world champs in Spain, as I didn't get to travel after the Olympics due to lockdowns", says Gronya
This week, Gronya Somerville returns to HSBC BWF World Tour action for the first time since January, at the YONEX French Open 2021.
Having travelled alone to Europe, she will be forming temporary partnerships in the mixed doubles draw with Frenchman Ronan Labar. She will join Labar at the following week's Hylo Open 2021 too, where she'll also compete in the women's doubles alongside England's Jenny Moore.
"For Ronan I looked for male mixed doubles players who might not have a partner with the highest ranking because we were trying to enter big tournaments and wouldn't qualify otherwise. Jenny messaged me and said she would be happy to partner for some competitions in Europe if I needed it"
Gronya's mixed doubles Olympic sidekick, Simon Leung, will not be far behind, as he leaves for Europe soon as they prepare to compete in the BWF World Championships in Spain at the end of November.
"Looking forward to the World Championships, we have the added confidence of knowing that we can compete with some of the best in the world", says Gronya.
Follow her progress at the YONEX French Open 2021 here.