Pictured: Setyana Mapasa. Photo credit: Australian Olympic Committee
In five days, Setyana Mapasa will be making her Olympic debut in Tokyo, representing Australia in the Women's Doubles.
Setyana narrowly missed out on competing at the Rio 2016 Olympic Games as she was ruled ineligible by the governing body following complication with her nationality change from Indonesia. Her partner, Gronya Somerville, described their journey as a 'roller coaster' ride, but the pair have remained a prominent force in Oceania, having won the women's doubles title at the VICTOR Oceania Championships every year since 2017.
Throughout their Olympic qualification campaign, the pair celebrated a phenomenal win at the YONEX Canada Open 2019 – a BWF Tour Super 100 tournament, overcoming the higher ranked Koreans, Chang Ye Na and Kim Hyerin, in the final. Their success was soon followed by a string of BWF Grade Three tournament results, including: second place at the YONEX South Australia 2019, winners of the YONEX-SUNRISE Nepal International Challenge 2019 and YONEX/K&D Graphics International Challenge 2019. Their campaign was topped off with their successful defense of the women's doubles title at the VICTOR Oceania Championships 2020.
Talking of her upcoming experience at her first ever Olympic Games, Setyana took part in our Q+A:
Describe your emotions and thoughts the moment you found out you were 100% going to the Olympic Games…
I knew before the official announcement that I qualified for Tokyo 2020, but it didn't feel real until the moment they announced it. Once the Australian Olympic Committee made the official announcement, I felt incredibly excited to know that we had finally made it.
Was the 'Road To Tokyo' everything that you imagined (mentally and physically) – was it harder than you thought?
Yes the journey was tough. Especially, at the beginning of 2019, it felt like there was so much that we needed to work on and so much to be done.
COVID had a huge impact on this. How did the pandemic impact you directly? Was it more of a hinderance or were you able to benefit from it somehow?
Of course, the global pandemic was hard and I found it incredibly frustrating at the start. However, I eventually think that I was able to benefit me mentally and physically. It forced me to become creative with at home exercises and I learned a lot through the pandemic, making me a better player on and off court.
What are your expectations for your upcoming debut at the Tokyo Olympic Games?
I want to give it my best shot. In the women's doubles, we would like to get through to the quarterfinals and if we can, of course the semifinals.
What are you most looking forward to at the Tokyo 2020 Games?
Mostly, I just want to play the sport that I love at the Olympic Games.
What activities do you do to cope and relieve your stress and anxiety before a match?
I love to listen to Christian music and try to have fun with my doubles partner (Gronya Somerville) and coach (Stuart Brehaut)
Who are you most looking forward to either watching and/or playing across any discipline?
All of them! I'm so excited to watch all the players compete at the Olympics Games and be part of that competition atmosphere once again.
Women's Doubles Group Stage Draws
In the women's doubles draw, Gronya and Setyana will compete in Group C of the women's doubles, against the fourth seeds (and reigning HSBC BWF World Tour Champions) Lee Sohee and Shin Seungchan from Korea. The two pairs have come up against each other during the Olympic qualification period in 2019, at both the Gwangju Korea Masters and VICTOR China Open. On both occasions, the Koreans came out on top over three games.
Additionally, they will face Du Yue and Li Yin Hui from China and Denmark's Maiken Fruergaard and Sara Thygesen. It will be the first time that the Australians will be competing against either of these pairs.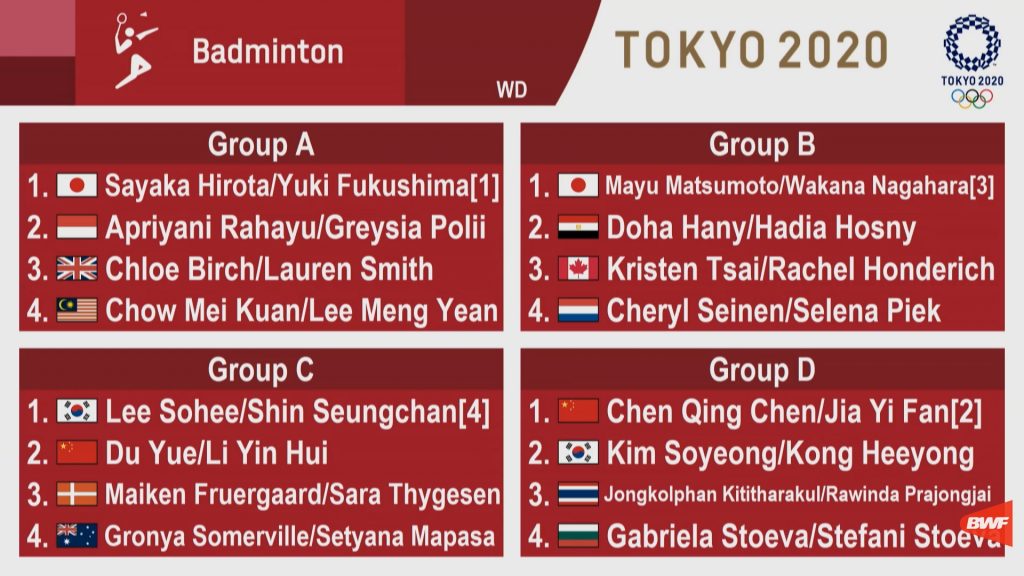 Get the latest news and developments from Badminton Oceania delivered straight to your inbox by subscribing to our eNewsletter: