Pictured: Caleb Cui (right) and Aaron Zheng. Photo Credit: Leigh Gases
Saipan International School will start its title defense in the TakeCare Badminton Interscholastic League against Kagman High School, as the 2022-2023 season of the Northern Marianas Badminton Association-sanctioned competition kicks off at the end of January in the Gilbert C. Ada Gymnasium.
SIS won the inaugural season (in 2022) after stunning the No. 1 seed Marianas High School in the finals. However, it will be the opposing team, Geckos and Ayuyus, opening proceedings this season.
Five other schools are competing, with some having two teams. SIS 1 is on Bracket 1 with Kagman, Tinian High School, Agape Christian School 1, Saipan Southern High School 2, and MHS 2.  MHS 1 will join Saipan Southern 1, Agape 2, Grace Christian Academy, and SIS 2 on Bracket 2. Teams in each bracket will play in a mixed team, round robin format and the Top 2 in each bracket will advance to the playoffs.
Meanwhile, other teams playing in the first set of matches include Tinian vs MHS 2 on Court 2;  Agape 1 vs Saipan Southern 2 on Court 3;  Saipan Southern 1 vs GCA on Court 4; and Agape 2 vs MHS 1 on Court 5.
"We welcome back our high school students for the second season of the Public School System/TakeCare Badminton Interscholastic League. After our successful inaugural season, we are pleased to announce that we have more teams this year. Thanks to the coaches and the support of their respective schools and officials. We would also like to thank the leadership of the CNMI Public School System and athletic director Nick Gross for their continued commitment to the program and TakeCare for their sponsorship of our entire competition, including last year's middle school division," said NMBA president Merlie Tolentino.
"We wish all the teams good luck as they compete for the second season of the Interscholastic Badminton League. TakeCare Insurance remains committed to initiatives, such as sports competitions,  that advocate for keeping our community active and healthy, and we are happy to see more of our youth taking part in the interscholastic program," TakeCare Insurance administrative assistant/sales coordinator Leilani Pangelinan said.
First round results: Tuesday 24 January 2023
Agape Christian School Torchbearers and Marianas High School Dolphins rocketed their way through the competition of bracket one in the first day of round robin games in the co-ed high school Public School System/TakeCare Badminton Interscholastic League.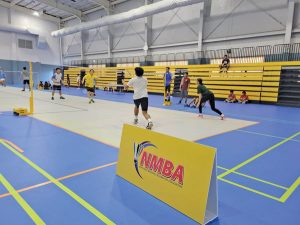 The ACS Torchbearers were on fire as they brought Tinian High School to their knees in an almost complete sweep of all five events.
The Torchbearers won all three games of the boys doubles, girls doubles, boys singles, girls doubles events, but lost in the mixed doubles, for a final score of 12-3.
In the game against Saipan Southern High School team 2, there was no letting up as the Torchbearers fired through all five events for a complete sweep of 15-0, thanks to the boys lineup of David Zhao, Louis Chen, Allen Ye, James Fan, Michael Ma, and the girls lineup of Tina Zheng, Ruth Zhang, and Susie Zheng.
Over in the waters controlled by the MHS Dolphins, they swept all five events against Tinian High School, 15-0. In the game against Grace Christian Academy, they swept all but one event for a score of 12-3.
The MHS boys roster include Marlon Bautista, Jan Dumagan, Brandon Manacop, and Paulo Quidato. The girls consist of Seiyul Hong, Zhimin Jin, Vianca Mangulabnan, Enmei Quan, and Angieleysha Punzalan.
After defeating their foes, the Torchbearers and Dolphins garnered a total score of 27 points each and are both on top of the bracket one leaderboard.
Behind them are the 2021-2022 co-ed high school badminton defending champions, Saipan International School, with a total score of 15 points after beating GCA team 2, 8-7, and defeating SSHS team 2, 7-5.
Fourth in the standings is GCA team 2 with a total of 7 points after losing to SIS and not being able to play a second game after a power outage at the gym.
SSHS team 2 is in fifth place with 5 points and Tinian is at the bottom of the standings with 0.
Remaining matches
The schedule for the next round robin matches are:
Saturday 28 January
Saturday 25 February
The Top 2 of bracket one and bracket two round-robin semifinal games are scheduled for Saturday 4 March 4, while the championship game is scheduled for Saturday 11 March.
Check out all the latest updates on the Northern Marianas Badminton Association Facebook page.