Pictured: Badminton Cook Islands President Thomas Mereana-Ngauru (left) with Shuttle Time teachers
Badminton Cook Islands celebrated one of their biggest triumphs at the Cook Islands Sports Awards over the weekend. Collectively, the organisation was nominated in six categories, with President Thomas Mereana-Ngauru going on to win the Sports Administrator of the Year for the second time.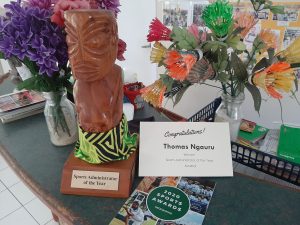 He is no stranger to the title, having already won the award in 2016 when Badminton Cook Islands were building momentum and a strong reputation.
The sport has gone from strength to strength under Thomas' leadership since attending a Player Performance Pathway workshop delivered by the BWF and World Academy of Sport. The course helped to formulate their Strategic Plan, mapping out player pathways from grassroots to performance. Since then, the nation has seized all of the opportunities given to them and the results are starting to show.
"I am delighted to hear Thomas has again won the administrator of the year award. He is a thoroughly deserving candidate who has done a grand job of motivating his group of volunteers to deliver the pathway from Shuttle Time sessions to attending international competitions like the VICTOR Oceania Junior Championships", says Badminton Oceania's Development Manager, Nadia Bleaken.
The strong organisation is testament to the decision to host this year's Oceania Masters in Paradise in Rarotonga to further develop the capacity and skills of local organisers. Unfortunately, the event was postponed due to the COVID-19 pandemic, but remains in contention to feature on the 2021 calendar at the Edgewater Resort – which was also the location of the Cook Islands Sports Awards.
Badminton Cook Islands were up for a record total of six nominations this year:
Danniel Daniel – Junior Sportsman of the Year
Tereapii Akavi – Junior Sportswoman of the Year
AIMS Games 2019 team – Team of the Year
Team attending the VICTOR Oceania Junior Championships 2019 – Achievement of the Year
John Taulu – Coach of the Year
The Cook Islands were one of the few countries from Oceania that encountered limited impact from the COVID-19 pandemic and have been back up and running with Shuttle Time sessions and national squad training for the past three weeks.
Get the latest news and developments from Badminton Oceania delivered straight to your inbox by subscribing to our eNewsletter: