Photo credit Games News Service – Therese Rivers
Fiji, Tahiti and New Caledonia opened with a dominant performance on day one of the Mixed Team event. Check out all the highlights from day one at the Samoa 2019 Pacific Games badminton Mixed Team event.
MORNING SESSION
Tahiti and F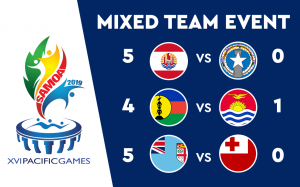 iji celebrated with a whitewash victory while reigning champions, New Caledonia, took the tie 4-1 after Kiribati's women stepped up to the stage.
Tinabora Tekeiaki pushed New Caledonia's Johanna Kou to the limit over three games. The 33-year-old wasn't able to capitalise on the match after winning the second end and went down 21-13 12-21 21-15.
Tekeiaki returned to the court later alongside Teitiria Utimawa in the Women's Doubles, where the pair denied New Caledonia the 5-0 whitewash after winning in two close games 24-22 21-19.
Meanwhile, Tahiti and Fiji stormed through their opening ties, winning every match in two games.
AFTERNOON SESSION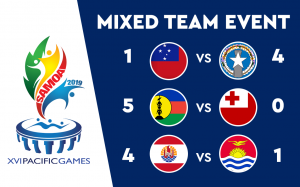 Samoa opened their campaign in the first afternoon session against Northern Marianas. The animated team brought along an energised crowd to the match, but they weren't able to capitalise against the Pacific Game debutants.
Experienced player, Tupu Fua, won the all-important Men's Singles game to keep the dream alive for Samoa, bringing the overall score to 2-1. However, the Men's and Women's Doubles duos from Northern Marianas were quick to make their mark against the home team and sealed a 4-1 victory.
The second seeds from New Caledonia were relentless in their performance, only dropping one game as they eased past Tonga.
Meanwhile, the Women's Doubles pair from Kiribati caused another upset as they continued to deny their first seed opponents, Tahiti, a 5-0 victory.
Despite entering the match 4-0 down, the pair didn't let the score line dampen their spirits and fought across three games to win 21-17 13-21 21-17.
EVENING SESSION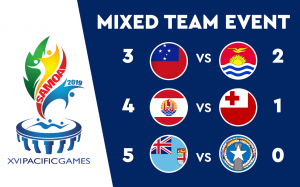 Samoa switched it up a notch and put forward a different team against the other tournament debutants, Kiribati. As home player, Folole Ioane earlier mentioned "we must never underestimate any of our opponents" and it was that kind of spirit which lead the home team to their first win of the Games.
It seemed like the electric home crowd can intensify the nerves while increasing motivation too, as Men's Doubles pair Hilton Samuelu So'o and Kennedy Simanu secured the third and most crucial game for Samoa to secure the victory.
"It was a good game and it we're very happy to come out with a win. It was my first game in this tournament so there were a few nerves, but it's good to get the momentum going for our next game", says Hilton Samuelu Soo.
The third seeds from Fiji stormed through their second tie against Northern Marianas, showing no prisoners on the way to becoming the only team to not drop a game on day one.
Meanwhile, the first seeds from Tahiti secured their third and final victory to sit at the top of the table on the end of day one, after defeating Tonga 4-1. Tonga's big hitters, Lauti Naaniumotu and Renaey Aikoniume Naaniumotu, pulled off an impressive victory over Tahiti's Tarepa Bourgery and Manuarii Ly over forty minutes, winning 23-25 21-15 18-21.
TOMORROW MORNING
Neighbouring rivals, Samoa and Tonga will open up day two on court one from 10am local time on Tuesday 9 July 2019. The match will be available on the live streaming.
Follow the draw and results on Tournament Software.