BWF MEDIA UPDATE (Adapted)
Thomas Cup champions Indonesia, who regained the trophy last year after a 19-year wait, find themselves in a tricky group as they prepare to defend their title next month.
The 14-time champions will expect a feisty challenge from Thailand, who will be fired up on home turf, besides Korea and Singapore.
Meanwhile, New Zealand take Oceania's continental spot at the Thomas Cup. Originally, the winner of the Oceania Men's and Women's Team Championships would go on to compete at the respective Men's and Women's World Team Championships Finals. However, in the result of cancellation, Oceania's continental qualification spot was determined by the highest number of accumulated world ranking points across the nation's top singles players and doubles pairs.
For the Thomas Cup, New Zealand prevailed, and they have been drawn into a tough Group D alongside Japan, Malaysia and England. It will be their first time competing in the World Men's Team Championships in six years – you can find out who will be representing New Zealand here.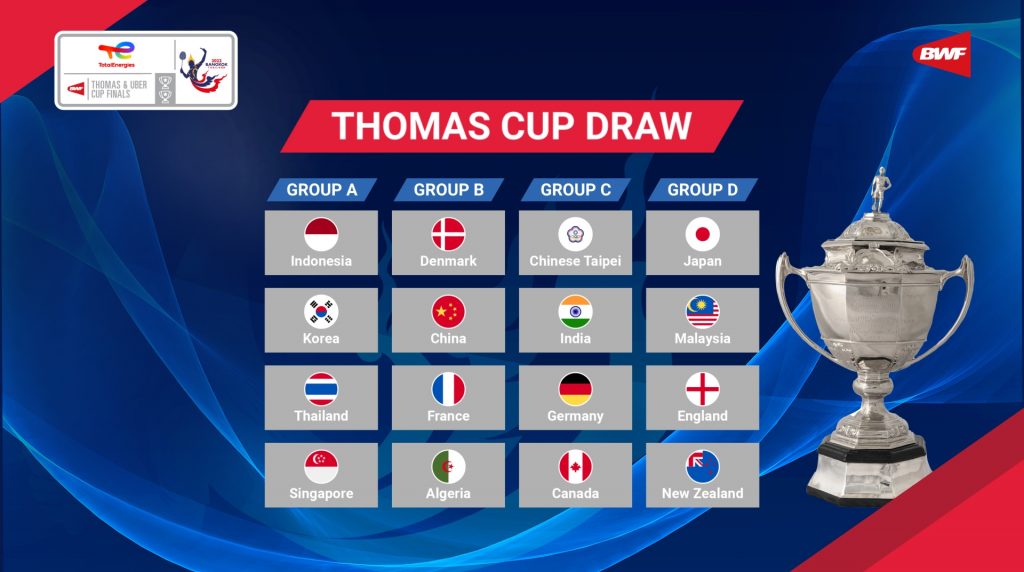 The draw for the TotalEnergies BWF Thomas and Uber Cup Finals 2022, which will be held in Bangkok during 8-15 May, was conducted in the host city today by BWF in the presence of host officials and sponsors. The 16 teams in both the men's and women's competitions, seeded according to the combined ranking points of their three top singles and two doubles pairs as of 22 February 2022, were drawn by lot into four groups.
China, runners-up at the last Thomas Cup, will have to contend with 2016 champions Denmark, France and African champions Algeria in Group B.
In the Uber Cup, Australia qualified for and accepted their position for the Uber Cup Finals 2022, with their team yet to be named. The team face a tough campaign as their Group B position sees them lined up against 15-time champions, China, Chinese Taipei, Spain.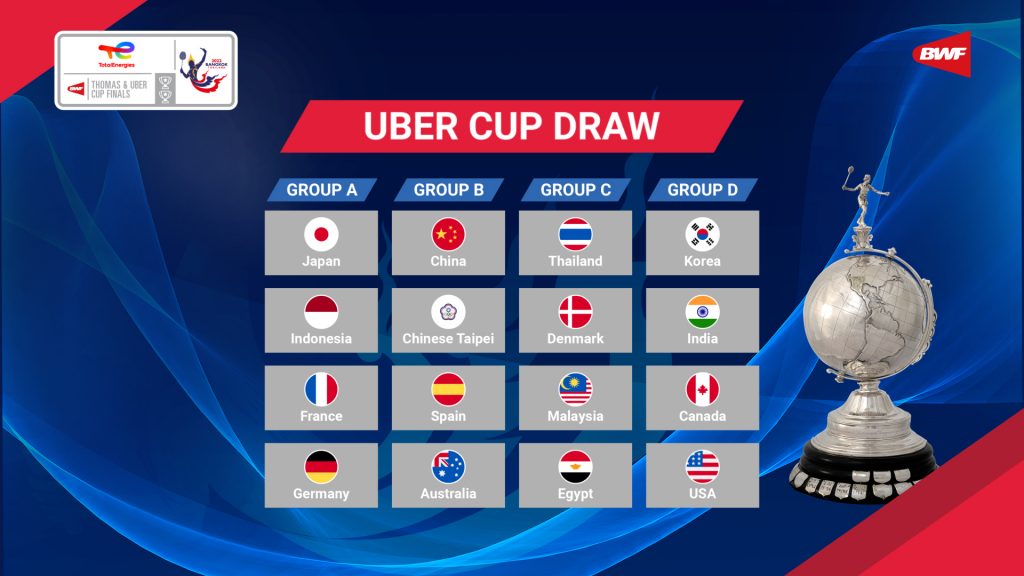 In his message, BWF President Poul-Erik Hoyer said: "I'm thrilled that we are in Bangkok four years after we lasted hosted the World Team Championships. The TotalEnergies BWF Thomas & Uber Cup Finals represent the pinnacle of men's and women's team competitions. There's a lot at stake as the top teams in the world face off against each other. Thank you to Badminton Association of Thailand and all the Thai authorities for enabling the hosting of this time-honoured event."
IOC member and BWF Deputy President KhunyingPatama Leeswadtrakul – also the President of Badminton Association of Thailand – welcomed all the participants to Thailand and thanked BWF for entrusting BAT with the opportunity of hosting the Thomas & Uber Cup Finals for the second time in four years.
Watch the draw ceremony here.