Who would have thought only three years into her badminton career, Heirautea Curet would be stepping onto the court against her idol's (Tai Tzu Ying) team at the World Mixed Team Championships next week?
While Tai Tzu Ying may not be competing in this year's edition of the Sudirman Cup, her presence will certainly be felt throughout the Chinese Taipei team, who will compete against Tahiti in Group B on Sunday.
Aware of the significant challenge ahead, Heirautea openly admits feeling 'all of the emotions' ahead of her international debut.
"I feel quite stressed and I am afraid of my opponents, but that does not prevent me from having a goal, not to mention that it is a good source of motivation"
However, the underdog team have the advantage of going into the World Mixed Team Championships with nothing to lose and everything to gain.
The majority of Tahiti's youthful team (eight of which are aged under 20) currently reside in France, where they moved in pursuit of stronger badminton networks, competition and opportunities. Heirautea made the move last year to join Rad Star Mulhouse Badminton Club as she realised her ambitions to pursue a career in badminton.
"I started to get interested in the different badminton infrastructures in France. But it was during a training camp led by a French coach that we heard about the Rad Star Mulhouse badminton club"
"I would like to go beyond my limits and go as far as possible. I hope to reach a high level and win great titles, like all badminton players, I think."
It's been a quick development for the teenager who "isn't afraid to give it [her] all" and willing to follow any advice. She isn't a complete stranger to performing under pressure, having previously competed in Athletics. She hopes the existing physical skills and experience will aid her technical and tactical progress in badminton.
Ultimately, it was mostly the strategic elements of the game that originally caught her eye – hence the attraction to Tai Tzu Ying's artistic presence on court.
"It's a complete sport that requires all these skills and that's why I love it so much. I love Tai Tzu Ying's playing style and the fact that she never gives up"
Tahiti will get straight into action on day one (26 September) against Chinese Taipei, before taking on four-time World Mixed Team Champions, Korea (28 September) and Germany (30 September).
The team will then travel to Denmark to prepare for the TotalEngeries BWF Thomas & Uber Cup Finals (9 -17 Oct 2021), where they will also be joined by Rémi Rossi, Louis Beaubois and Melissa Mi You.
Follow us on Facebook or sign up to our eNewsletter to stay up to date with the latest information.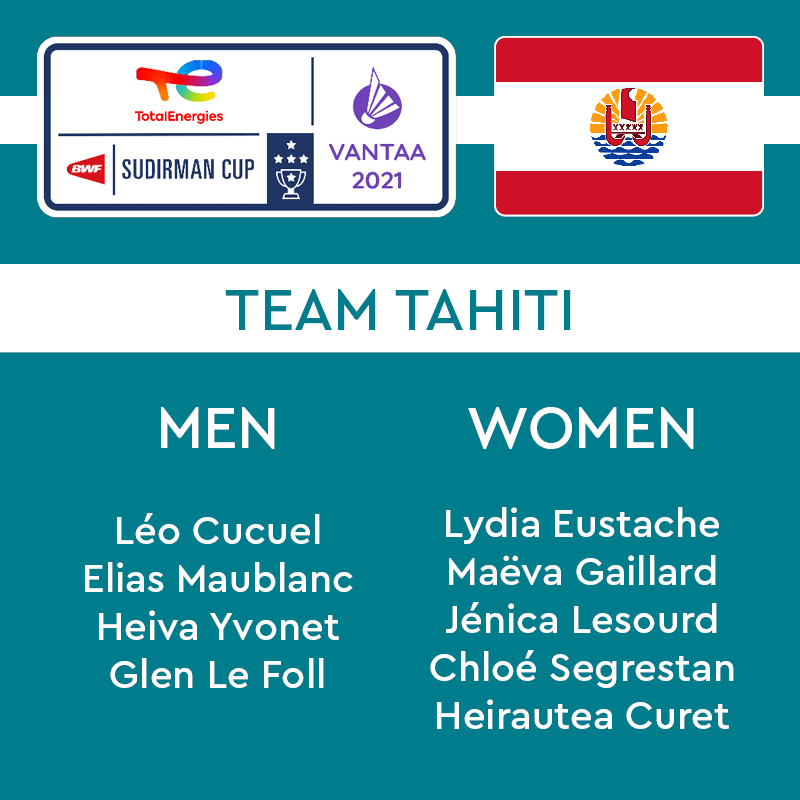 THOMAS AND UBER CUP TEAMS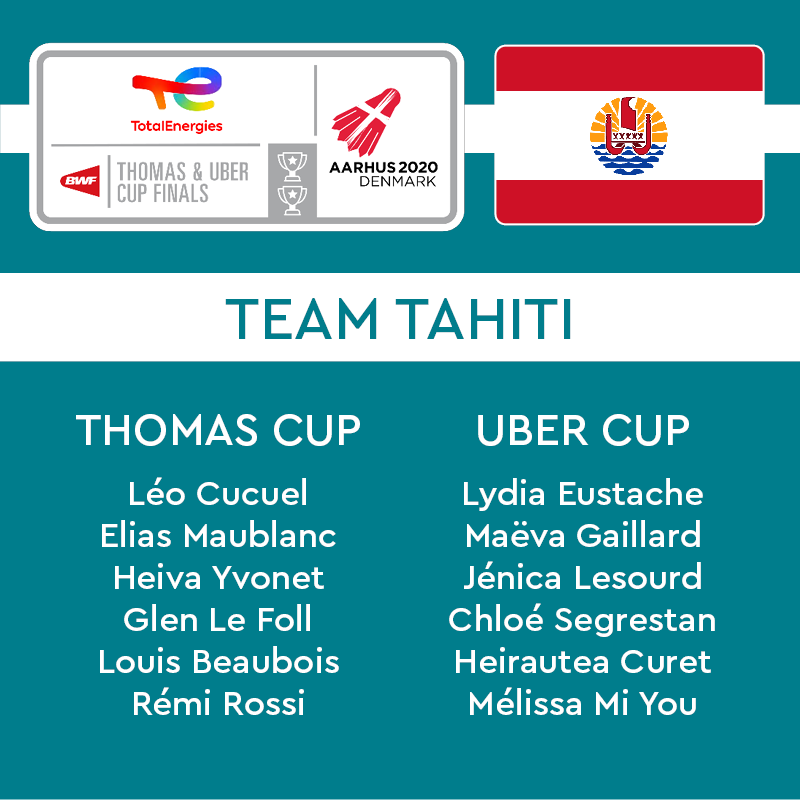 Get the latest news and developments from Badminton Oceania delivered straight to your inbox by subscribing to our eNewsletter: