The youth talent of Tahiti Badminton Federation is stepping up to the mark at this year's TotalEnergies Sudirman Cup 2021, which takes place in Finland from 26 September – 3 October 2021.
Team coach and manager, Léo Cucuel, will be using his playing experience from previous Grade 3 international tournaments, Thomas Cup Finals (2018) and Pacific Games, to motivate the youthful team, where eight of the players are below 20 years old.
14-year-old Elias Maublanc is one of those players set to make his debut on the international badminton scene, desperate to smash through his studies and education in Tahiti before he can realise his "dream of becoming the world's greatest player" at full pace.
Upon hearing the news of his selection from his mother, his only reaction was "Why didn't you told me earlier, I only have a month. So now I'm training even more than usual".
Following in the footsteps of his older brothers, Antoine and Louis Beaubois, who have represented Tahiti on numerous occasions, Elias is excited to put his seven years of playing underneath his brothers to the test in one of the biggest ways possible. It is an exact repeat of Louis' situation, who made his debut on the international stage at the Sudirman Cup 2017, when he was aged only 14. Since then, Louis has gone on to win bronze at the Samoa 2019 Pacific Games.
Unlike most of the players set to take to the court in Finland, Elias has been spending his weeks of preparation cramming in extra training sessions before the school day begins and sticking to a stringent schedule.
"I usually wake up at 4.30am and practice physical training before leaving for school at 6am. When I go back home at 2.45pm I'll finish homework if I have any (although I try to complete it at school during free periods) and then I'll continue training 3-4pm."
"If not, I'll I watch badminton matches on YouTube to correct my moves or strategy. Then, most nights I get to practice on the badminton courts from 6-7.30pm. I'll usually keep watching and learning from badminton matches online until I fall asleep"
"I like everything that constitutes badminton: the sound of the shuttlecock, the sound of your shoes on the floor, the speed, the strategy, the mindset, every little thing", says Elias.
It's bound to be an inspirational, yet awakening experience for the 14-year-old, whose valiant efforts are set to take on teams boasting Olympic and World Champions.
Tahiti will start their Sudirman Cup campaign against Chinese Taipei on 26 September, before taking on the four-time Sudirman Cup champions Korea and Germany later in the week. Find out all information about the event, including the schedule here.
Team Tahiti will then travel to Denmark to prepare for the TotalEngeries BWF Thomas & Uber Cup Finals (9-17 Oct 2021), where they will be joined by Elia's older brother Louis, Mélissa Mi you and the 2019 VICTOR Oceania Men's Singles runner up, Remi Rossi.
"We know we are going to face some of the best teams in the world so we don't have unrealistic expectations. We hope the players will gain a lot from the experience and that it will motivate them for future events", says Léo Cucuel.
In the Thomas Cup Finals, the men's team have a particularly tough draw, having to take on the number one seeds from China. Despite his retirement in 2020, Elias is still elated to be matched up against the team that developed his all-time favorite player, Lin Dan.
"I'm impressed by his calm on the court, he is really different from the other players for me. When I want to correct something on my footwork or my technique etc…  I principally watch his matches", says Elias
Stay up to date with Tahiti's progress across the three team tournaments by following Badminton Oceania on Facebook, Instagram and via our monthly Enewsletter.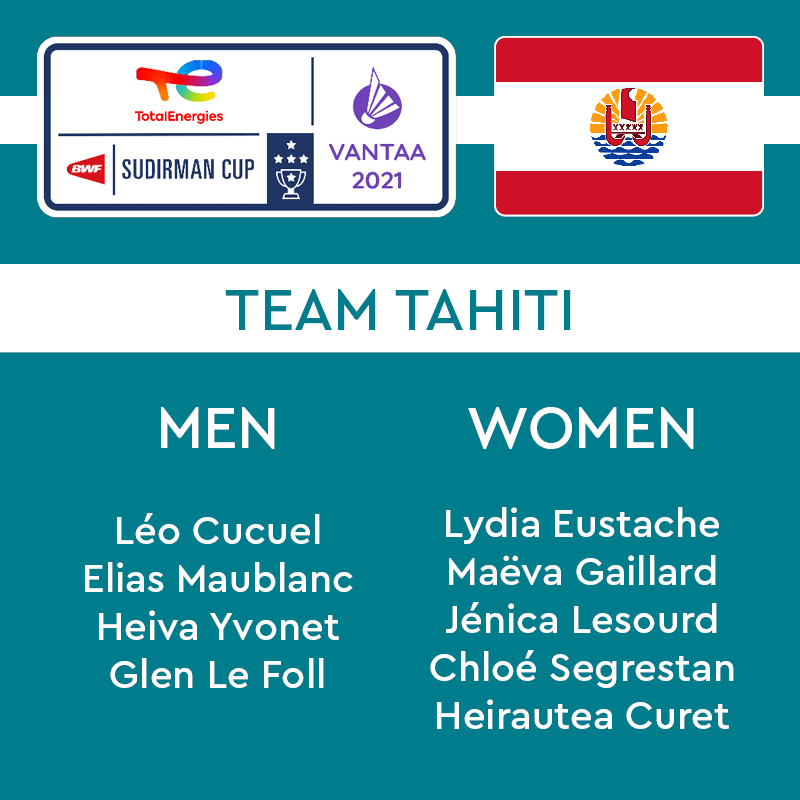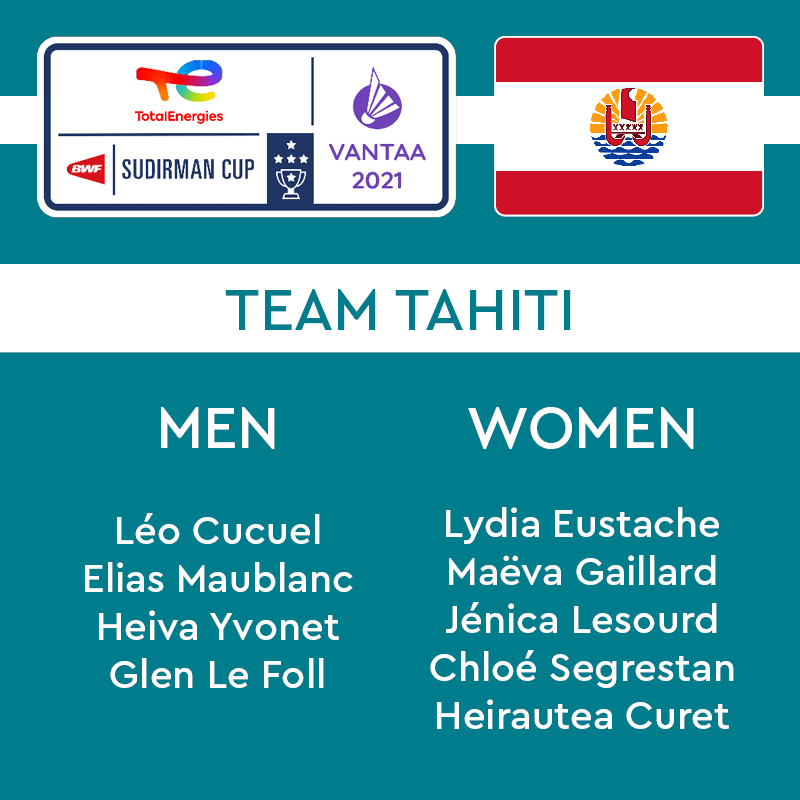 Get the latest news and developments from Badminton Oceania delivered straight to your inbox by subscribing to our eNewsletter: