Photo credits: Cook Islands National Olympic Committee
The 2022 Cook Islands Beach Games took place across Rarotonga at the end of January, bring the island's most popular sports together across their stunning beaches and backdrops.
AirBadminton, the outdoor game which launched two years ago, made its debut at this year's edition of the Games. The new version of the sport is recognized for its accessibility to play badminton anywhere: on hard, grass and sand surfaces in parks, gardens, streets, playgrounds and beaches around the world.
Given the diverse range of landscapes and stunning scenery offered across Oceania, the alternative version of the game is an exciting opportunity for players to get involved, admire the urban or rural environments, while still benefiting from the multiple health and social benefits of badminton.
"This was the first ever AirBadminton tournament in the region so it's very exciting", says Badminton Cook Islands President, Thomas Mereana-Ngauru.
 "It was a team event. They have had plenty of time to practice and prepare and everyone was looking forward to competing", says Thomas.
Across the three days of competition, 60 players formed a total of 12 teams, with each rubber consisting of the traditional disciplines of single and doubles, while also introducing the new format exclusive to AirBadminton – triples.
The tournament took place at The Edgewater Resort and Spa – hosts of the Oceania Masters in Paradise 2022 – and eventual hosts of the Pacific resorts launch, where AirBadminton plans to be a recreational activity on offer to guests staying at resorts across the continent.
Despite finishing fourth in their pool, the team named 'Bring It On' turned it all the way up to 11 throughout the knockouts and went on to become the eventual winners of the inaugural AirBadminton competition. The team includes Danny Simpson, Carlie Marsters, Ambushia Mateariki, Kathleen Adams and Ahkim Tikaroa (pictured below).
"We were delighted to take home the first Gold medal. We struggled to come together during the pools but eventually found our form during the knockout rounds. It was an exciting and unique opportunity to play AirBadminton so competitively, outside. We hope to defend our title in next year's Beach Games", says gold medalist, Ahkim Tikaroa.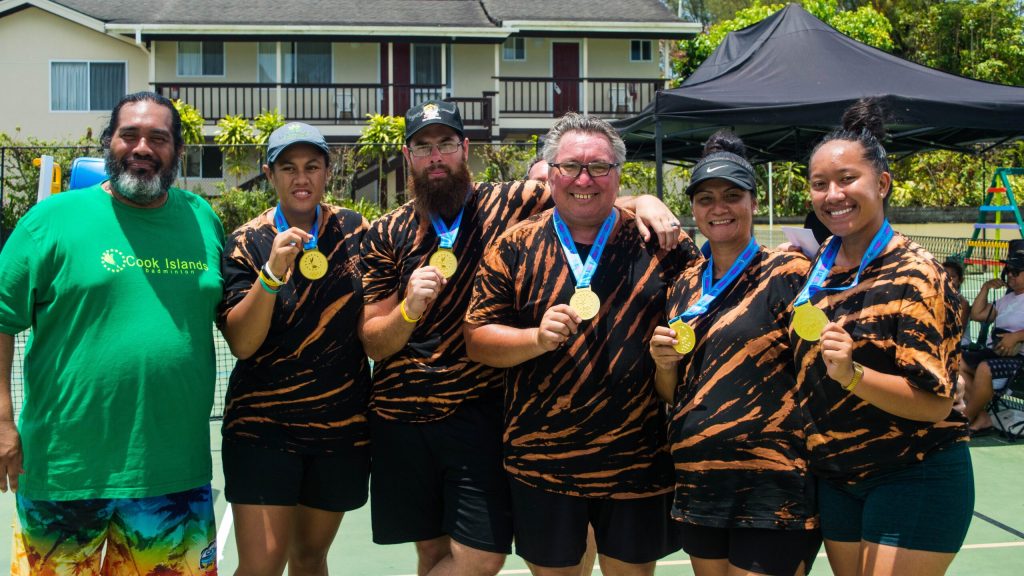 Meanwhile, the silver and bronze medals went to teams 'Lessgho 2.0' and 'Team Assassins', respectively.
Lessgho 2.0: Emanuela Mataio, Loureina Kureta, Casonya Bates and Tinomana Naea
Team Assassins: Ngaoa Ranginui, Shane Pedersen, Tokoa Elikana, Kariana Hagai, Solo Akamoeau and Tavita Piakura.
More images, videos and results from the AirBadminton at the Cook Islands Beach Games 2022 are available on the Badminton Cook Islands Facebook Page.
Interested to find out more about AirBadminton? Get in touch with your local member association or find out more here. Learn more about the doubles and triples version of AirBadminton in the video below.
Get the latest news and developments from Badminton Oceania delivered straight to your inbox by subscribing to our eNewsletter: