Pictured: (left to right) Team New Caledonia, Tahiti and Cook Islands on the podium. Photo credit: Paul Foxall
Gold medal match
Cook Islands entered the final match against Tahiti with a perfect record, having won all their matches 5-0 up until today. Tahiti had only dropped one game on their route to today's final round robin match, which essentially became the gold medal playoff as the two countries sit at the top of the table.
The tie remained in relatively close contention throughout with some games going to extension and the final girl's doubles match going the distance to three games. Tahiti set the tone in the opening two games (mixed doubles and boys singles) before Cook Islands' Edon Teraitua claimed the girl's singles to keep the gold medal dream alive. However, Tahiti's Mike Mi You and Ethan Wolf-Mikas helped their team to claim the gold medal after seeing off the challenge of Makea Pauku and Eliakima Webb in 20 minutes.
Tahiti 3 – 2 Cook Islands
"We're really excited and happy to win today… we didn't come in with any expectations so just very happy with the result", said Matt Chagnot and Maureen Mi You (Tahiti)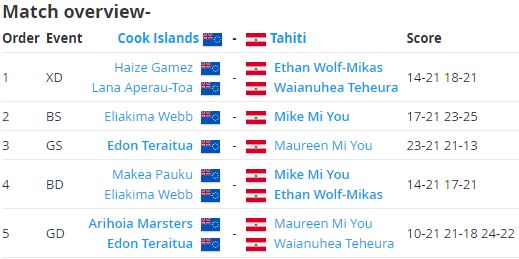 Bronze medalists
New Caledonia went into their final match against Tonga with confidence on claiming the bronze medal. Following their results so far, they sat in a comfortable third position on the table, while Tonga were in sixth place. The New Caledonians were unable to push past Cook Islands or Tahiti in their earlier matches, but they were unstoppable against the Tongans today. While the boy's and girl's doubles became the closest contests of the tie, the favored team seized the bronze medal in emphatic style following a 5-0 victory.
New Caledonia 5 – 0 Tonga

The other remaining tie on the final day of Pacific U15 competition was a clash between neighboring countries, Northern Marianas and Guam.
Guam's Johnson Xia put the first point on the board, before Northern Marianas retaliated over the next three games to ensure victory at 3-1. The final game was another victory for Guam who ended on a high at 3-2.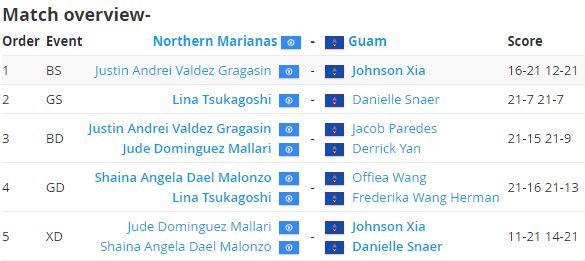 Final standings
Tahiti
Cook Islands
New Caledonia
Northern Marianas
Guam
Tonga
Check out all results from the Pacific U15 Invitation Team Challenge 2023 on Tournament Software. Photos, videos and more are available to view on Facebook and Instagram.