Gold medal match
Following 5-0 victories in every group stage match so far, Australia and New Zealand set up a gold medal match in today's final round robin clash at the VICTOR Oceania Junior Mixed Team Championships 2023.
Defending champions, Australia, were the first team to put a point on the board after an excruciatingly close mixed doubles opened proceedings. In fact, the first three matches went the distance by becoming the best of three games, a couple going into extension. Australia's women's singles player (Catrina Tan) put Australia on the edge of an early victory with a second victory for the team.
It wasn't until New Zealand's Chris Benzie rose to the occasion to defeat Jie Ting Chan that New Zealand put their foot in the door. However, the following women's doubles tie was a convincing victory for the Australian's which ensured a gold medal despite the outcome of the final game. With Chris Benzie returning to court in the men's doubles, he made it two out of two to end the overall tie on a high.
Australia 3 – 2 New Zealand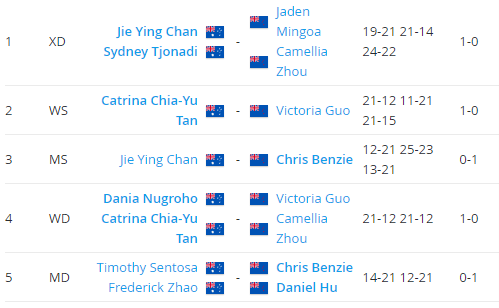 "We're feeling amazing, some really close matches so that was really thrilling, definitely a good win from us.  New coaching team and fairly new juniors, so we did really well. My first medal as a coach, so couldn't be more excited", says Australian Junior Team Coach, Renuga Veeran
"I'm feeling really great, the team played really well. We were expecting a really tough match against New Zealand, which we got… it was a great experience!", says Dania Nygroho (Australia)
"Even though I was on the bench, I was really excited for the team, we were really hyped and prepared to give it our best. Yeah there were some really nerve racking matches, it was really exciting, I was screaming", says Jasmine Lam (Australia)
"Yeah obviously we heard New Zealand was really strong, but we were also really confident in our own abilities to perform.  Everyone today played really well & showed really good spirit on court.  Well done to everyone at this competition, everyone shoed really good sportsmanship & really good spirit – so well done to everyone!", says Frederick Zhao (Australia)
Bronze medal match
Meanwhile, on the courts parallel, a Pacific rivalry was going down. Tahiti and New Caledonia are no strangers when it comes to meeting in an important medal playoff scenario, frequently competing for bronze in previous editions of the Junior and Open Mixed Team Championships. Since the Junior Mixed Team Championships commenced in 2011, Tahiti have claimed three bronze medals, while New Caledonia have never medaled.
Therefore it was the underdogs from New Caledonia who put the first two points on the board, after winning the mixed doubles and women's singles in emphatic style. However, Tahiti's Elias Maublanc was quick to keep Tahiti's dream alive in the men's singles match to bring the medal back into contention.
Shortly afterwards, New Caledonia's Marine Souviat and Julie Wongsodjirono stepped onto the court for the women's doubles match and saw off the challenge of Taphira Barsinas and Mathilde Driano in 20 minutes to claim a first medal (bronze) for New Caledonia.
With one match left, Elias returned to the court with Colin Malaval for the men's doubles match and ended Tahiti's campaign on a high as they won in two games.
New Caledonia 3 – 2 Tahiti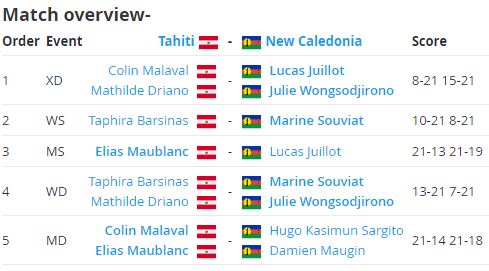 Final standings
Australia
New Zealand
New Caledonia
Tahiti
Cook Islands
Check out all results from the VICTOR Oceania Junior Mixed Team Championships 2023 on Tournament Software. Photos, videos and more are available to view on Facebook and Instagram. Join the conversation by using the hashtag #VOC23
The VICTOR Oceania Championships 2023 continue over the next seven days, as the Open and Junior Individuals Championships 2023 begin tomorrow. Follow the schedule and results on Tournament Software (Junior and Open).
Courts one and two of the Open Individual Championships will be available to watch on Badminton Oceania's YouTube Channel.