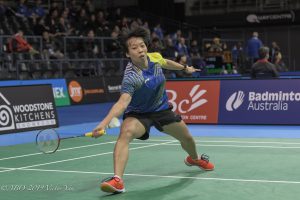 "The World Championships is no different to any other tournament, I'm always going to try my best to prepare for the match ahead".
That's the spirit of Australia's Olympian and this year's Women's Singles qualifier for next week's TOTAL BWF World Championships in Switzerland, Hsuan-Yu Wendy Chen.
Chen, the reigning regional Champion, leads by example when it comes to balancing the work – life – study balance. The Australian shuttler manages to keep up with her hectic schedule of studying at University while traveling the world to compete and train as a professional badminton player.
Recently, Chen put in a sterling performance at the Crown Group Australian Badminton Open 2019 in Sydney, where she narrowly lost out to the first seed from Japan, Nozomi Okuhara. It hasn't been an easy ride for Chen, battling a foot injury and sickness throughout the year, but the ability to defend her title at the recent Oceania Championships and results on the World Tour prove her worth.
Nonetheless, it seems like Wendy takes much pleasure from the chaotic, yet valuable life experiences thrown at her.
"I have learnt to enjoy the process, I am happy as long as I am continuing to develop both as a player and a University student", says Wendy.
Similarly, Simon Leung has taken the Mixed Doubles world by storm with his partner, Gronya Somerville (currently ranked 73) while competing through the ranks in Men's Doubles with Mitchell Wheller, currently standing at World number 76.
Leung has qualified for both events at next week's TOTAL BWF World Championships, and has also learnt to cope with the challenges thrown at him to maintain a steady work – life – study balance.
Off the court, Leung work's at his University in the Sports Department events team. Meanwhile also working part-time in security, which involves several late and night shifts, making the elite athlete regime all the more complicated.
"My work can involve over 80 hours in a week with as little as 3 hours sleep per night. It is a tiring job but essential to help fund my aspirations and I've found ways of making it work to keep up with my badminton", says Simon
The added experience of competing in the 2018 World Championships will relieve some pressure for Simon, but his impressive ability to sustain a working pattern is a promising sign for the young Australian.
Keep up to date with all of the player's progress in the TOTAL BWF World Championships 2019 on Tournament Software, taking place from 19 – 25 August 2019.